2021 Blue Heron Bowl
a National Ocean Sciences Bowl Regional Event
Virtual Competition on February 27, 2021!
The Blue Heron Bowl is a North Carolina regional event for the National Ocean Sciences Bowl (NOSB).  The competition places four-person teams against each other in a round-robin style trivia tournament which includes multiple choice and short answer questions with winners able to move onto the national level competition.

Last year's event, the first-ever hosted at CSI, included a welcome dinner at the North Carolina Aquarium on Roanoke Island, and keynote speaker Dr. Reide Corbett provided students with insight into what makes the Outer Banks such a unique location geologically and ecologically.
  Due to COVID-19 we will host a virtual event on February 27,  2021.  Teams will compete through a virtual platform to answer multiple choice questions and short answer TCQs.  Students don't need to be in the same physical location to compete, and there will be lots of prizes, shwag and a chance to go on to the national event.  Build a team for this year and register here! Please stay tuned for more information on the format of the event as well as how to build a team and sign up. Registration will open later this fall.  Please contact David Sybert at or call 252-475-5451 with questions.
Virtual Event
A virtual event will take place through Zoom classrooms.  Team members will work together in the same zoom room to answer trivia questions.  The moderator will read questions and competitors will "buzz in" to answer the multiple choice and bonus questions.  Last year the National Finals were virtual and there is a successful framework for using chat rooms and having the buzzer and TCQs available to each team one at a time.  A virtual event requires both volunteers and a minimum number of team participants.
The 2021 Virtual Rules can be found HERE!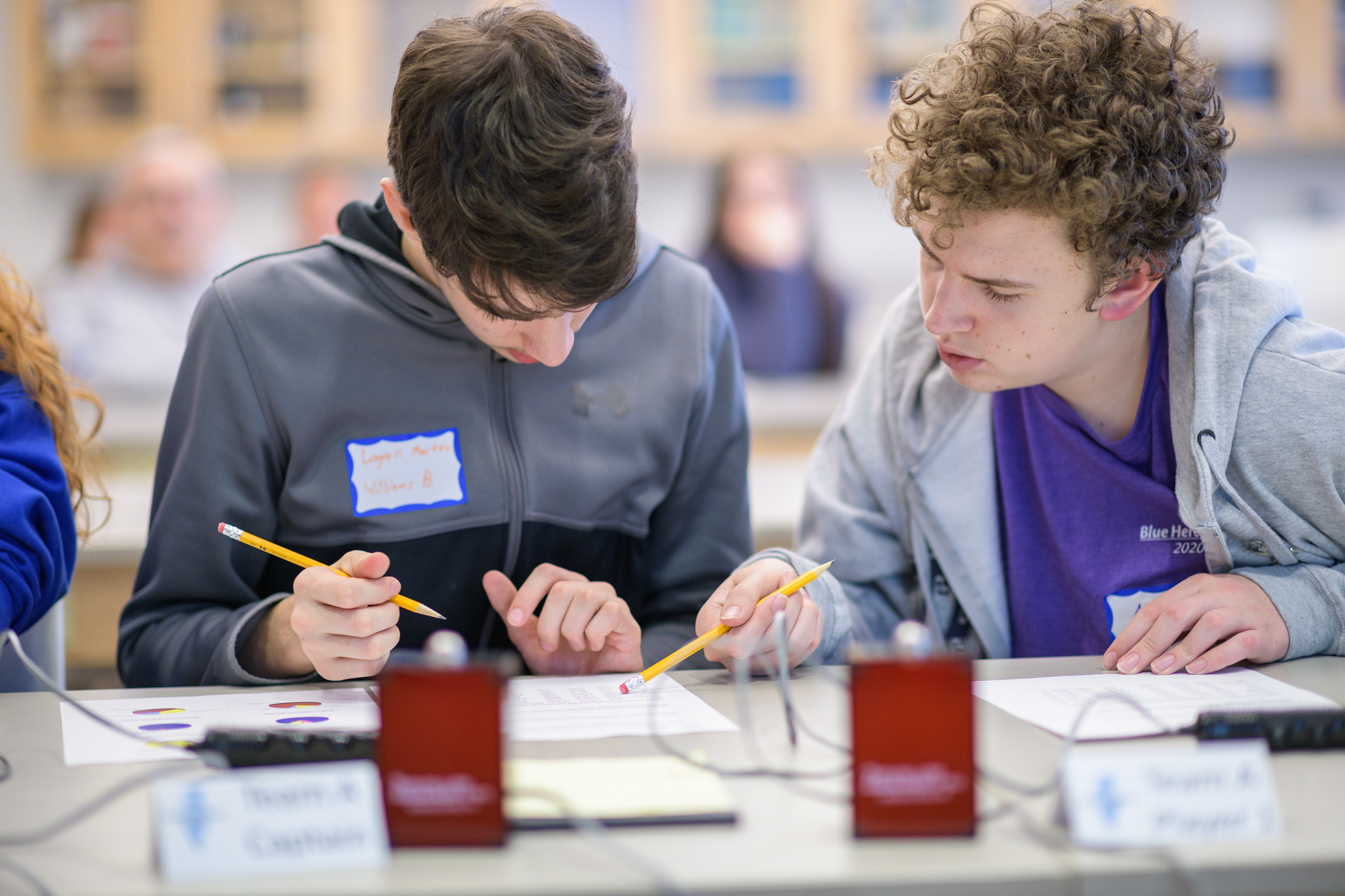 Volunteers
In order to make the Blue Heron Bowl run as smoothly as possible, we will need volunteers! The format of the event, whether virtual or in-person, will determine how many we seek and what roles will need to be filled. For an in-person event, we will need many volunteers to fill the following types of roles.
Moderator – the moderator should have some experience with an ocean science bowl.  They read the rules and the questions to the teams and are responsible for running the match.
Science Judge – this should be a scientist or graduate student.  They are responsible for resolving question challenges that come up during the competition.
Rules Judge – this can be anyone.  They are responsible for ensuring all the rules are being followed and issuing warnings.
Scorekeeper – this can be anyone.  They are responsible for keeping score and announcing the final scores.
Timekeeper – this can be anyone.  They are responsible for staying focused on the clock and announcing after the first half is over.
Room Runner – this can be anyone.  They are responsible for helping with set up, checking equipment, assisting rules judge, delivering questions, and helping pack up.
Blue Heron Bowl Photos
Click photo thumbnail to expand and view!