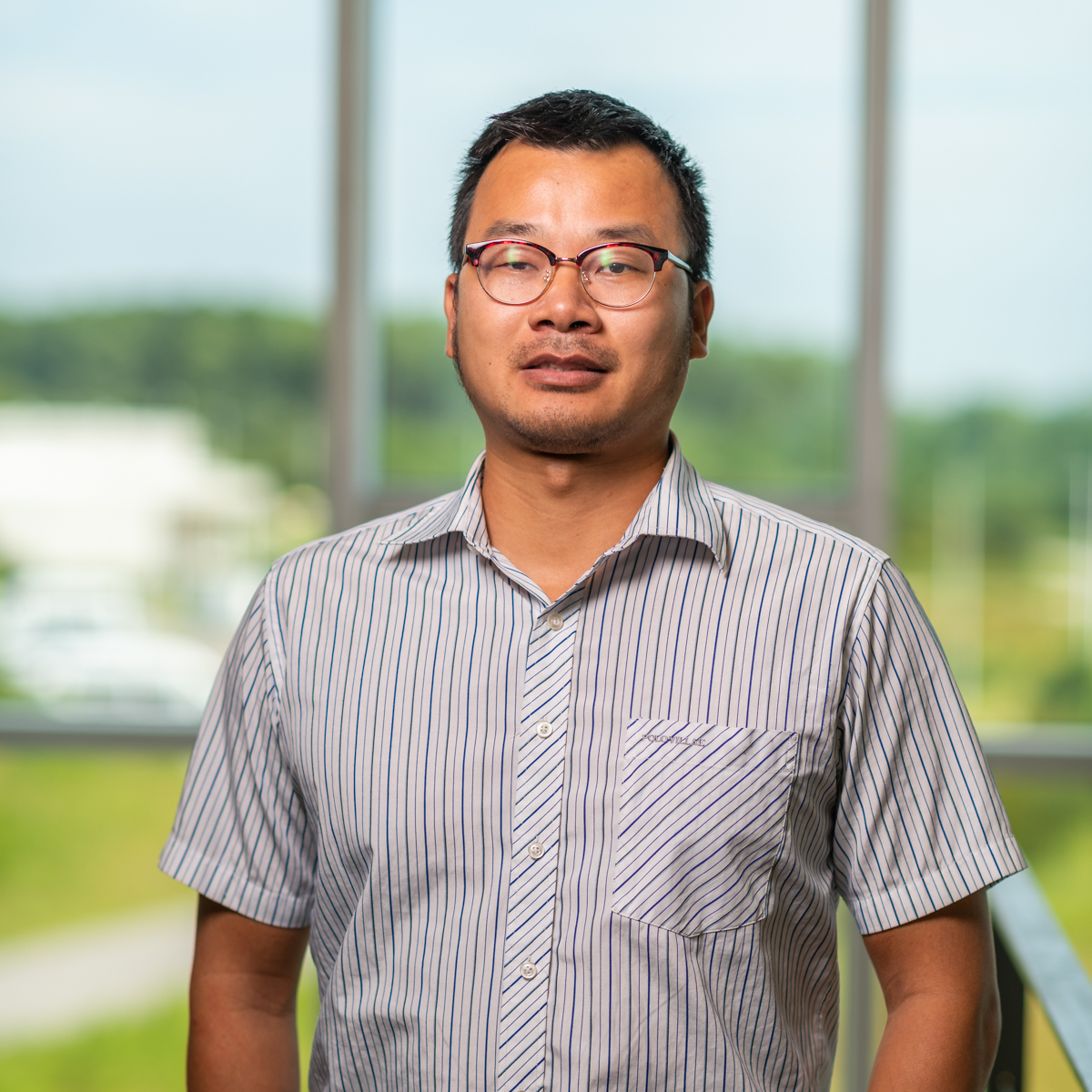 Lin Xiong
Postdoctoral Scholar
Office: Room No. 330
850 NC 345, Wanchese, NC 27981
Email: xiongl21@ecu.edu
Bio
Lin is a postdoc researcher in Coasts & Ocean Observing Laboratory at CSI. He grew up in Hubei, China, and got a B.S. and M.S. in Beijing to study seismology with GIS and remote sensing techniques. In 2017, he came to Texas and perused a Ph.D. in geophysics at the University of Houston. There he did coastal research using lidar data. He joined CSI in 2021 and started to use remote sensing to study coastal wetlands and landscapes.
Lin currently lives with his family in Greenville, NC. He likes swimming and kayaking in his spare time. He also enjoys watching movies and sports games with his family. His son is 3 years old and energetic.
Education
University of Houston, Ph.D., Geophysics, 2020
Chinese Academy of Sciences, M.S., Geophysics, 2015
Peking University, B.S., Geology, 2012
Research Interests
Dr. Lin Xiong's research focuses on natural hazards studies using state-of-the-art remote sensing techniques including GNSS, Lidar, and UAV photogrammetry, with a variety of spatial, temporal, and spectral resolution. He wants to develop more efficient and more accurate ecosystem models over coastal areas and better understand how coastal landscapes respond to natural events and human modifications.
Current Projects
Mapping global mangrove structure, disturbance, and recovery
Assessing coastal resilience and vulnerability
Publications
L Xiong et al. Mapping 30 years of mangrove forest height in South Florida by fusion of ICESat-2, GEDI, and Landsat data with machine learning techniques. In Submission.
L Xiong et al. Quantifying mangrove forest canopy regrowth after a major hurricane with multiple, large-scale repeat G-LiHT airborne Lidar. In Review.
L Xiong, G Wang, Y Bao, X Zhou, K Wang, H Liu, X Sun, R Zhao, 2019. A rapid terrestrial laser scanning method for coastal erosion studies: A case study at Freeport, Texas, USA. Sensors 19 (15), 3252
Xiong, L., Wang, G., Bao, Y., Zhou, X., Sun, X. and Zhao, R., 2018. Detectability of Repeated Airborne Laser Scanning for Mountain Landslide Monitoring. Geosciences 8 (12), 469
X Zhou, G Wang, Y Bao, L Xiong, V Guzman, TJ Kearns, 2017.Delineating Beach and Dune Morphology from Massive Terrestrial Laser-Scanning Data Using Generic Mapping Tools. Journal of Surveying Engineering 143 (4), 04017008
L Xiong, G Wang, P Wessel, 2017. Anti-aliasing filters for deriving high-accuracy DEMs from TLS data: A case study from Freeport, Texas. Computers & Geosciences 100, 125-134
J Xiao, L Xiong, JK He, 2015. Two-dimensional finite element modeling on the crustal shortening and the surface erosion-sedimentation process across northern piedmont of the Tianshan Mountains. Science China Earth Sciences 58 (10), 1779-1786 
Y Zhou, WM Wang, L Xiong, JK He, Y Zhou. Rupture process of 12 February 2014, Yutian M (w) 6. 9 earthquake and stress change on nearby faults.
Y Li, D Jia, M Wang, JH Shaw, J He, A Lin, L Xiong, G Rao. Structural geometry of the source region for the 2013 Mw 6.6 Lushan earthquake: Implication for earthquake hazard assessment along the Longmen Shan. Earth and Planetary Science Letters 390, 275-286