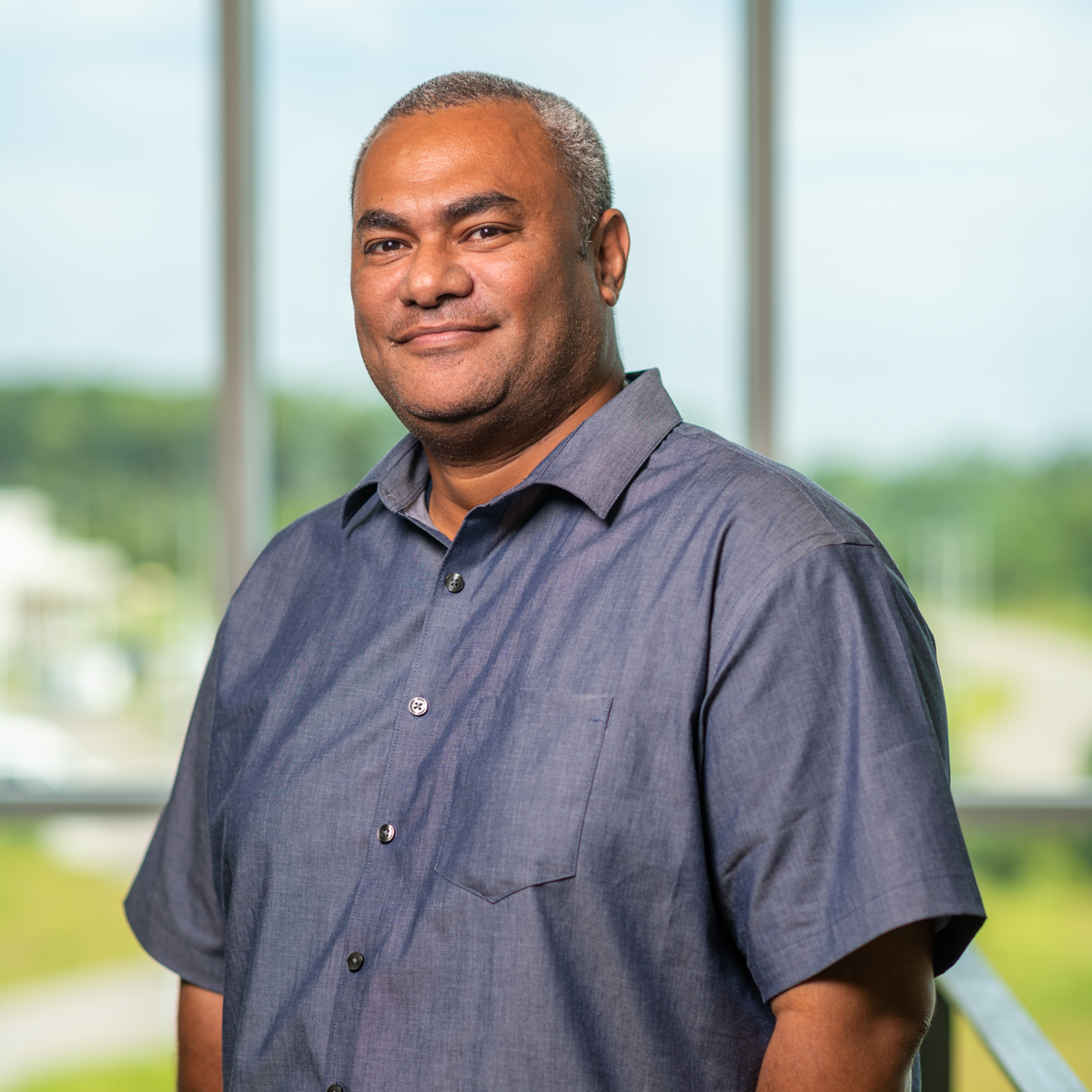 Ron Vave
Postdoctoral Research Fellow
Office: Flanagan Suite 254
Duncan Ct, Greenville, NC 27858
Phone: (252) 328-1746
Email: vaver22@ecu.edu
Bio
Ron Vave is an indigenous Fijian who worked for the University of the South Pacific between 2000 to 2014 and was involved in trainings on natural resource governance and monitoring across seven countries in the Indo-Pacific region. He completed his Ph.D. in Marine biology at the University of Hawaiˈi at Manoā in December 2021, where he researched the funerals of his people (the indigenous Fijians). This was interdisciplinary research that sought to determine how the cultural practice of indigenous Fijian funerals in Fiji influences and affects Social and Ecological resilience.
Education
University of the South Pacific, Fiji
BSc in Biology + Chemistry (1999)
Postgraduate Diploma in Marine Science (2001)
Masters in Marine Science (2005)
University of Hawaiˈi, Hawaiˈi, USA
Ph.D. in Marine Biology (2021)
Research Interests
Indigenous and community-based resource management; natural resource governance; cultural anthropology; social and ecological resilience; coral recruitment and settlement
Current Projects
NSF & Belmont funded NO CRISES project in Hawaiˈi to examine the origin, and drivers of ocean conflict and try to find options for conflict mitigation. NO CRISES stands for Negotiating Ocean Conflicts among RIvals for Sustainable and Equitable Solutions. This work is being carried out with Nadine Heck and Sid Narayan of ECU, and Adina Paytan of UCSC.
Publications
Vave, R. (2022). Five culturally protected water body practices in Fiji: Current status and contemporary displacement challenges. Ambio, 51(4), 1001-1013. https://doi.org/10.1007/s13280-021-01620-z
Vave, R. (2021). Indigenous Fijian Funerals in Fiji and Its Influence and Effects on Social and Ecological Resilience [PhD, University of Hawaiʻi at Mānoa]. https://www.proquest.com/docview/2638719563?pq-origsite=gscholar&fromopenview=true
Vave, R. (2021). Urban-Rural Compliance Variability to COVID-19 Restrictions of Indigenous Fijian (iTaukei) Funerals in Fiji. Asia Pacific Journal of Public Health, 33(6-7), 767-774. https://doi.org/10.1177/10105395211005921
Sterling, E. J., Pascua, P., Sigouin, A., Gazit, N., Mandle, L., Betley, E., Aini, J., Albert, S., Caillon, S., Caselle, J. E., Cheng, S. H., Claudet, J., Dacks, R., Darling, E. S., Filardi, C., Jupiter, S. D., Mawyer, A., Mejia, M., Morishige, K., Nainoca, W., Parks, J., Tanguay, J., Ticktin, T., Vave, R., Wase, V., Wongbusarakum, S., & McCarter, J. (2020). Creating a space for place and multidimensional well-being: lessons learned from localizing the SDGs. Sustainability Science, 15(4), 1129-1147. https://doi.org/10.1007/s11625-020-00822-w
Huntington, H. P., Begossi, A., Fox Gearheard, S., Kersey, B., Loring, P. A., Mustonen, T., Paudel, P. K., Silvano, R. A. M., & Vave, R. (2017). How small communities respond to environmental change: patterns from tropical to polar ecosystems. Ecology and Society, 22(3), Article 9. https://www.ecologyandsociety.org/vol22/iss3/art9/