This spring, five students enrolled in East Carolina University's (ECU) Semester Experience at the Coast participated in internships across our coastal community. Each undergraduate brought their own unique perspective to a job directly related to coastal science. Not only had the students gained valuable experience working in the field by the end of the semester, but they also explored areas that will impact their future careers.
Christine Chan, a member of the ECU Honors College, worked in the Coastal Marine Processes & Geomorphology Lab with Drs. Paul Paris and Reide Corbett to assist with studies related to the long-term impacts of beach nourishment. Christine's work culminated in a student research paper that assesses how beach nourishment may influence sea turtle hatching rates on the Pea Island National Wildlife Refuge.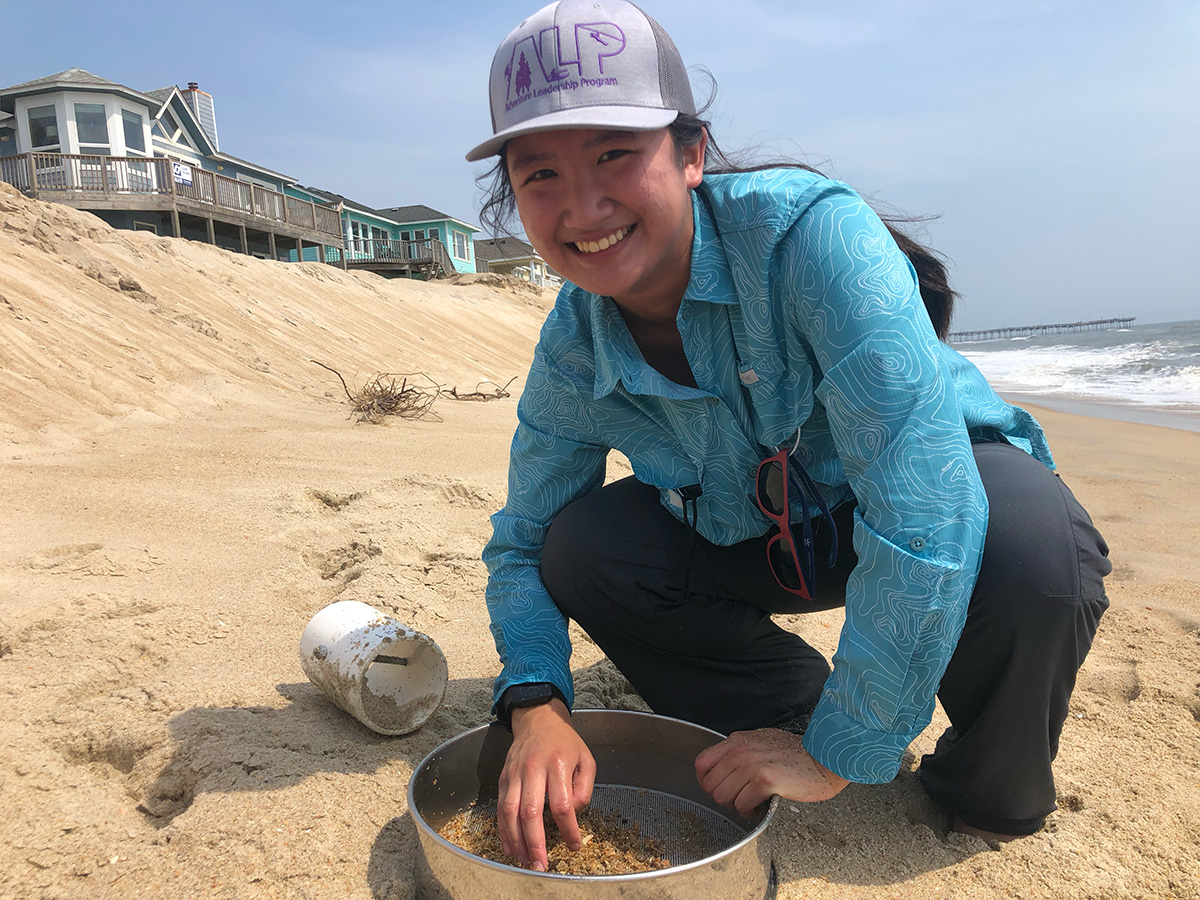 Christine Chan pauses for a photo to commemorate her last day in the field working with Dr. Corbett.
"Maintaining the integrity of beaches along wildlife refuges and other preserved areas is important for coastal economies as well as for preserving sea turtle populations," Christine shares.
Christine was so intrigued by her internship work that she extended her stay at the coast through the end of May to conduct additional surveys with the CSI team. She has high hopes that her work this semester will result in a publication.
While Christine worked in a lab at CSI, there were also ample opportunities for students to work with one of our incredible community partners. Charlotte Grimes, a biology major and coastal and marine studies minor at ECU, worked with the North Carolina Coastal Federation this spring. She participated in activities central to the mission of the Coastal Federation including marine debris clean-ups, water quality testing, oyster restoration, and the development of education programs.
When asked about her experience, Charlotte shared, "The North Carolina Coastal Federation is an amazing organization, and working there allowed me to see how a conservation non-profit operates and makes an impact."
Each ECU student is strategically placed with their internship organization in hopes that the experience will impact the students' future.  Charlotte noted that her time at the Coastal Federation did have a great influence on her future career path. "I was able to better pinpoint what areas of conservation and environmental science interest me the most, and I also realized I might be interested in pursuing even more in terms of my education and career goals," Charlotte stated.
Wanting to spend some extra time on the Outer Banks before returning to Greenville for the fall, Charlotte plans to spend her summer working at the North Carolina Aquarium on Roanoke Island (NCARI), where several students engaged in their own spring internships.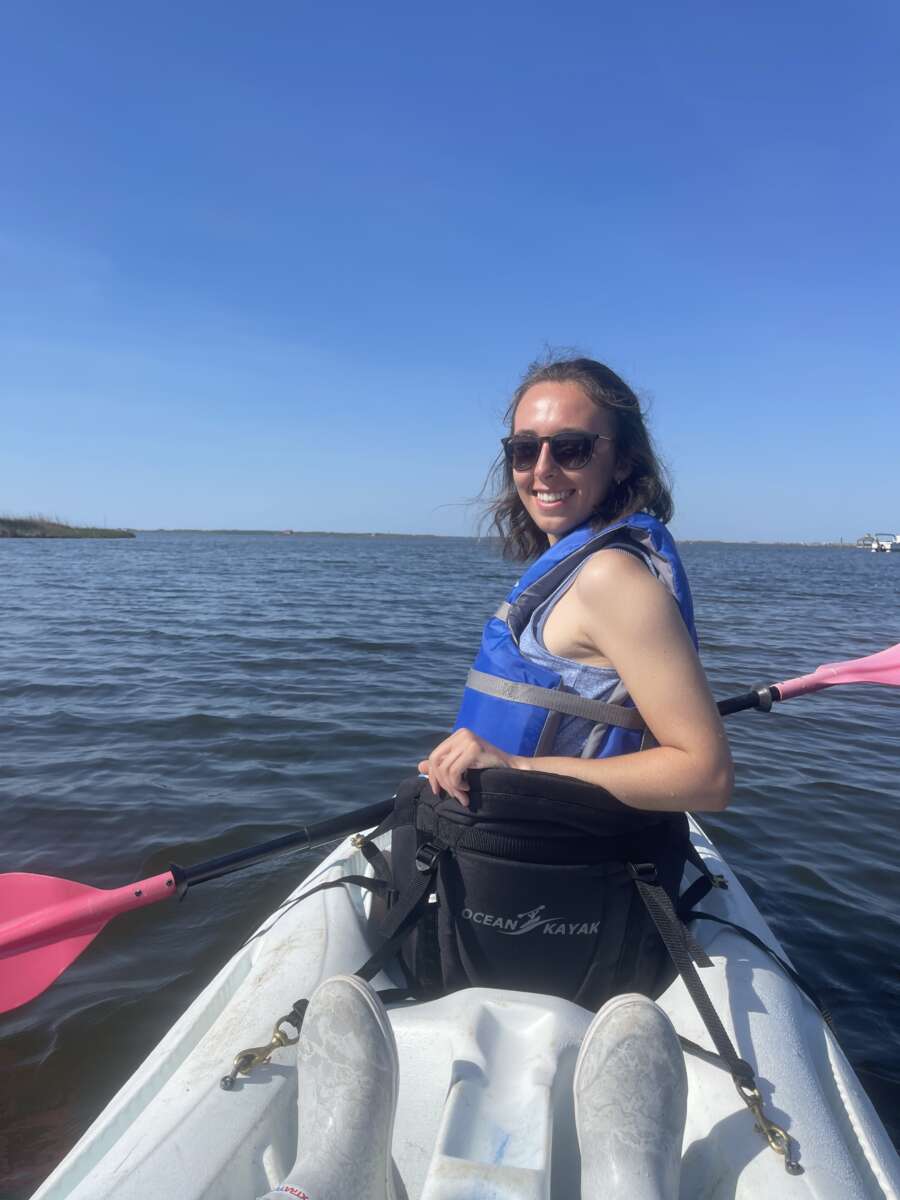 Charlotte Grimes smiles for a picture while out kayaking with her classmates.
Bailey Valdes, who hopes to pursue a career as a veterinarian, was one of the students who spent her spring participating in an internship at the North Carolina Aquarium of Roanoke Island. With an interest in working with marine mammals specifically, this experience was relevant to Bailey's future career prospects. "The skills I learned and became proficient in performing have given me such amazing experience for my future goals," she shares.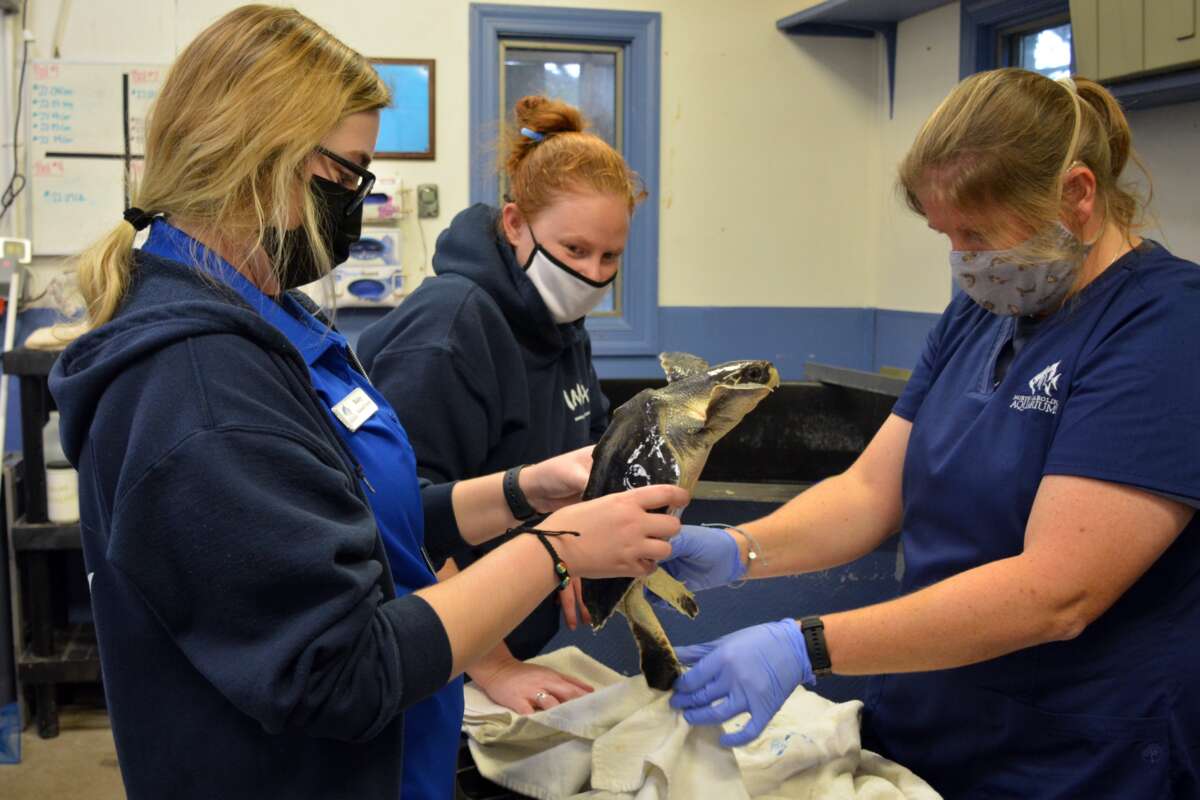 Bailey Valdes (left) assists staff at the NC Aquarium on Roanoke Island handle one of her favorite animals – a sea turtle!
"This internship gave me the ability to grow my resume for future jobs and internships. For example, I have applied to become a vet assistant over the summer and hope that this experience will give me a leg up on all the other applicants."
Bailey's time at the NCARI gave her an inside look at what it might be like to work in her desired field, and it is no doubt that the practical skills she applied during her semester at the coast will have an impact far beyond her undergraduate studies.
Kyle Ifill, a sophomore at ECU, also participated in an internship at the North Carolina Aquarium this semester. However, while Bailey was focused on animal husbandry, Kyle's job centered on a different task – public education. Kyle's position allowed him to interact with the public about the different animals at the aquarium, and he certainly recognized the importance of the task at hand.
"In order to make changes in this world, we need people to care. In order to get people to care, educators must highlight the importance of ecosystems and biodiversity," Kyle stressed.
This internship gave Kyle an opportunity to practice his public speaking, something with which he had little experience in his undergraduate career until now. When asked about his internship experience as a whole, Kyle noted that he "can use every part of [his] experience as a guide for future careers."
Kyle Ifill stands on the dock at the CSI marina after spending a day on the boat for class.
Finally, Grace Ruffino, a pre-med track biology major at ECU, spent her semester working at the Outer Banks Community Foundation on a project aimed at helping those who struggle with substance abuse in our coastal community. Like Kyle, this internship allowed Grace to explore some uncharted waters. The Outer Banks Community Foundation was more than willing to work with Grace on a project that suited her interests.
After focusing her internship on completing a survey of non-profit organizations in the area, Grace concluded that "we could benefit from affordable housing, affordable treatment for substance abuse, and more help for individuals who have mental and physical health issues but have no income or insurance."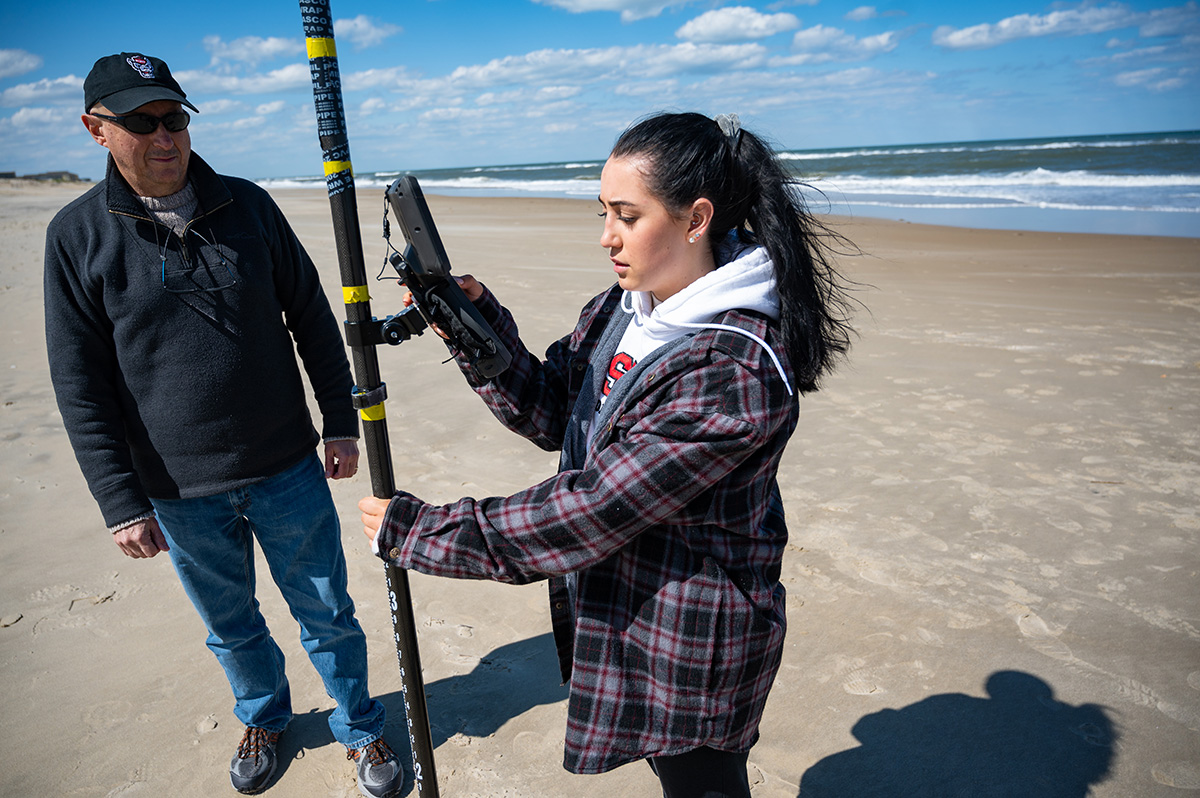 During one of her classes, Grace Ruffino (right) works to profile a beach located next to Jennette's Pier alongside Dr. Paul Paris (left).
This type of work is especially important in our community, and this internship granted Grace the opportunity to make a difference while also giving her insight into one field that is relevant to her desired future career.
The ability for students to participate in internships that meet each of their specific interests is one of the features that makes the Semester Experience at the Coast an amazing program for ECU students. Whether through conducting research in a lab, understanding the impact of environmental non-profits, learning to care for marine animals, gaining public speaking skills, or working to solve the socio-economic problems that affect coastal communities, each student walked away with valuable experience directly related to their unique aspirations. These internship opportunities reflect what the Semester Experience at the Coast is all about – students getting out in the field and learning about the potential impacts of a career at the coast.