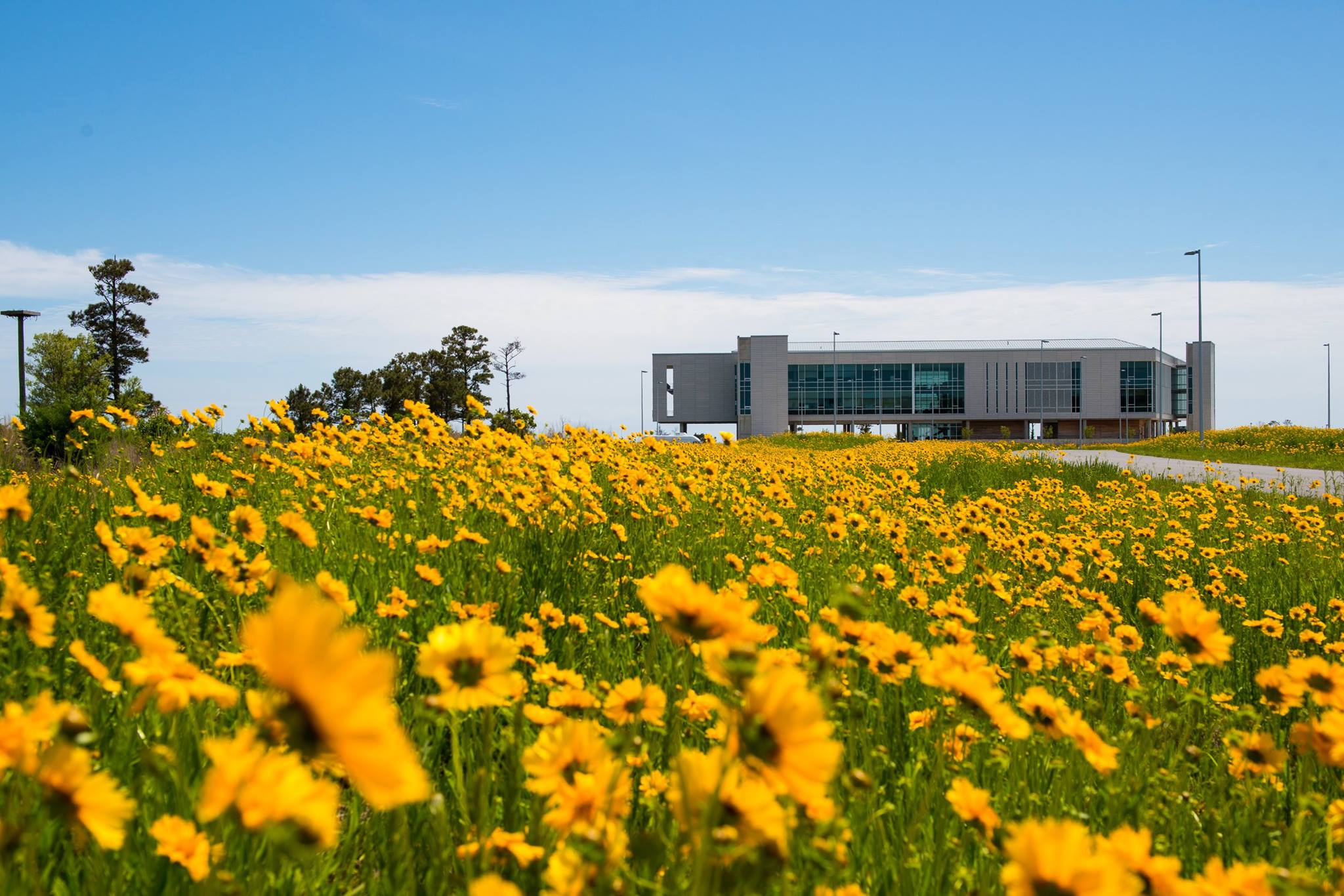 Landscape
Prior to state ownership, the CSI campus site was the location of dredge material deposition from a dredge operation that removed material from nearby Shallowbag Bay. The historic elevations of 3 to 5 feet above sea level were raised up to elevations of 8 to 10 feet in some locations. This recent development activity left the site fairly devoid of vegetation as dredge materials in coastal bays tend toward higher salinity and low nutrient value.
In the years following the dredge material addition, marsh grasses were beginning to succeed in lower elevations.
Prior to construction, CSI staff and volunteers executed a plant rescue activity to relocate hundreds of plants that would have been destroyed within the construction footprint.
Site revegetation was achieved post-construction by the use of special seed mixes that had been created for the site. Using a hydro-seeding process, the native grass and flower mixture that was created for the site on Roanoke Island was sprayed on all disturbed areas and along the roadway swales. Three seed mixes were created: upland, mid-slope and lower elevation seed mixes.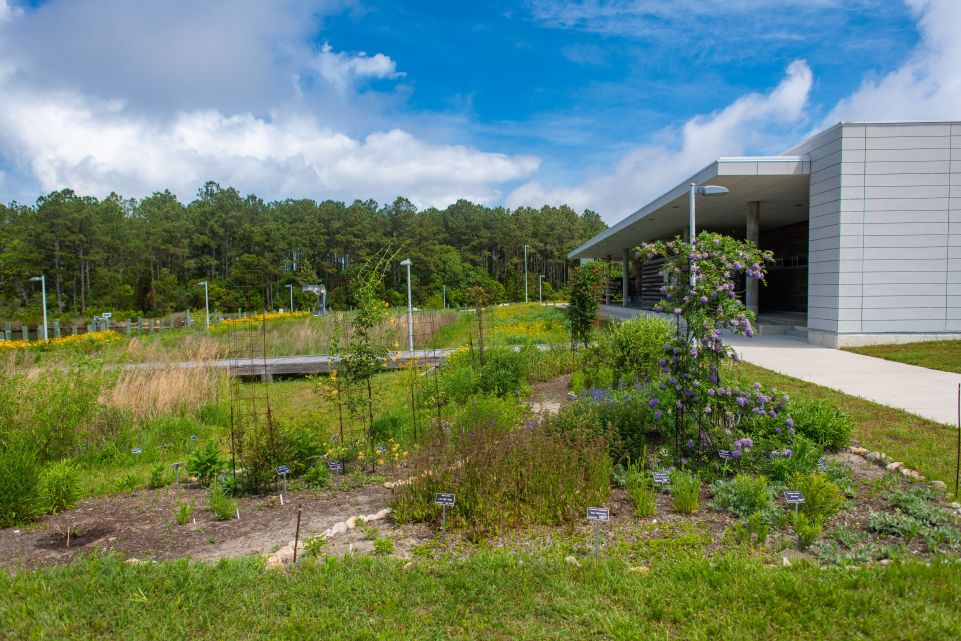 Now, the Coastal Studies Institute supports sustainable landscaping with the use of native plants.  Native plants are more tolerant to the local climate and changing weather conditions.  By reducing the amount of maintenance required such as irrigation and fertilization, planting native plants is a more sustainable option for landscaping.  Native plants promote biodiversity and provide shelter and food for wildlife.
Additionally, ten stormwater best management practices (BMPs) were created on site to collect runoff from the Marine Operations Building as well as roads and parking areas. The collection of bioretention ponds, created wetlands, level spreaders, swales and polishing fields treat 100% of the 
stormwater that falls on the CSI Campus. Each of the stormwater BMPs is planted with native vegetation and provides beauty for visitors as well as important habitat for coastal and migrating species.
The Coastal Studies Institute is a proud partner of the Coastal Landscapes Initiative to help address landscaping at every stage of the process while encouraging the use of beautiful, sustainable, functional, and cost-efficient species. The grounds of the ECU Outer Banks Campus serve as a wonderful public example of sustainable landscaping by using native trees, perennials, and shrubs.
LEED Gold-certified
The Coastal Studies Institute campus was completed in 2012 and after being awarded 64 points, received its LEED (Leadership in Energy and Environmental Design) gold certification in 2014. LEED is a green building certification program that recognizes green buildings constructed using state of the art design strategies, materials and components.
In addition to the sustainable landscaping practices highlighted above, CSI received points for other features, including recycled denim building insulation; regionally sourced building materials; a 48,000-gallon cistern for rainwater collection to recycle for non-potable usage; on-site wastewater treatment; and an exceptional indoor environmental quality and design innovation.