As the lead organization of the North Carolina Renewable Ocean Energy Program (NCROEP), the Coastal Studies Institute is committed to a cleaner, greener – or in this case, bluer- tomorrow. In addition to the projects NCROEP supports, CSI hosts a variety of educational activities and events centered around renewable energy, many of which will be supported by a generous grant from Dominion Energy in 2022.
In January, the CSI received a $5000 grant from Dominion Energy to provide additional funds for outreach efforts related to CSI's role in the Waves to Water Prize. Sponsored by the U.S. Department of Energy (DOE) and administered by the National Renewable Energy Laboratory (NREL), this five-stage, $3.3 million prize competition has challenged its competitors to build wave-powered desalination devices in hopes of providing better access to clean drinking water in future disaster relief efforts. CSI and Jennette's Pier have been selected to host the DRINK Stage Finale of the competition, and the remaining teams will put their devices to the test during a to-be-determined five-day "good weather window" at Jennette's Pier in April. In addition to the device deployments, staff from CSI, Jennette's Pier, NREL, and DOE will be at the pier hosting public events and school groups for ocean-oriented activities most days in April.
"We appreciate the generous support from Dominion Energy and their leadership advancing renewable energy and community education programs.  This funding will enhance Coastal Studies Institute's educational outreach to students and help inspire future innovators in building a better tomorrow.  The Waves to Water Prize Finale will bring leading innovators in wave-powered desalination to the Outer Banks and we are excited for our youth to see these technologies first-hand," says NCROEP Director George Bonner.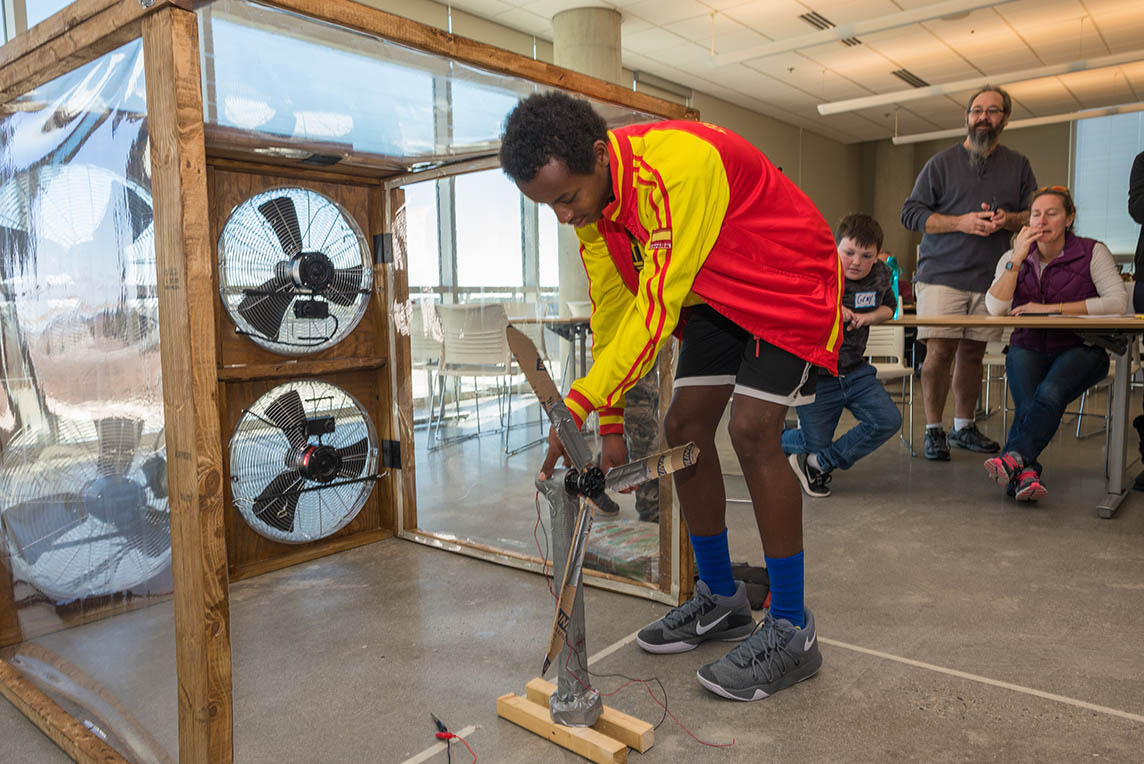 A past NC Renewable Energy Challenge competitor sets his wind turbine in the wind tunnel to test how much energy his design will generate.
The funding from Dominion Energy will also provide opportunities for local schools to visit the Coastal Studies Institute and take part in educational programming that highlights renewable energy development and the ocean energy research projects of the NCROEP.
Moreover, the 2022 North Carolina Renewable Energy Challenge comes at the perfect time for local teachers and students as it will take place as the Waves to Water Prize is concluding. This day-long event, hosted by CSI in conjunction with Jennette's Pier, and annually sponsored by NCROEP and KidWind, will be held on April 30, 2022. The NC Renewable Energy Challenge tasks middle and high school age students to design and build their own wind turbines or wave energy converters, while also offering them opportunities to interact with professionals in the renewable energy field and take part in competitions and instant challenges. Participating teams are able to request supplies free of charge to begin building their turbines or converters, and the winning teams will receive cash prizes and the chance to compete at the national KidWind competition.
Between the grant from Dominion, the upcoming Waves to Water Prize events, and the North Carolina Renewable Energy Challenge, there are plenty of opportunities for NC students and teachers to get involved with renewable energy programming this Spring. Teachers and students interested in any upcoming renewable energy programming are encouraged to contact CSI or visit www.coastalstudiesinstitute.org.
Featured Image: Members of the CSI, NCROEP, and Jennette's Pier teams met in January to receive the $5,000 grant from Dominion Energy representative, Winnie Wade. From left to right are Reide Corbett, CSI Executive Director and Dean of East Carolina University's Integrated Coastal Programs; George Bonner, NCROEP Director; Winnie Wade, Dominion Energy; Parker Murphy, CSI Outreach Specialist; and Mike Remige, Jennette's Pier Director.