As we head into the cold wet depths of winter on the Outer Banks, it's hard to imagine any place colder. But then the trailing thought- it could be worse, right? Indeed, it could, and for some, it is. Take for example the Arctic or Antarctic regions. These extreme regions of the earth are covered in snow or ice most of the year with temperatures often below zero. Yet, something about that stillness, just like the calmness of winter here on the beach, has its appeal; and also like our milder coastal ecosystems, the polar environments are worth understanding. The National Ocean Sciences Bowl also recognizes this need and had picked this year's theme to be polar sciences. As such, the coordinators of the Blue Heron Bowl, a North Carolina regional NOSB event, have asked Dr. Lisa Clough (above, far left) to be the keynote speaker for the 2021 virtual event.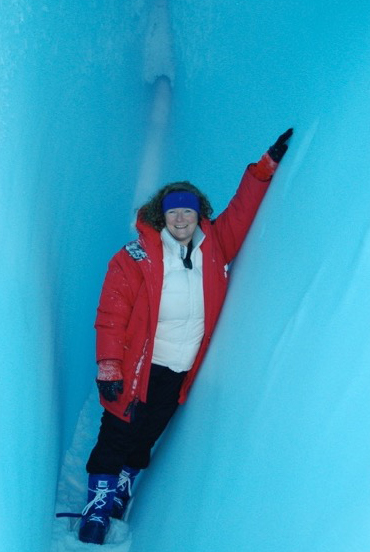 Clough is pictured above inside an ice cave in Antarctica.
For Clough the draw of the frigid polar regions has been apparent in her life. Growing up in Buffalo, NY, a place well known for its harsh winters, she had the opportunity to tour one of the U.S. Coast Guards' icebreaking vessels. These specialty vessels are used to break through the dense ice that forms on the Great Lakes during the winter months. Fast forward twenty years or so, and her life has been full of research cruises aboard similar vessels ever since. Her first was a National Science Foundation (NSF) cruise while finishing her Ph.D. at Stony Brook University in 1993. Later that same year, she was hired to fill a post-doc position at East Carolina University where she was invited to set sail again, this time in Greenland as a member ECU's interdisciplinary Institute for Coastal and Marine Research (ICMR). While she visited the Arctic many times, her first cruise to the Antarctic didn't occur until over 25 years later in 2009, but she is now proud to call herself "geographically bipolar".
In hindsight, it seems that Clough's first two cruises were to foreshadow her career trajectory. She has spent most of her career either at ECU or with NSF. At ECU, she started as a post-doc, then accepted a teaching position which turned into a tenure-track Biology professor position. While at ECU, Clough focused her research on North Carolina coastal habitats. Yet, along the way, she also had the opportunity to become more involved with NSF, further developing her polar interests while serving on the Arctic Ice Breaking Coordinating Committee; various panels; and even the rotating position as Program Officer for Antarctic Integrated System Science in the Office of Polar Programs.
 While still at ECU, Clough became the Interim Associate Vice Chancellor for Research. The role was largely administrative; however, Clough did not leave her coastal research interests behind. She oversaw ECU's coastal activities, including the Across-ECU Coastal Committee. This committee helped to tie all aspects of ECU to the coast and connect the different colleges of the university through interdisciplinary work.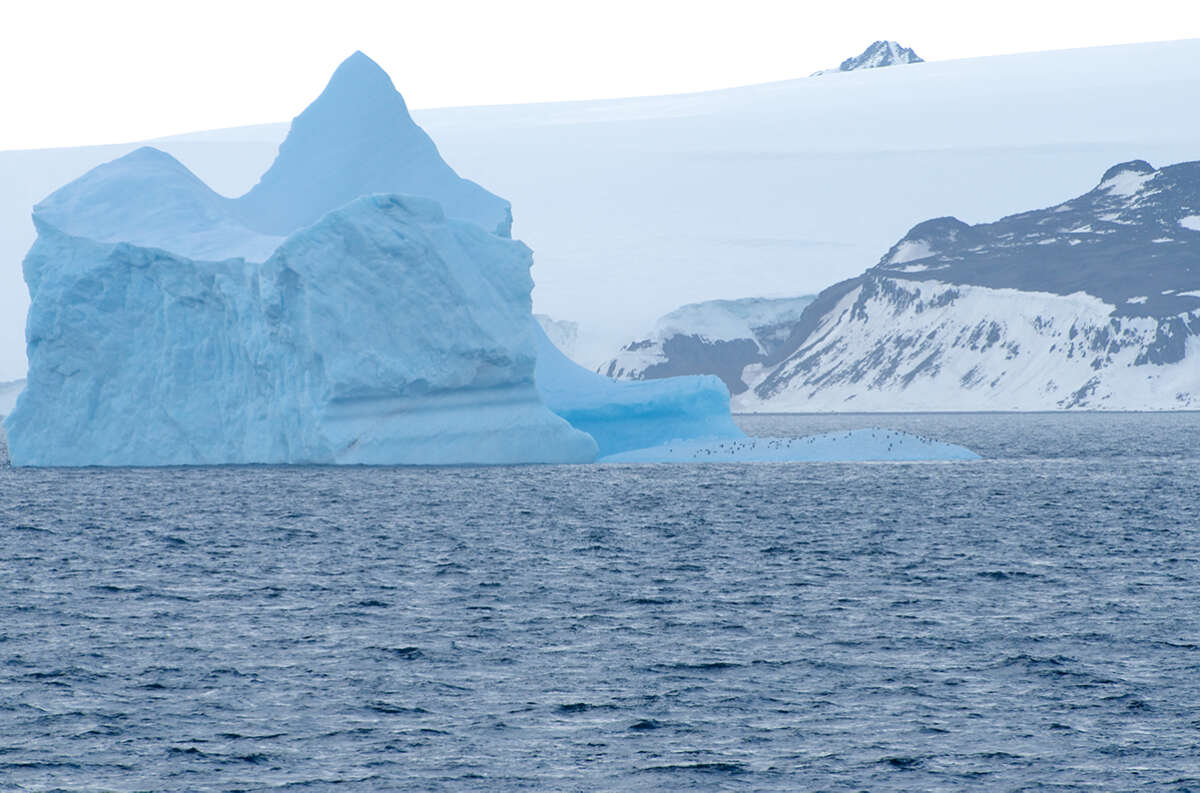 You can almost feel the cold in these photos from Antarctica. The frigid continent is a place of extremes with its deep waters and icy ground.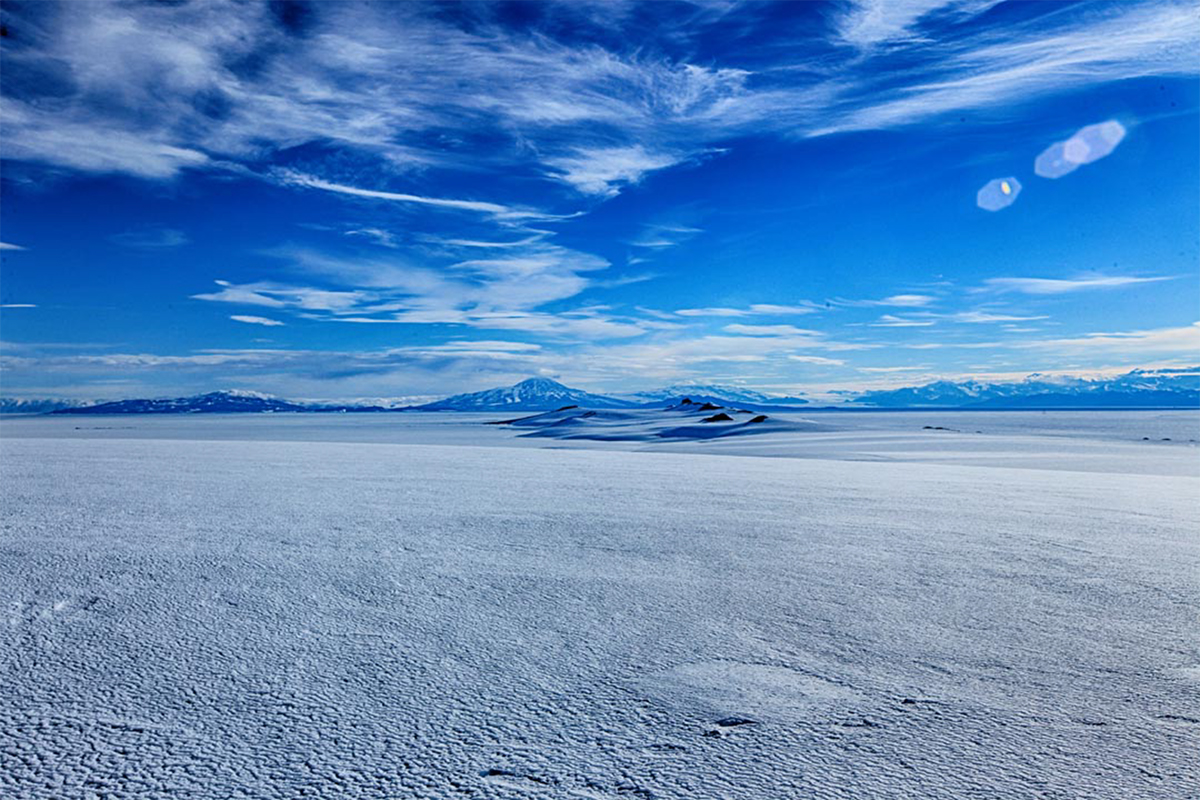 Clough is now back at NSF and serves as the Ocean Science Head in the Division of Ocean Sciences. Though both her career and her research have had a few clear transitions, she still notes some common threads. Her preferred area of work and research of "extreme conditions" coincides with the polar regions of the world she has researched.  But what does North Carolina have to do with that? Clough explains that in both areas of the world, she studies the "critters of the seafloor." In the Arctic and Antarctica, there's the extreme cold, extreme depth, and, of course, ice. In North Carolina, while the climate may be considered mild, the "extreme" can be found in change and the wildly varying temperature and salinity across seemingly small areas of the Pamlico Sound. While her research areas of interest are drastically different, both are environments that present "extreme physiological challenges" for their inhabitants.
Another commonality between Clough's among both research foci are the opportunities for engagement with people and combining "different ways of knowing". She explains, "While my arctic research really started out on ships, as we left from Alaskan ports, I went 'Ahh, I love this coastal Alaskan community' and 'Isn't that fascinating?". That was really the entrée to me working with the ECU social scientists and combining traditional ecological knowledge with scientific ecological knowledge." 
As some may guess, Clough's work must require excellent listening and communication skills, and indeed that is the case. In fact, it is a piece of sage advice she gives to many budding researchers and academics.  She offers the pithy statement, "Be humble, and be a good listener.", and further explains that the once competitive, be best mindset may make some miss opportunities in today's world of interdisciplinary work.
 "The humility of being able to see that there are huge benefits from other ways of thinking and doing, not just trying to dominate the conversations but to really make space for listening, is crucially important, especially when it comes to having an open mind for incorporating traditional knowledge.", states Clough.
 She continues, "Contrary to the belief that those who are the extroverts and arrogant are the ones who win, I think, in this crisis-filled land, that being a good listener and being humble about what you bring to the team will serve one well in the long run and will serve humanity well too."
Clough is a well-rounded individual. While she thoroughly enjoys her career, she also finds great joy and satisfaction in her family, sports, art, and gardening. In addition to her career accolades, Clough recently won AAA Manager of the Year for her coaching in the Falls Church Kiwanis Little League Baseball.
It is with this humble attitude Clough also enjoys interacting with those around her and sharing what she has learned along the way, and thus is excited to be the 2021 Blue Heron Bowl Keynote Speaker. Her career and passion for combining knowledge are well aligned with this year's National Ocean Sciences Bowl theme of polar sciences. In her presentation, she will speak to the power of coasts all over the world to be a solution for at least three of the four crises identified by the Biden Administration (the pandemic, the resulting economic fallout, racial justice, and climate change) and how the oceans are intertwined with and relevant to climate, equity, and economy.
"Even though there are some hot messes the ocean science folks are going to have to put a lot of effort into, I really think it is an exciting time and the polar regions have a lot to teach us about listening to traditional knowledge…. The Antarctic is the big bully when it comes to sea-level rise because when its ice is shed, it will dramatically impact coastal living, so it is important to translate our knowledge, love, and passion for polar into action. And that will require intersectionality, which is good and challenging all at the same time."
Clough's keynote address will be delivered to the teams via Zoom, and CSI plans to make it available to the public as well. Further details will be forthcoming via CSI social media platforms and website in the weeks ahead. Even more exciting, Clough will also graciously donate her time for a one-on-one, grand prize session with the 2021 Blue Heron Bowl champions.