Interdisciplinary sciences are playing an ever-increasing role in coastal research.  Blending natural and social sciences provides a more holistic approach when addressing research questions.  ECU and CSI scientists are making interdisciplinary connections on both the main campus and the ECU Outer Banks Campus. Biologists pair up with social scientists to understand fisheries dynamics; geospatial analysts partner with economists and anthropologists to study community resilience in the face of large storm events; and ecologists and physicists collaborate to assess the Gulf Stream. With each of these example pairings, it comes as no surprise that ECU's Integrated Coastal Programs (ICP) and Department of Coastal Studies, along with the Coastal Studies Institute, launched the Coastal Fellows Initiative for Summer 2019 and found great success.
The Coastal Fellows Initiative seeks to bridge knowledge across disciplinary boundaries, such as engineering, natural or social sciences, or health, by encouraging ECU scholars to pursue coastal-related research. In 2019, two such scholars were selected- April Blakeslee and Erin Field. Both are Assistant Professors in the Department of Biology.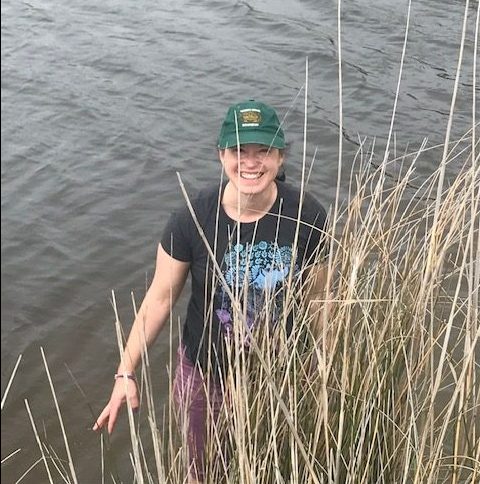 Blakeslee's main research area has been marine conservation, and within that field, she has focused on invasion biology and parasite ecology. One of the big projects in her lab centers around the selective pressures of host-parasite relationships. She has previously studied how salinity in North Carolina estuaries affects a parasite that invades the bodies of host mud crabs and essentially makes them zombies. This parasite invasion is often referred to as "body-snatching" and causes extreme behavioral and reproductive changes in native mud crabs. The Coastal Fellows Initiative has allowed Blakeslee to expand her test area to include a site at CSI. For several months, Blakeslee found no indication of the parasite; however, when she visited most recently the parasite was present. The parasite is sensitive to salinity and the larvae are not able to survive in salinity levels lower than 8-10 parts per thousand (ppt). Therefore, Blakeslee believes the newly found parasite presence indicates a salinity shift to higher levels along the shoreline at CSI. These findings are important for several reasons. First, when salinity was low, the environment was not conducive to the parasite and provided refuge for the mud crabs, thus letting them continue to function normally. However, Blakeslee suspects "with human-mediated global change, like
enhanced salinization in coastal wetlands and increasing water temperatures, the parasite may be able to invade areas that would have been previously inaccessible." Additionally, the mud crabs are important members of the estuarine food web. When they become infected, mud crab populations are negatively affected, so many other species within the ecosystem will face ramifications. Through her fellowship has ended, she hopes to continue the use of the CSI site and work with the CSI community to better understand how salinity changes at CSI and how that influences infection dynamics at the site.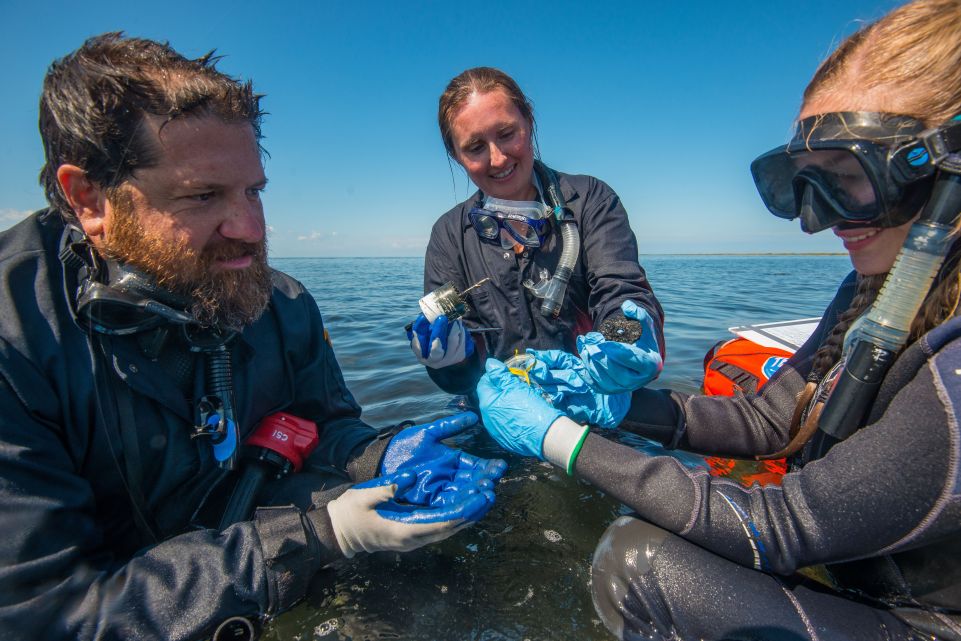 While Blakeslee utilized the grounds of CSI for her project, Dr. Erin Field's research objectives helped her collaborate with other ECU and CSI personnel. She, along with Drs. Nathan Richards and Jennifer McKinnon from the ECU Program in Maritime Studies, studied nearby coastal shipwrecks, like the WWII landing craft support vessel found in the sound off the shores of Rodanthe, locally known as the Pappy's Lane wreck. Field's area of study is geomicrobiology, and she focuses on microbe-metal dynamics. In coastal environments, certain microbes will often settle and build up on metal structures such as bridges, pipes, and wrecks; and these build-ups, often known as biofilms, can contribute to the corrosion of the metal structures and decrease structural integrity. Field, like Blakeslee, used the Coastal Fellows opportunity to build on past research. She asked, "How do microbes affect the degradation and preservation of different metal alloy structures found in coastal 
systems?". Finding the answers to this question included looking at different variables including different types of metals and microbes, as well as salinity gradients. The researchers sampled the microbes at Pappy's Lane and other wrecks, as well as conducted lab experiments, to better understand the microbes and the metals on which they preferred to collect. Field explained their findings could give insight for better maintained infrastructure and also help maritime archeologists more easily identify old wrecks based on the type of microbes drawn to the metal. The collaborations Field forged during her time as a Coastal Fellow have since led to other opportunities. She, along with Richards and McKinnon, were funded by the National Parks Service National Center for Preservation Technology and Training program to conduct research in Saipan. There the three will use techniques similar to those for her Coastal Fellows project to study WWII aircraft wrecks and the microbes attracted to the aluminum aircraft composition.
Blakeslee and Field both feel fortunate to have been selected as the inaugural Coastal Fellows. Blakeslee shared, "For me, it has been a nice way to meet people working at CSI and think of new ways to expand and build upon my current research program. I am very happy I was able to take advantage of the resources that CSI provides. I am very grateful for the experience." Field, also happy with the collaborations and connections she made, encouraged upcoming Coastal Fellows to "Be open to opportunities you don't expect! Talk to everyone you meet and share with them what you are doing. You never know who could help you or have ideas you never even thought of."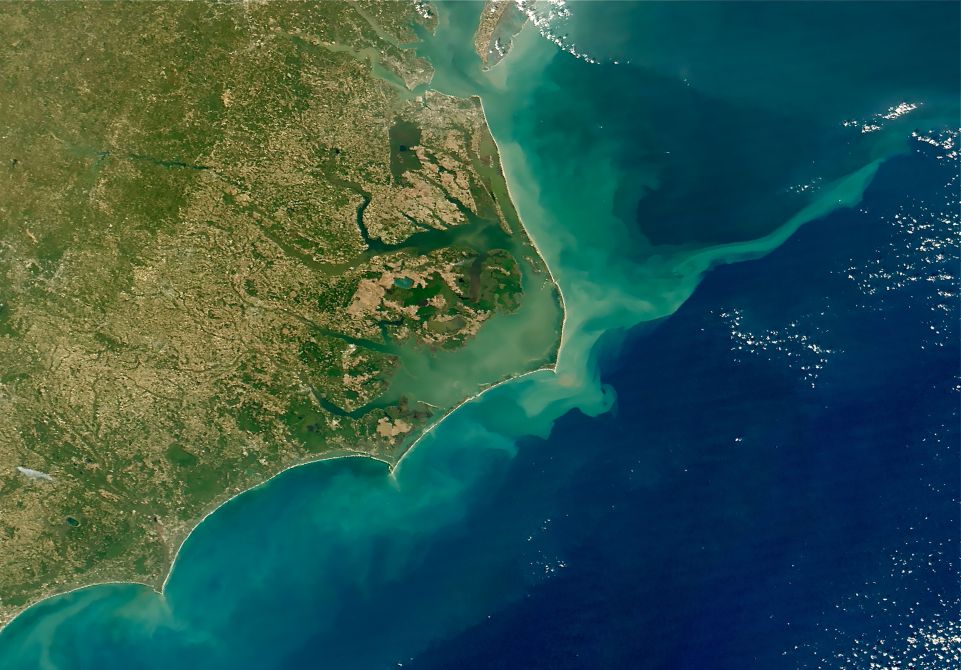 While last year's fellows both focused on microscopic organisms, the 2020 Coastal Fellows, which were recently announced, both will perform studies that include climate change and sealevel rise as driving factors. Assistant Professor of Engineering Dr. Raymond Smith has proposed to coordinate a group of interdisciplinary scholars to produce an adaption planning process, via a new framework and decision support resource, for rural coastal communities that have or could be impacted by large storm events and flooding and are also potentially more susceptible to economic stressors and inadequate infrastructure. Rural coastal communities can be disproportionately affected by issues such as these, thus Smith's study of community dependence on economic, social, ecological, environmental, and infrastructure systems will be apt for producing suitable community resources. ECU Economist Dr. Gregory Howard will also take the community into account with his proposed
project with an assembled interdisciplinary group. He and his colleagues hope to build a research program to examine how voluntary home acquisition programs could better operate, including reducing costs to taxpayers, increasing homeowner interest, and positively impacting ecosystem services in the area. As the 2020 Coastal Fellows, both Smith and Howard will receive summer funding for their studies and will later present their research to CSI and community audiences.