Written by Lauren Colonair.
Recently, my classmates and I have reached the midpoint of our semester at UNC's Outer Banks Field Site. This year, due to COVID-19, the final half of the semester came earlier than we expected. It has been a strange experience with August feeling both recent and distant. Despite the strangeness, crossing into the last two months has triggered reflections of our shared experiences since arriving.
Since August, we all have become more familiar with the Outer Banks, especially Manteo and the CSI campus. Through field trips stretching from Corolla to Hatteras, we have seen how unique each section of the beach is.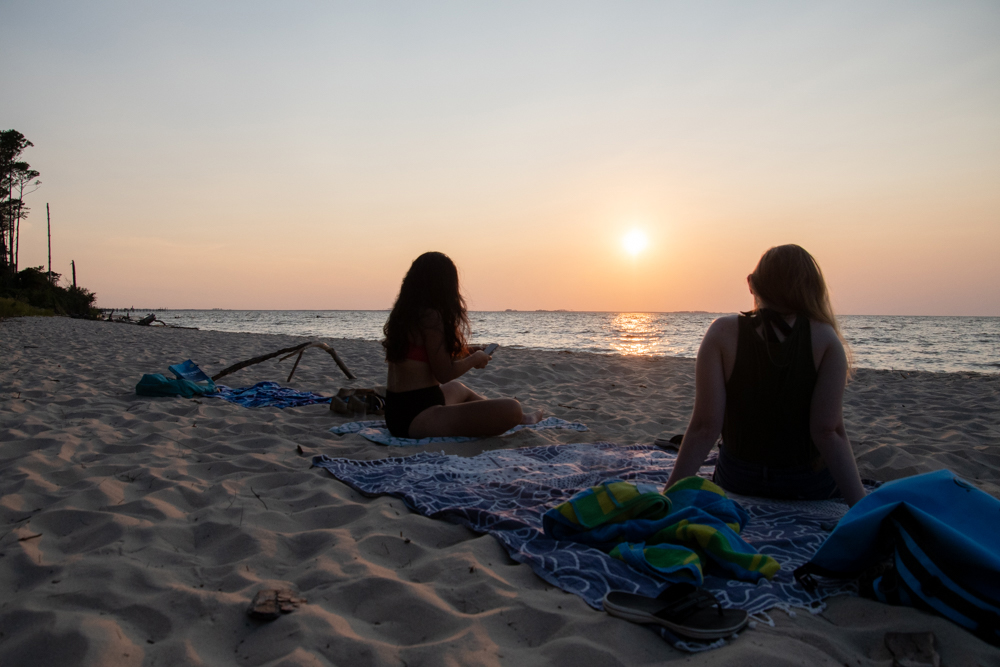 While studying at the OBXFS, we have come to understand sense of place both through classes and enjoying our free time in this beautiful environment.
"We learned about sense of place at the beginning of the semester and even though I thought it was just an arbitrary phrase, I have learned how it relates to our time here." Todd Davis, a senior major in environmental studies with a minor in geology, stated. "It has only been about two months, but I have started to value this place and all the different recreational activities it has to offer." 
Our instructors have made sure we don't only see each place, but that we also learn about various aspects of ecology, economics, and management that affect the lifestyles and common practices found there. For example, while in Currituck County we explored the long-lasting impacts of the county's beginnings as a duck hunting hotspot. While in Hatteras we discussed the connections bridges provide to many communities on the Outer Banks, but also the conflicts they give way to. We explored multiple management decisions and discussed how they continue to shape the area. Learning the small, but important, details about the place we are studying, has enhanced the experience ten-fold.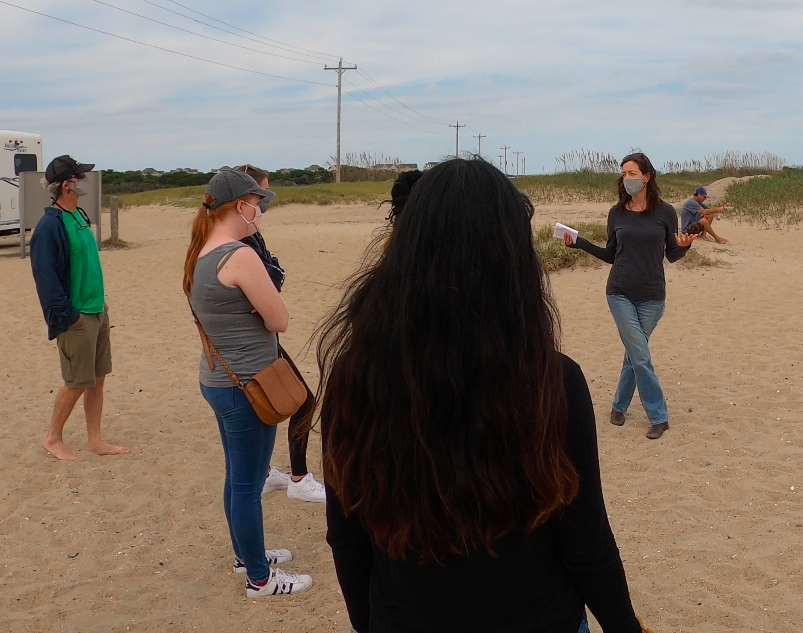 We visited the original site of the Hatteras Light House.  There Dr. Linda D'Anna spoke to us about moving the lighthouse and the challenges of such an undertaking. [Photo: Lauren Colonair]
"I have realized just how much work our professors have had to put in to make this field site enjoyable for us," Davis said. In our classes, we have gained a lot of knowledge. Thankfully, our outdoor classroom has stood the test of time and is still serving as an amazing place to learn and discuss new concepts. 
Heidi Hannoush, a sophomore majoring in environmental science with a concentration in ecology and natural resources, spoke of the benefits our setup provides, "Thanks to our outdoor classroom, I haven't had class in a traditional setting once this semester." Through the guidance of our instructors, we have come to deeper understandings of the environment around us. There have been plenty of riveting conversations concerning the trends we are starting to notice in all aspects of our studies, and we are all excited to continue to learn more each day. 
Perhaps the most eye-opening element to look back at is the work we have accomplished for our Capstone research project. At the start of the semester, we had only our research questions and the information we had gleaned from our crash course on coastal hydrology and septic systems. The task of exploring the interactions between groundwater and septic systems in order to understand the implications of a rising
groundwater table seemed daunting. However, we have now started writing our final paper on the topic. Over the past nine weeks, we created a survey, found ways to recruit people to take the survey, learned how to collect water samples and water data, and started analyzing those samples.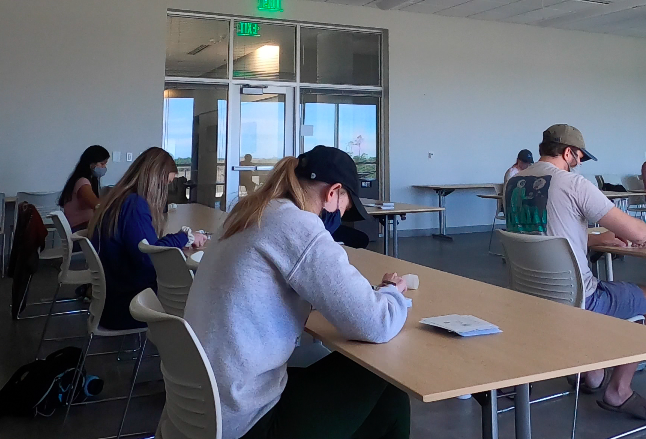 Janis decided to bring her speaker to our Postage Jamboree, quickly becoming the honorary DJ of the event. [Photo: Lauren Colonair]
Our survey was one of the first bonding experiences we had. As we started formulating questions, we found the entire process to be much more challenging than initially expected. After countless meetings toiling over wording, debating what we actually wanted to ask, and organizing the content, we managed to create a product everyone was happy with. The tasks, however, were not over yet. Having a survey was worth nothing if no one took it. The process of generating recruitment material ranged from photoshoots to formatting consent statements, which then culminated in the "2020 Postage Stamp Jamboree" where we prepared 3,500 postcards to be sent to homeowners in our study area.
Our Capstone is also dependent on data collected via samples from eleven groundwater wells. The first time we participated in a sampling day, we all returned home exhausted. The day was spent not only collecting samples and taking environmental measurements but also performing analysis in the lab. Due to protocols both in the field and the lab,
everyone had lots of information to take in. However, when the second sampling day rolled around, we found ourselves organized into a well-oiled, high-functioning, groundwater sampling machine. Now that we have completed our third collection, everyone knows their role, and the struggles of the first attempt seem almost comical.
"These experiences expand our boundaries and indulge curiosity. They also help answer the ever-important question of what you want to do with your life," Hannoush said.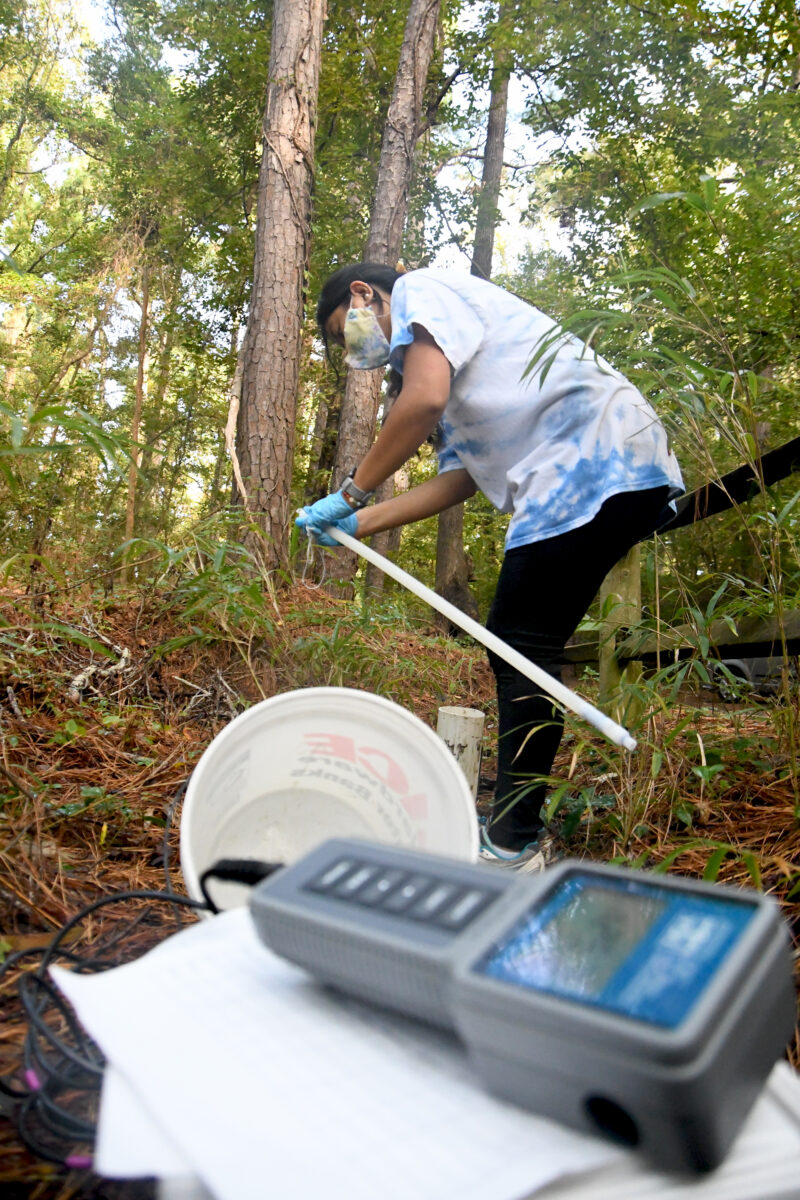 In order to obtain uncontaminated samples, we use a sterilized bailer to pull water from the wells. Once the water is in the bailer we are able to pour our sample into transportation containers and bring them back to the lab. [Photo: Heidi Hannoush]
As amazing as the educational aspect of this program has been, the real magic behind this place lies within the people. Forming connections with others is an important part of life that has been increasingly difficult to do over the past few months. By participating in the OBXFS program, we have all been lucky enough to remain in person throughout the semester, but this within itself presented obstacles.
We all came here, in a sense, alone. We did not know each other, the area, or what we should expect from the journey we were about to embark on. Due to the pandemic, many of us felt a tinge of isolation during those first few weeks. It was not easy to see friends and family, and being around new people had taken on a shadow of fear, following the months of quarantine from which we were emerging. As we fell into a routine, being in Mateo became our new normal. Our schedules imprinted themselves in our mind, the faces we found around us became familiar, our rooms became ours, CSI's grounds became speckled with memories and new experiences. It all became comfortable, and the isolation faded slowly into a distant memory as nights spent struggling through economics homework and discussing life on the porch of our new home molded us together into a small community working toward a common goal.
Davis spoke to the community we have built here, "I have found a strong sense of community with the other students and the places we have explored. We are all here to learn and experience the world around us in these weird times."
Now, much like our water sampling days, life here has become an efficient machine. We now know each other, our similarities, differences, and life goals. We have found how we all fit together and discovered how much we can accomplish as a team. We have supported each other through difficult times and created memories in the good that we will, no doubt, remember fondly in the future. Most importantly, through our connections to each other, we have realized how truly lucky we are to have found ourselves in the program at CSI and with each other in this exact moment.
Finding our dynamics took longer than it may have in the past, but we have discovered something special. We have become a little family, and I'm sure that connection will only grow as we continue to move towards November.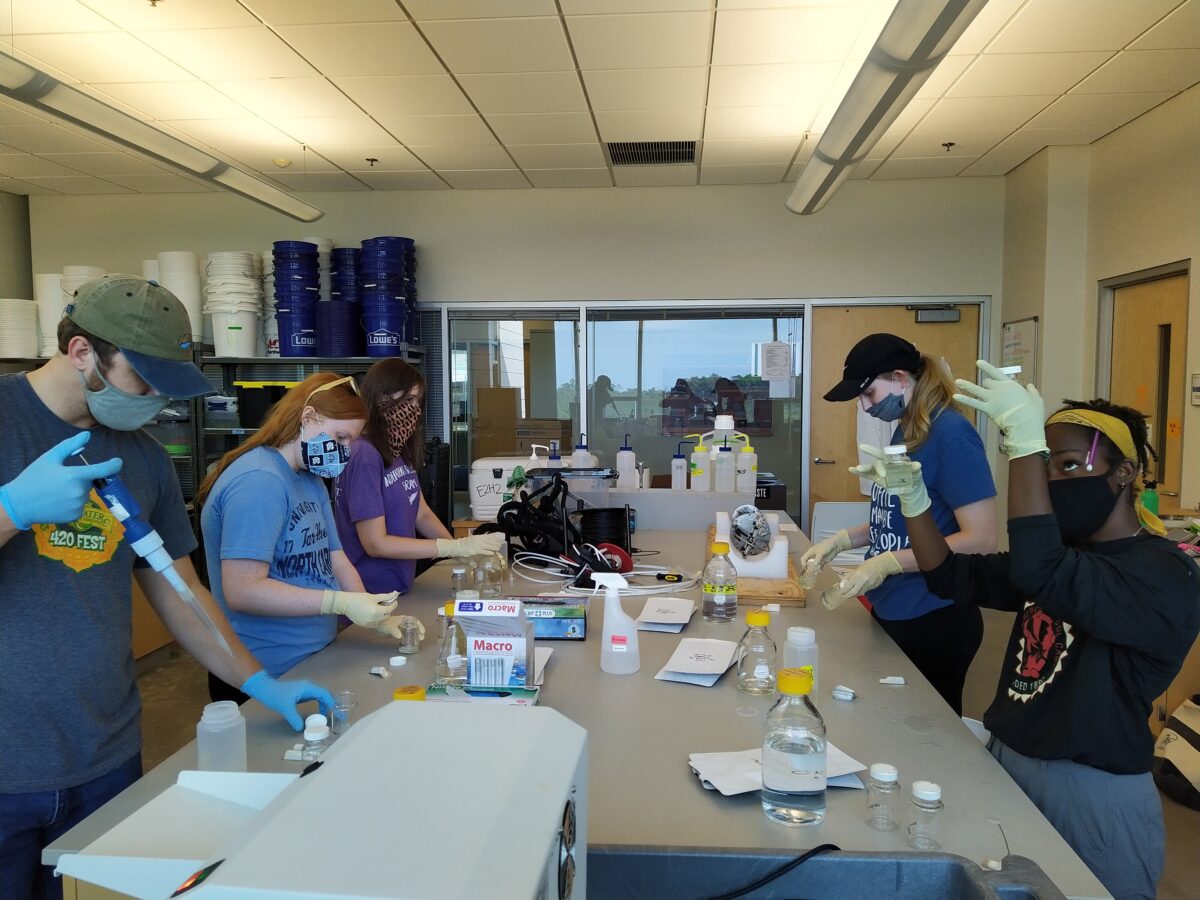 After collecting our water samples, we prepped the water for a 24-hour incubation. The next day, we determined the abundance of E.coli and complete coliforms, which will help us understand what interactions take place between septic systems and groundwater. [Photo: Lindsay Dubbs]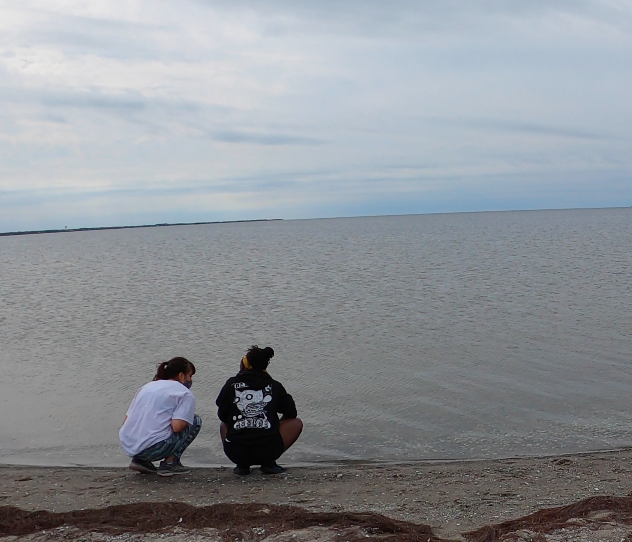 While on one of our field trips Bri and Heidi sat by the sound and discussed the algae they observed growing on seashells in the shallow water. [Photo: Lauren Colonair]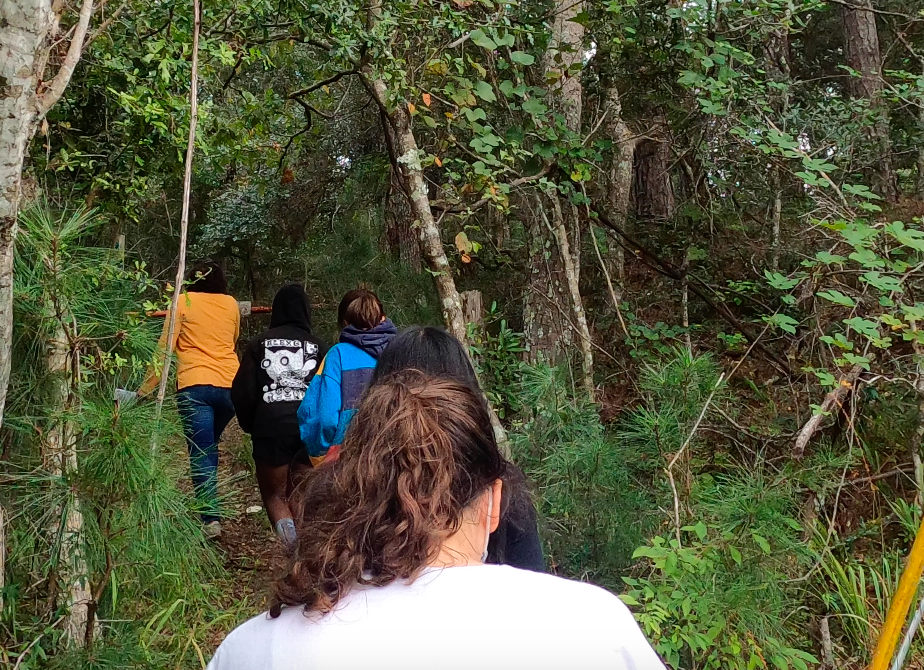 In our seminar course on coastal issues, we have found ourselves in many places from sand dunes to maritime forests. During our trip to Hatteras, we explored Buxton Woods and discussed the differences between what we saw there and what we had seen earlier in the semester at Nags Head Woods.