The ocean is warm, and the sun is out, but that doesn't mean that undergraduate research stops during the summer on the ECU Outer Banks campus. This season, a Research Experiences for Undergraduates (REU) cohort traveled to Roanoke Island from all over the United States and Puerto Rico to conduct research at the Coastal Studies Institute. Each of the undergraduates came from diverse academic backgrounds ranging from environmental science to math to geology to social science. Every student arrived on the Outer Banks with a unique set of skills, but they all had one goal in common – to help communities better adapt to coastal change.
The Resilience and Adaptation to Coastal Change Across Communities (C2C) REU program is funded by the National Science Foundation and focused on increasing the resilience of coastal regions. The program is unique in its coastal emphasis, interdisciplinary approach, and team focus. With faculty mentors coming from three different institutions, including East Carolina University, Clemson University, and the University of Puerto Rico at Arecibo, students are uniquely paired with a mentor who shares their research interests and can guide them in their respective fields. Because the REU program takes place on the ECU Outer Banks Campus at the Coastal Studies Institute, students are not only situated in an ideal place to conduct research but also within a community that is being directly affected by changing coastlines.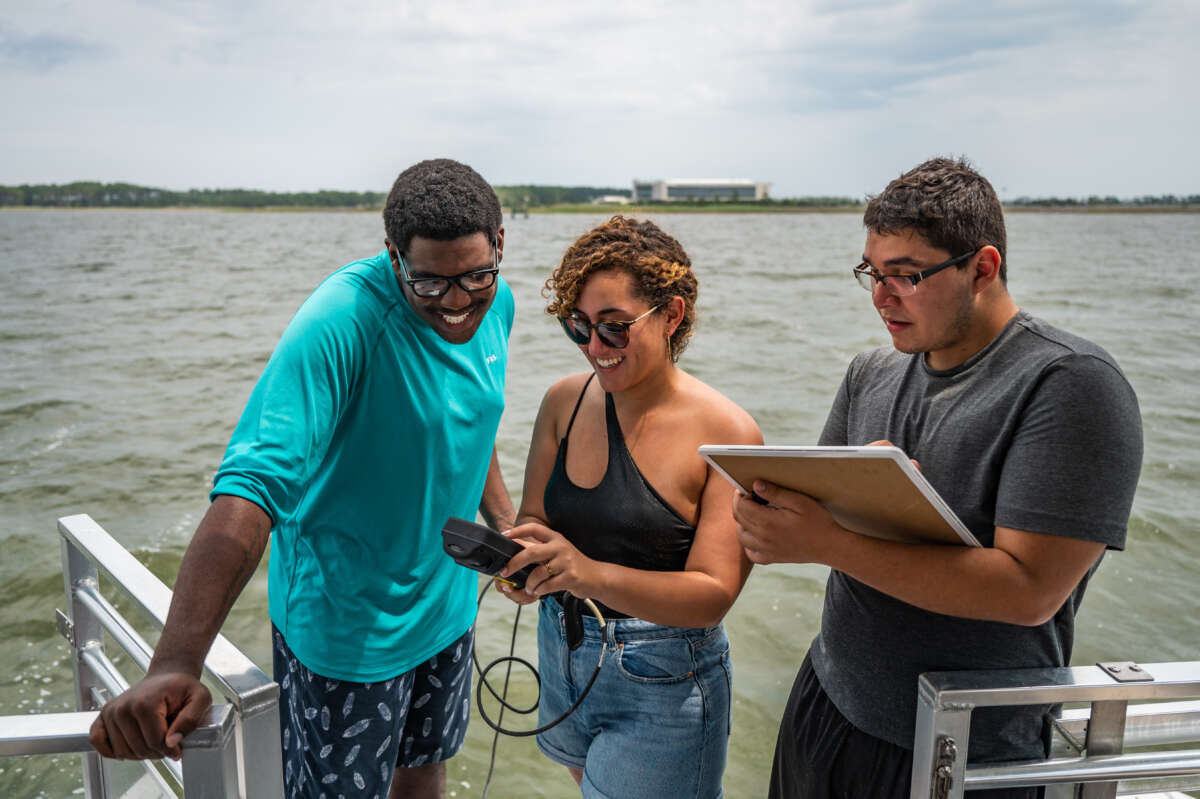 Diandre' Richie, Yamilet Feliciano-Gonzalez, and Isaac Ramos work together to record data water quality data in the Croatan Sound.
Yamilet Feliciano-Gonzalez, a student in this year's cohort, noted that "The work environment and support system that this REU brings [one] is perfect for the students that are starting in their research area." In addition to their independent research with faculty members, students also participated in weekly cohort check-ins, professional development seminars, presentations from the interdisciplinary team of researchers, and field trips within the community.
Students had the unique ability to work with their mentors in a variety of capacities during the program. Being able to collaborate online provided flexibility to work with mentors in other areas of the U.S., but many students also enjoyed the opportunities to get out in the field for hands-on research experience.
Sawyer Gouldman worked with Dr. Mike Muglia's lab and learned how to make ocean observations applicable to the development of ocean renewable energy solutions. "This experience has been very beneficial," Gouldman shared. "It has taught me how to work on a research team, as well as challenge and motivate myself independently." In addition to obtaining technical skills such as coding in Python, Sawyer traveled offshore with Muglia on the CSI research vessel, Miss Caroline. Sawyer concluded that based on data he processed from the CDIP 430 buoy off the coast of the Outer Banks, the summer is a more viable testing session for renewable energy devices.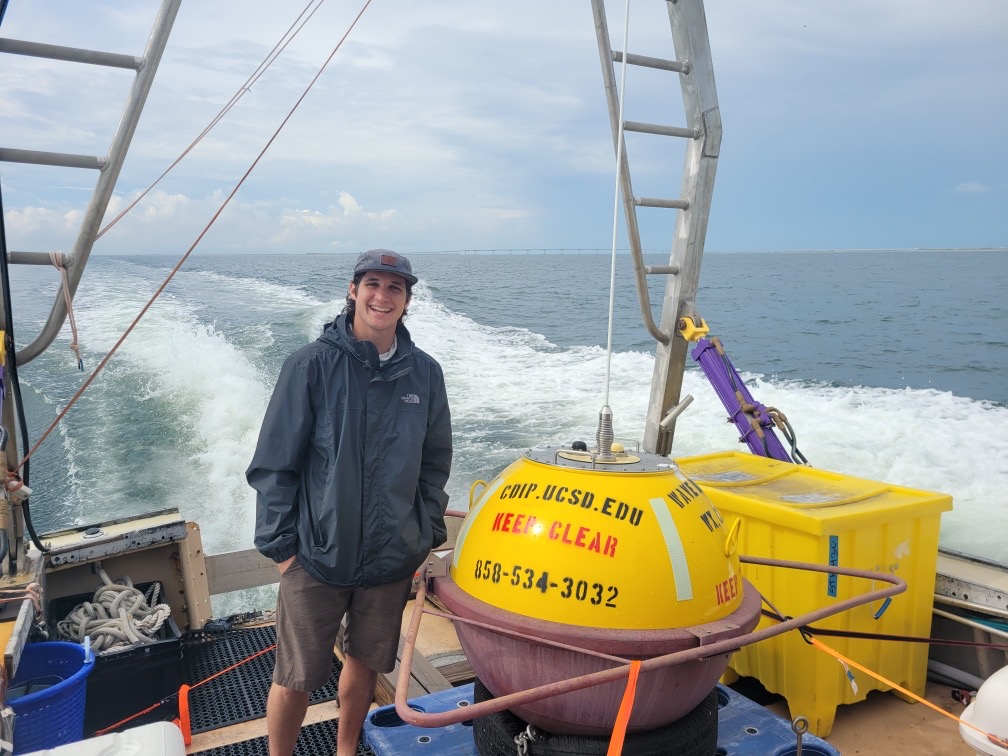 Sawyer Gouldman out at sea on the CSI research vessel, Miss Caroline.
While each student developed their own individual research projects, they also worked with other members of their cohort on a project designed to further expose students to an interdisciplinary environment. At the end of the program, in addition to creating posters based on their own research, students shared videos they produced in teams that were intended to educate the public on different problems that face our coastal communities.
"It's been really incredible to watch students from all different parts of the country with various backgrounds come together with the shared goal of growing as researchers," Alex Nolte, the program coordinator for the C2C REU, noted. "Working with these students has been an absolute joy and I have no doubt that they will carry these experiences with them far beyond their undergraduate career."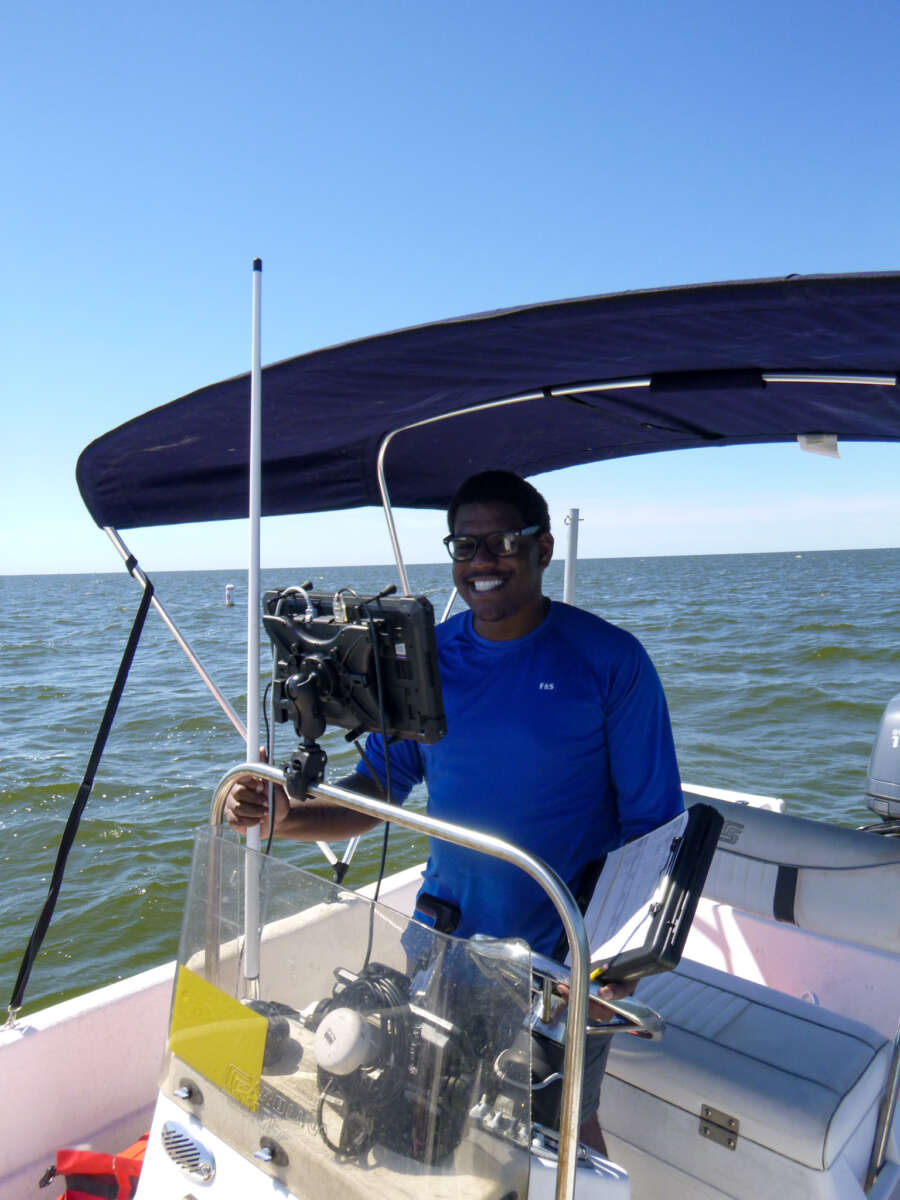 Diandre' Richie thoroughly enjoyed his time collecting data in the oyster sanctuaries of the Pamlico Sound.
Diandre' Richie, who worked with Dr. Jim Morley at ECU to measure artificial fish habitat enhancement on oyster sanctuaries in the Pamlico Sound using acoustic imagining shared that some of his favorite activities during the REU included "the group kayaking trip, going out on the boat into the field, and how quickly [the students] bonded as a cohort."
The team atmosphere is one of the program's aspects that allowed students to grow as researchers and also make memories that will last a lifetime.
Madeline Kronebusch who worked with Dr. David Lagomasiono to measure mangrove resistance and resilience in the Philippines following super typhoon Odette highlighted the C2C REU as an "exceptional experience", while Isaac Ramos, who worked alongside Dr. Angel Acosta Colon (University of Puerto Rico at Arecibo) using airborne lidar to compare coastal processes in high and low energy systems in Puerto Rico, shared that "This REU has given me the valuable experience of expanding my horizons and learning to see things from different perspectives."
The C2C REU is important because it aligns with goals of the National Science Foundation to promote diversity and research opportunities for students that wouldn't normally have the ability to do so at their home institutions. At ECU and CSI, faculty, staff, and coordinators always hope that students set sail for new horizons. After a summer full of exploration, friendship, and research, it is safe to say this group of students is on course to expand solutions to the problems faced in coastal communities.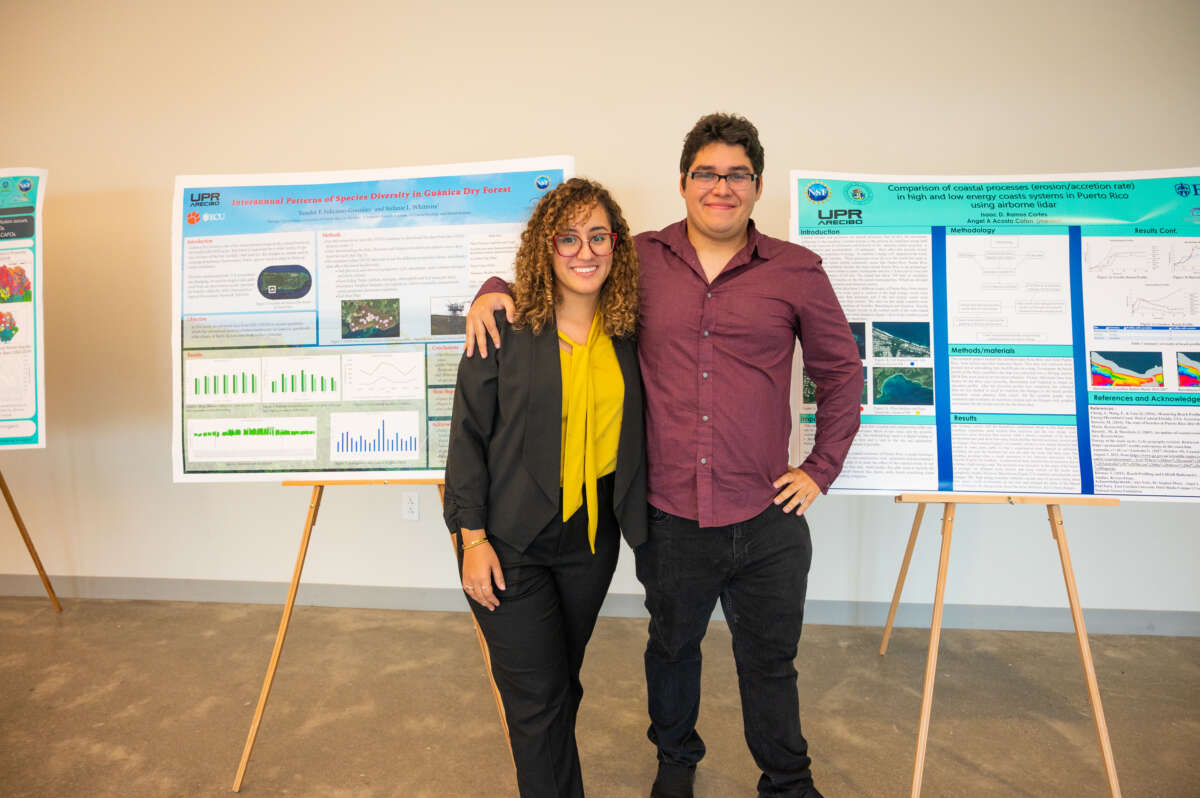 Yamilet Feliciano-Gonzalez and Isaac Ramos pause for a photo in front of their posters which they presented to their peers and mentors at the end of the summer.