Ten years ago this winter, the staff and faculty of the Coastal Studies Institute got a brand-new view.
Long before the property was known as the ECU Outer Banks Campus, the 230-acre coastal site was slotted to have multiple single-family homes and a surrounding marina. Around the same time, CSI was looking for a more permanent place to call home. CSI had outgrown its current space, which consisted of a 100-year-old office space in downtown Manteo and a laboratory in the old health center in Nags Head. The organization had procured another parcel of land but unfortunately, it lacked water access and thus CSI vessels would need to be housed at an offsite location. This was less than ideal for a coastal and marine research center and CSI was looking for waterfront property with deep water access.
As fate would have it, the market would turn, and CSI would be given an opportunity to tour this grand piece of real estate on the Croatan Sound. While the price tag was seemingly out of budget for the organization, once they saw the property, they knew they should figure out how to make it work. Finally, CSI was able to purchase the property, and the development of our coastal campus began.
Not only did CSI someday hope to be a well-known higher education research institution, but the organization hoped they could also serve as an example for sustainable practices in the community and beyond. They achieved the latter in one way through the construction of the new building itself.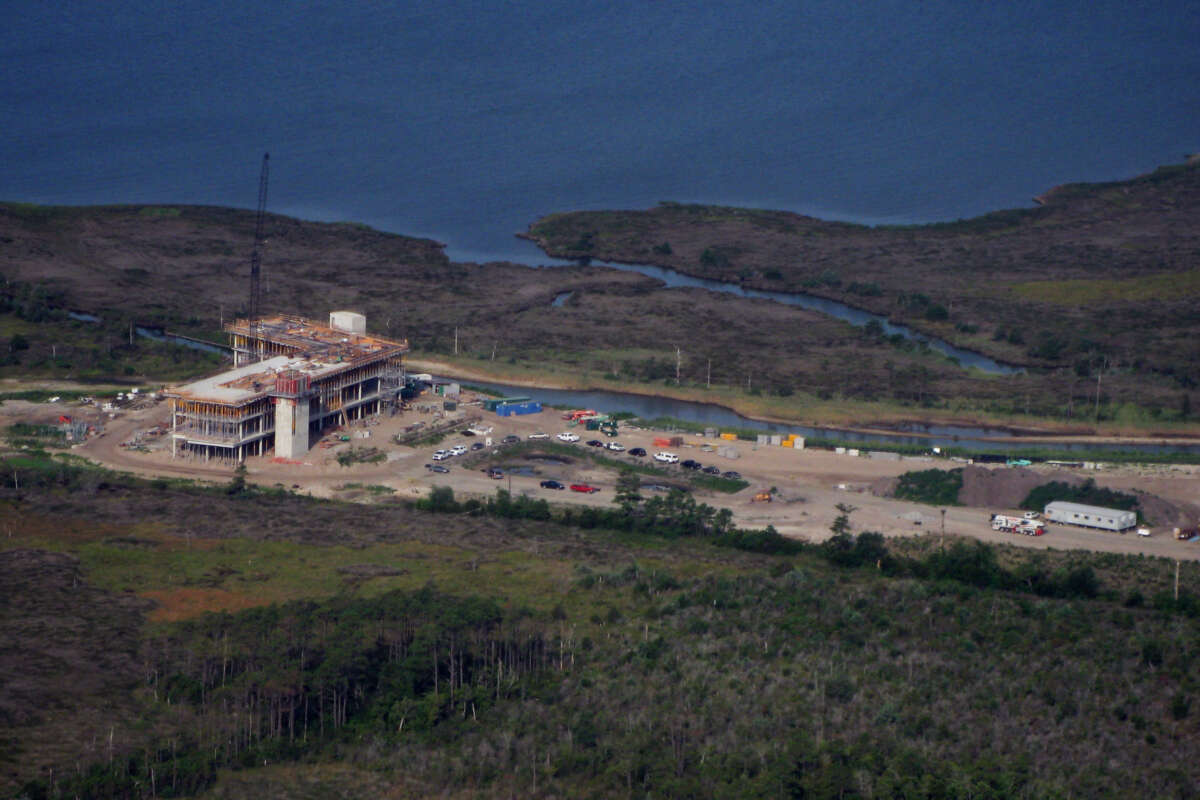 Early construction of the Research, Education, and Administration Building.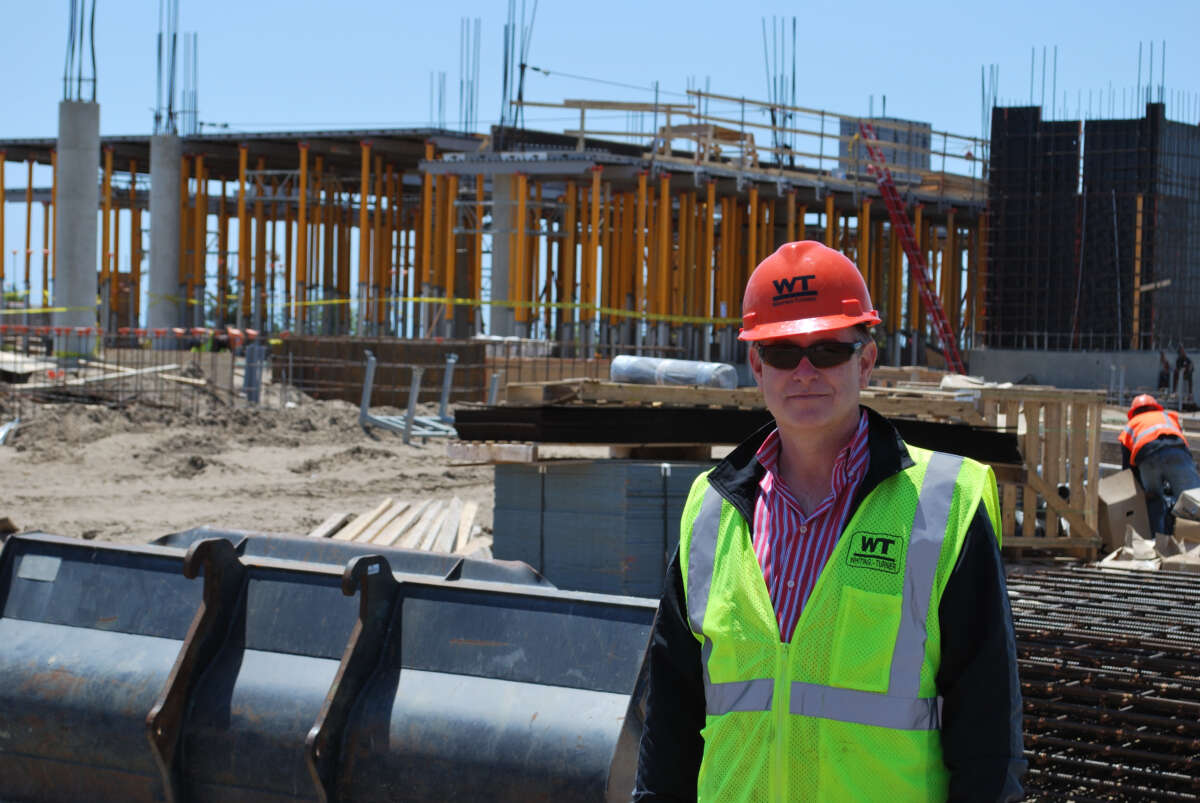 Robert McClendon, a long-time employee of CSI, now retired, played an integral part in many of the design aspects of construction, including CSI's pursuit of a LEED certification. 
As plans took shape, CSI wanted to make the new campus as "green" as possible, and to do so, sought a LEED (Leadership in Energy and Environmental Design) certification from the U.S. Green Building Council. LEED is a voluntary program that provides third-party verification of "green" buildings and awards points for each building feature that meets LEED objectives. To hopefully receive a certification, CSI had to submit building plans and host site visits during and after construction to prove that enough environmentally friendly measures had been implemented. At least 40 points were needed to attain any accreditation, and CSI received a Gold-level rating with a total of 64 points earned.
Even today, over a decade since construction began, some of the point-earning green features of the CSI building and grounds may be evident to any campus visitor, while many features are still at work behind the scenes.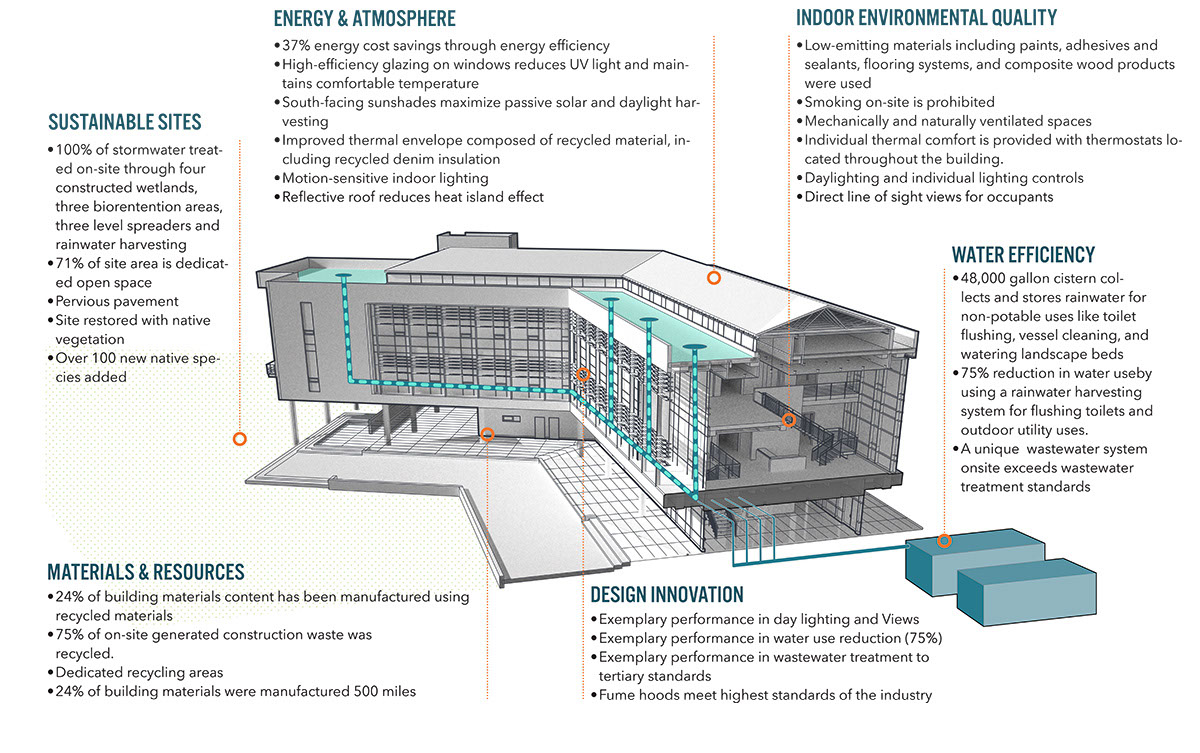 The illustration above highlights the many different LEED features included on campus. Click to expand for larger text.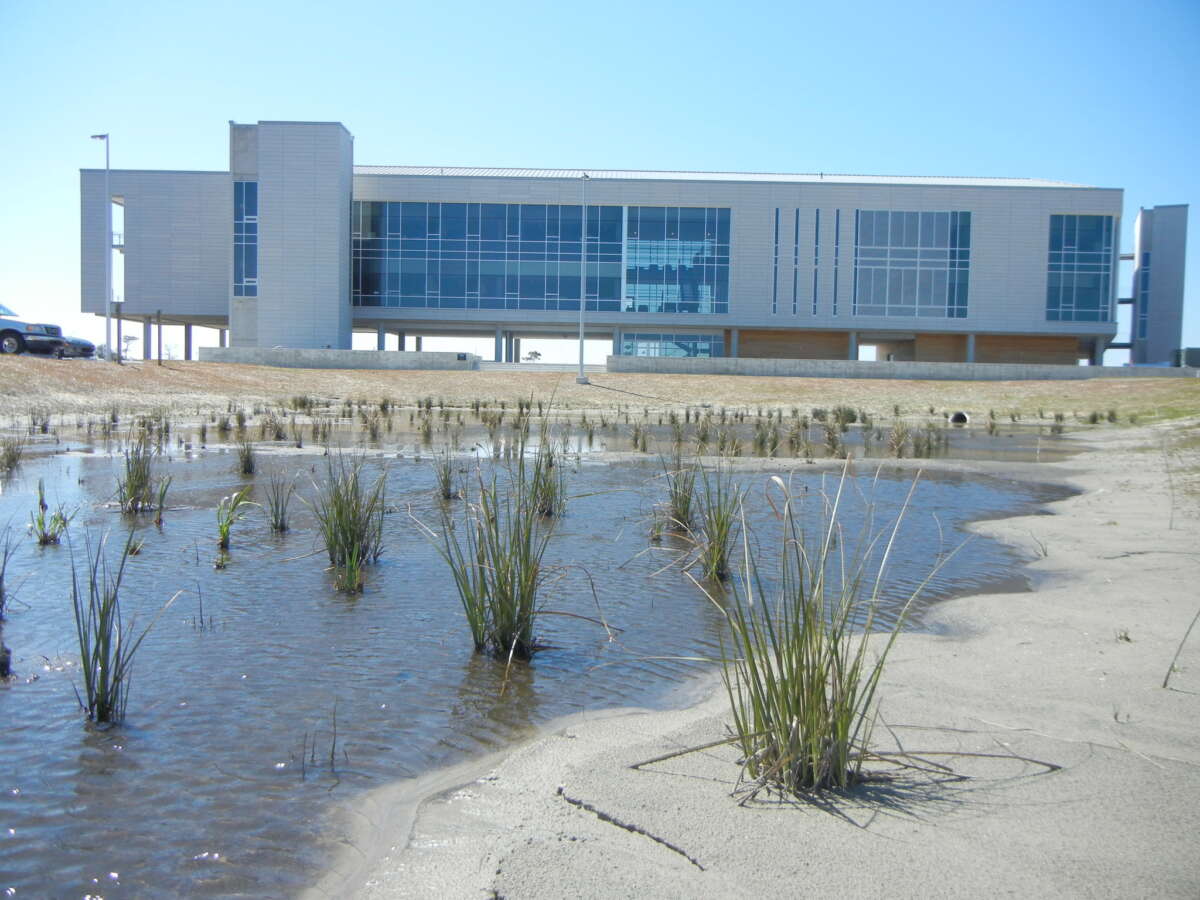 100% of stormwater is treated onsite through four constructed wetlands and three bioretention areas which were created during the construction of the coastal campus. Three level spreaders and rainwater harvesting also provide stormwater management services.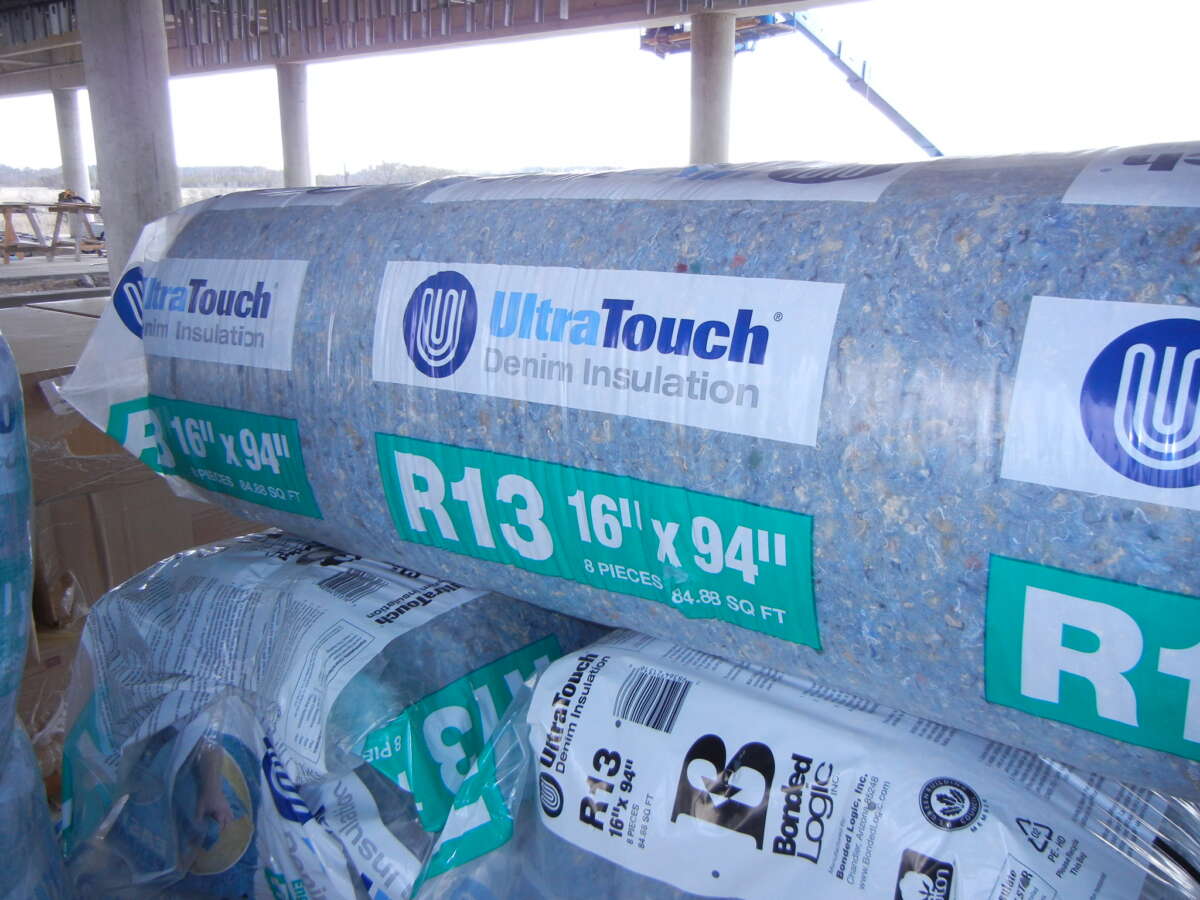 24% of building material content was manufactured using recycled materials. This include's the buildings' insulation which is made from recycled denim.
In the years since the big move, CSI has had some major accomplishments and experienced other big changes.
Most notably, in 2015, the parent organization of CSI transitioned from the UNC System's general administration to becoming most closely aligned with East Carolina University. ECU saw an opportunity for the growth of its coastal enterprise by acquiring CSI under its leadership and in 2018 launched a brand-new College-level academic unit called Integrated Coastal Programs (ICP). Today, ICP includes CSI, ECU Diving & Water Safety, and the Department of Coastal Studies, as well as the Integrated Coastal Sciences Ph.D. and Undergraduate Semester Experience at the Coast programs.
The change in parent organization also coincided with the transition of CSI Executive Directors. After lobbying for its formation, seeing its establishment, and helping it flourish, founding director Dr. Nancy White decided it was her time to retire after 13 years of service to CSI and 27 years dedicated to higher education overall.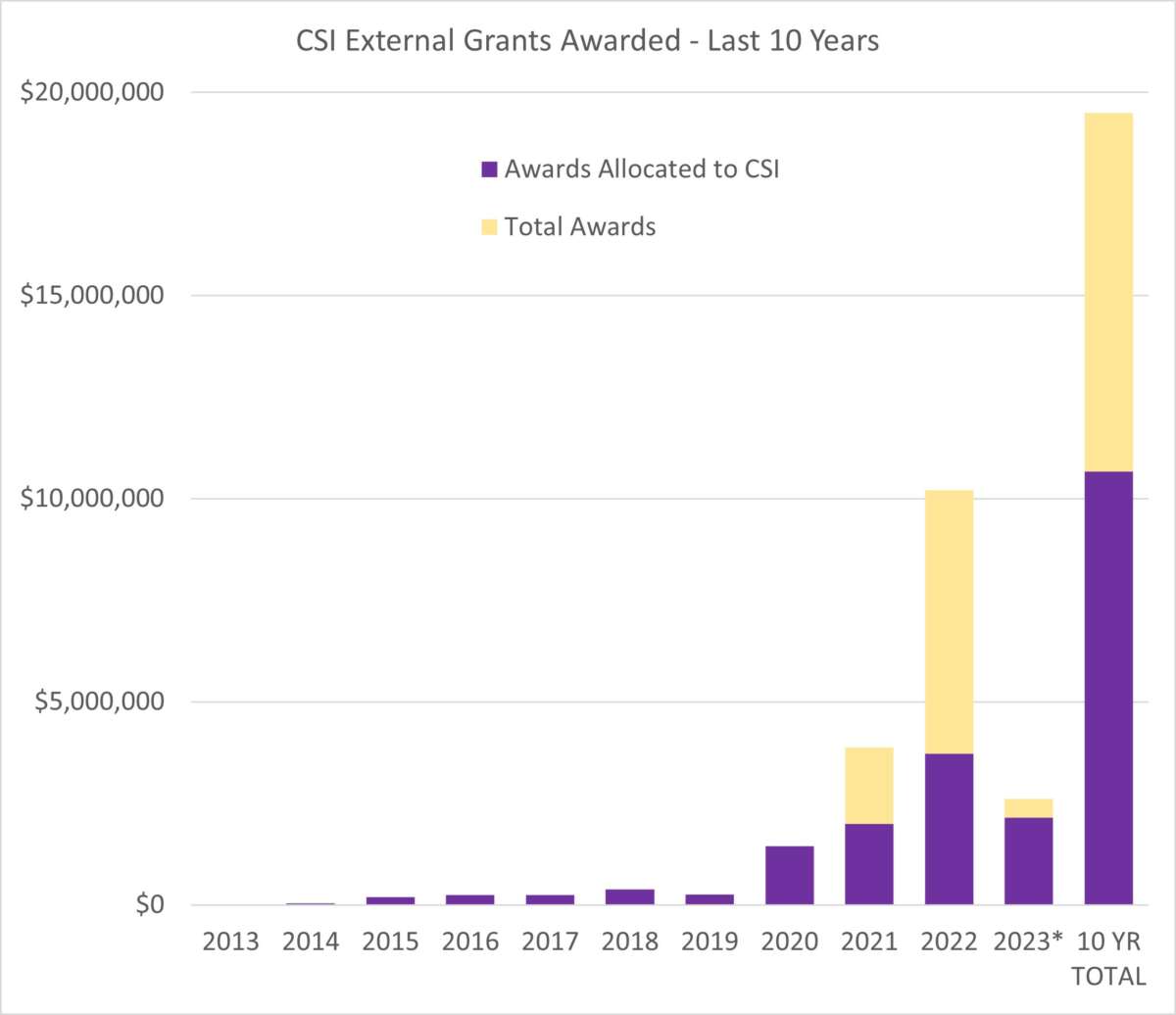 The figure above shows ECU ICP and CSI grant award growth over the past 10 years. *2023 award numbers do not include pending awards totaling an additional $2M  in FY '23.
Upon White's departure, Dr. Reide Corbett was appointed as the next permanent Executive Director of CSI and Dean of ECU Integrated Coastal Programs. Dr. Corbett has a long history at ECU where he has served almost 20 years as a faculty member in the department of Geologic Sciences before taking on the new role for ECU's coastal enterprise. Corbett's leadership has led to expanded growth of ECU ICP and CSI, and he is thrilled with the forward and exceptional progress the institution has made over the last decade. The accomplishments of CSI, and now ICP too, include major growth in multiple areas, service to K-12 and community audiences, and the expansion of research.
In the last 10 years, CSI has increased its vessel fleet on site from 2 watercraft to 8; more than doubled its faculty, from 7 members in 2013 to 17 currently; secured over $19M in research funding; expanded conducted research on all seven continents; hosted 124 community programs and events; and reached over 37,000 K-12 students through STEM programming at CSI and throughout the region.
"From the earliest days in 2003, CSI built a world-class reputation based on its strong team of staff and faculty. I am humbled by all this organization has been able to do over the last two decades. The growth of academic programs and coastal-focused research experienced during the last 10 years, since moving onto this beautiful campus, shows true grit and determination. Our impact is seen throughout our region and across the globe. I am excited to see what the next 10 years bring!", shares Corbett.
By reaching such a significant milestone in time, it is quite satisfying to look back on all that CSI has accomplished. It is time and energy worth celebrating, while also recognizing how much left there is to do and look forward to. Everyone in the building is certainly excited for the things that lie ahead, but for this moment, all are happy to pause and reflect, and maybe even catch one of those gorgeous winter sunsets on the Croatan Sound.
The preceding article first appeared in the Winter 2023 edition of Integrated Coastal Program's seasonal newsletter CoastLines.