After a hiatus in 2020, the CSI summer camps were back and better than ever this summer! Each of the four sessions offered was quick to fill with 12-13 campers from all over the US. About one-third of the students attending each week were from the Outer Banks, while the remaining campers were visiting from other parts of North Carolina and still others came from as far as New Jersey, Georgia, and even Oregon!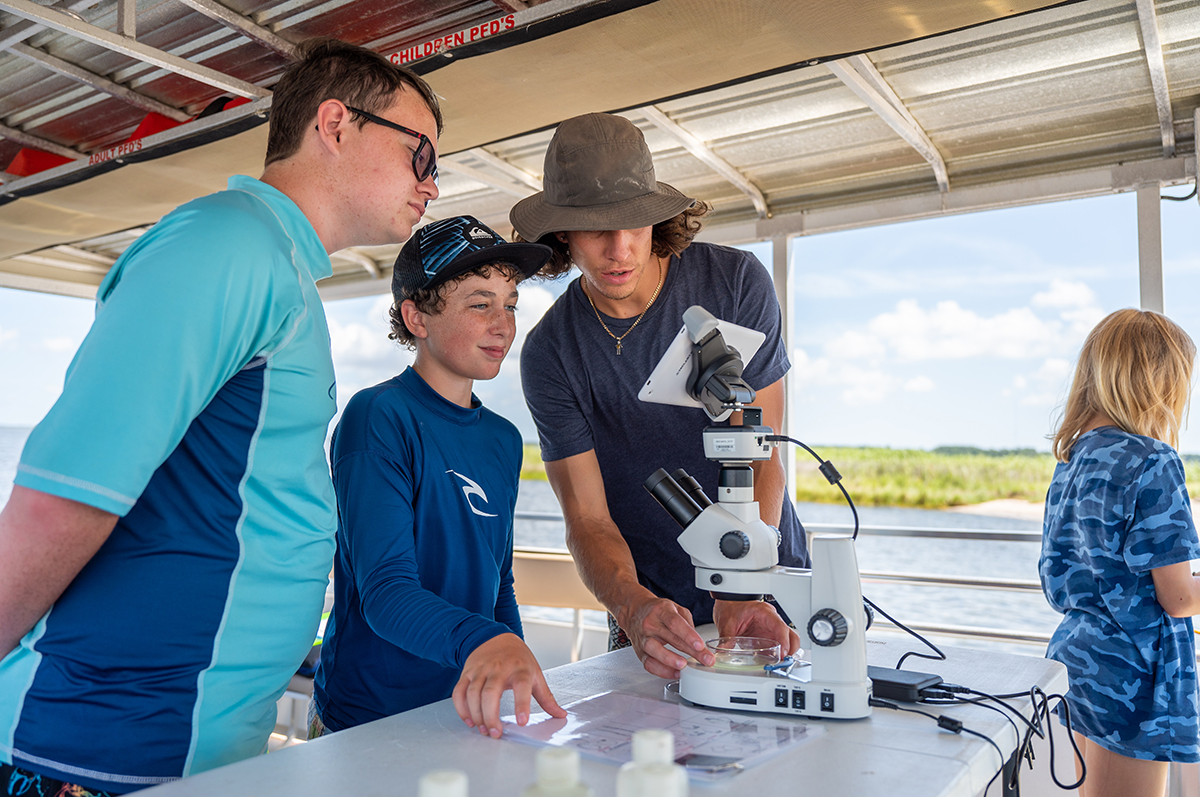 Tanner Miller (left) and Jacob Hallac (middle), along with instructor Jeremy Carr, take a look at the video scope in hopes of spotting some plankton in their water sample from the sound.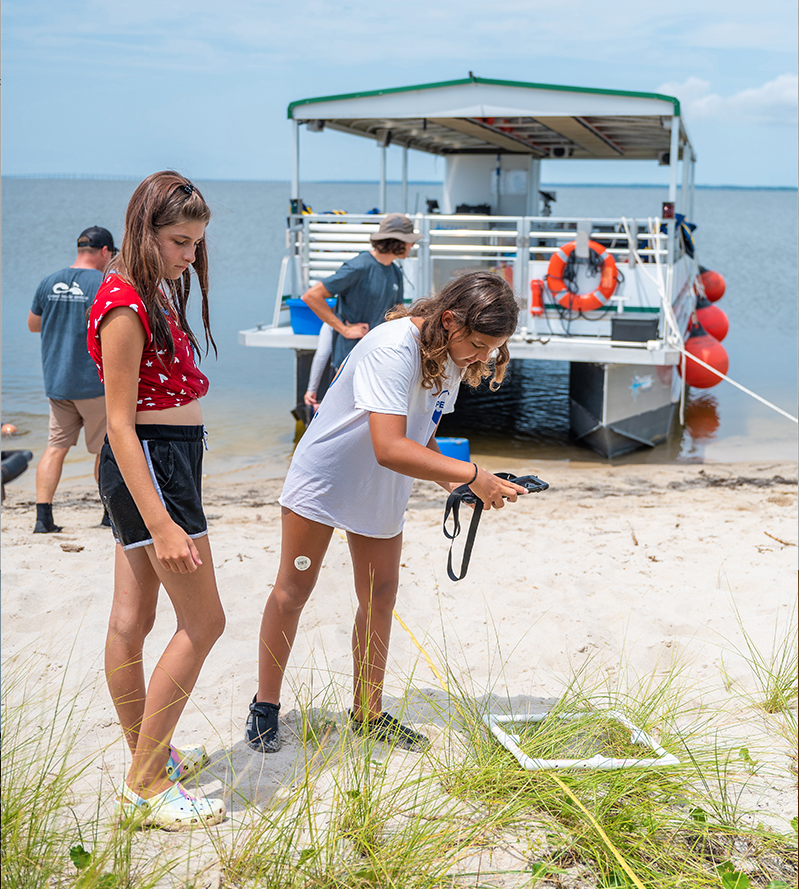 Emmy Gaskill (left) and Shelby Cherka (right) take a photo of the white quadrat alongside the transect tape as part of their efforts to create a beach profile.
Many of the campers were familiar faces, eager to return to Wanchese for another week (or two) of fun-filled learning. This year CSI offered two totally reenergized and revamped themes. Two sessions of Coastal Marine Biology and Ecology and two sessions of Oceanography and Marine Science Technology were offered. Jacob Hallac, 12, of Kill Devil Hills, returned for his fourth summer and said he had learned more this summer than any of the summers before.
During the Coastal Marine Biology and Ecology weeks, the campers learned about coastal ecosystems starting with the smallest organisms and working their way up. In addition to CSI's signature boat trip to a nearby island, there were lessons and activities that focused on water quality, sampling methods, and plankton. They learned about the scientific method from ECU Ph.D. student Andrew McMains who also shared about his career path and research on sheepshead and oyster leases, and Dr. Jim Morley taught the campers about the anatomy and adaptations of fish. 
CSI also utilized the help of its Coastal Environmental Educators Network (CEEN) partners by taking campers on field trips to the NC Coastal Federation Northeast Office, Jennette's Pier, and Alligator National Wildlife Refuge (ARNWR). At the Coastal Fed, Sara Hallas led a lesson about oysters and their ecosystems benefits, and Steve Warner chatted with the students about unique Outer Banks ecosystems and the history of the refuge before the students kayaked the Buffalo City paddling loop. While at the pier, the students used the seine net, measured water quality, and even sent their counselors down to the water's surface in the sky–climber that descends from the deck CSI Research Hut at the end of the pier.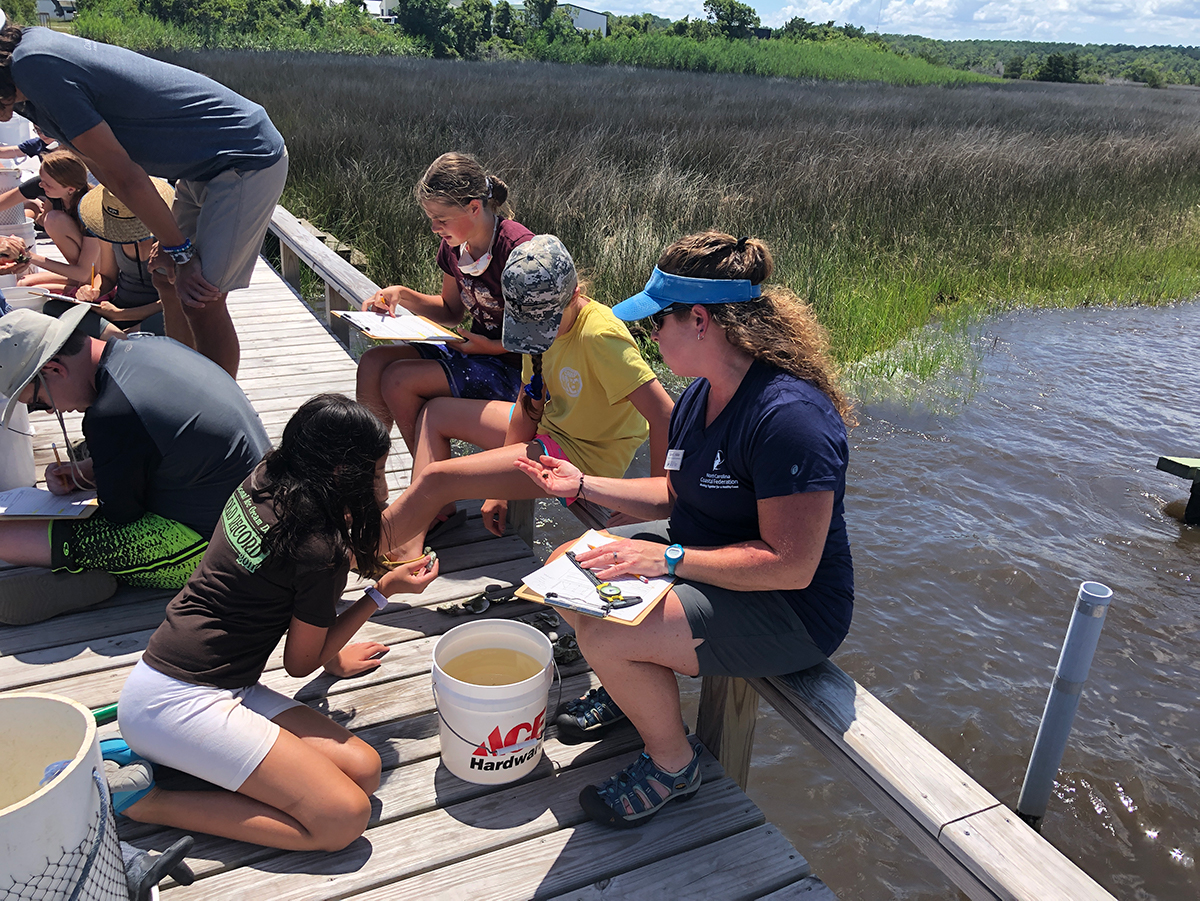 With the help of NC Coastal Federation staff and volunteers, the campers sort through oyster bags to help assess the success of the Coastal Fed's living shoreline at their Northeast Office.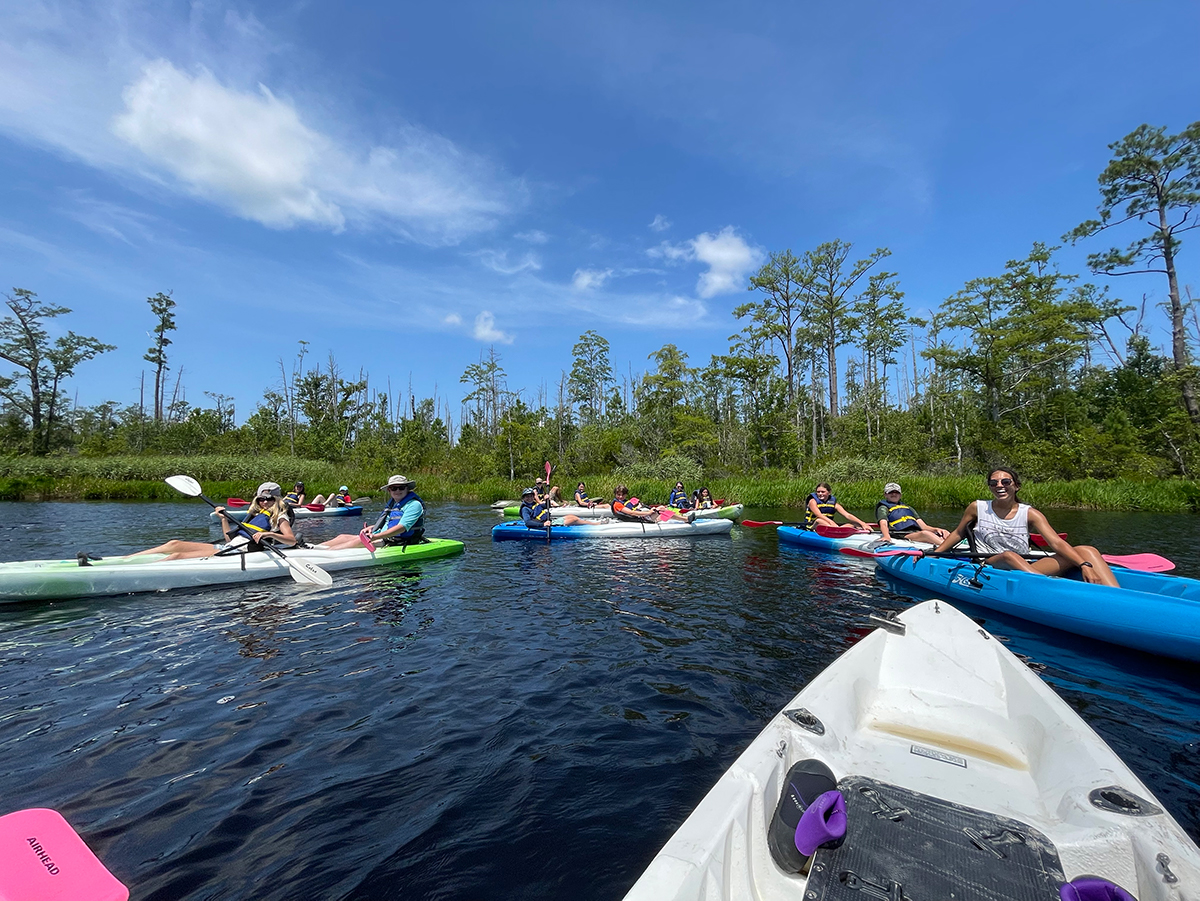 Campers and instructors alike had a blast kayaking at Buffalo City! Everyone kept their eyes peeled for alligators and bears and saw a few of each.
While the campers in the biology-themed camp ventured outside a bit more often, those who participated during the weeks of Oceanography and Marine Science Technology were not disappointed. The tech-themed camp included just as many thrilling activities, including programming and flying drones, testing out SCUBA equipment, and building and piloting ROVs. The campers also learned from ECU's Drs. David Lagomasino and Sean Charles that scientists can use space lasers to measure changes in coastal vegetation and to gain valuable information about the bathymetry, or topography, of coastal seafloors. Dr. Mike Muglia and a representative from the National Renewable Energy Lab also took time from their days to share about their respective work and what might be on the horizon for renewable ocean energy.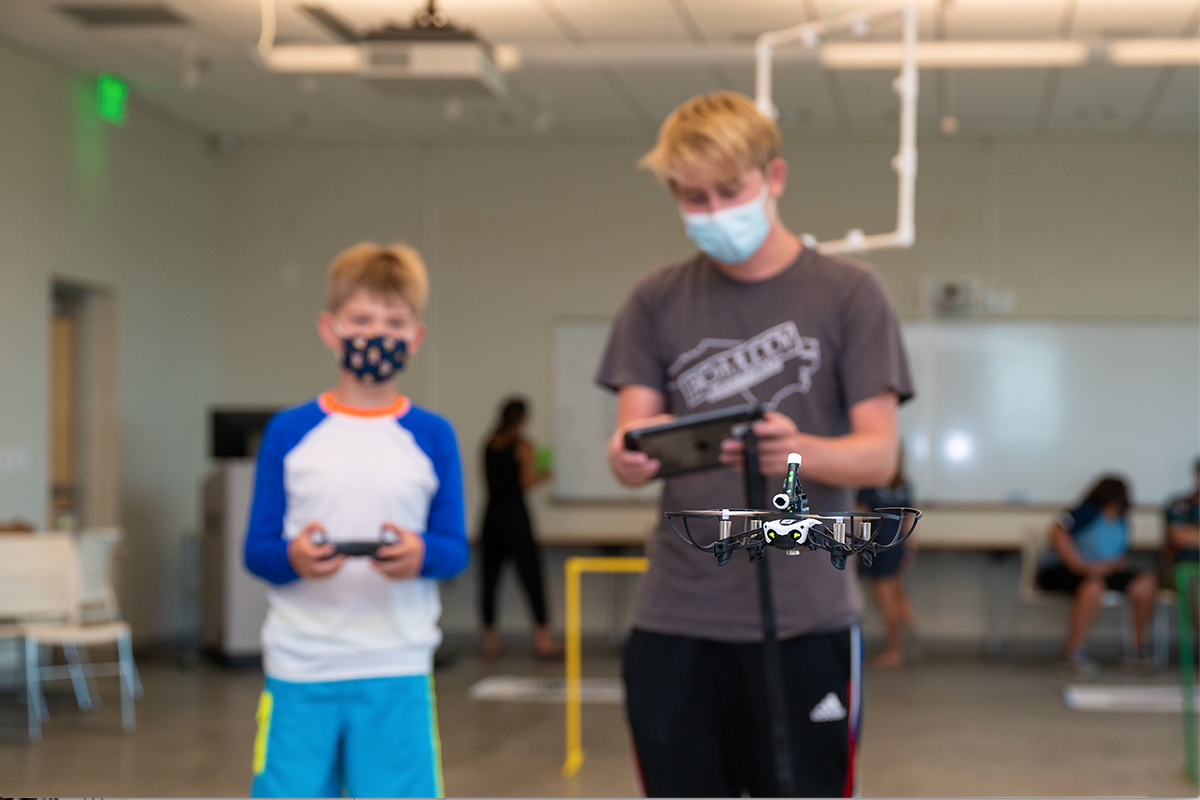 Jasper Drake and Eli Manning pilot the drone on a mission to "tag" whales with the pea-shooter fixed atop the drone.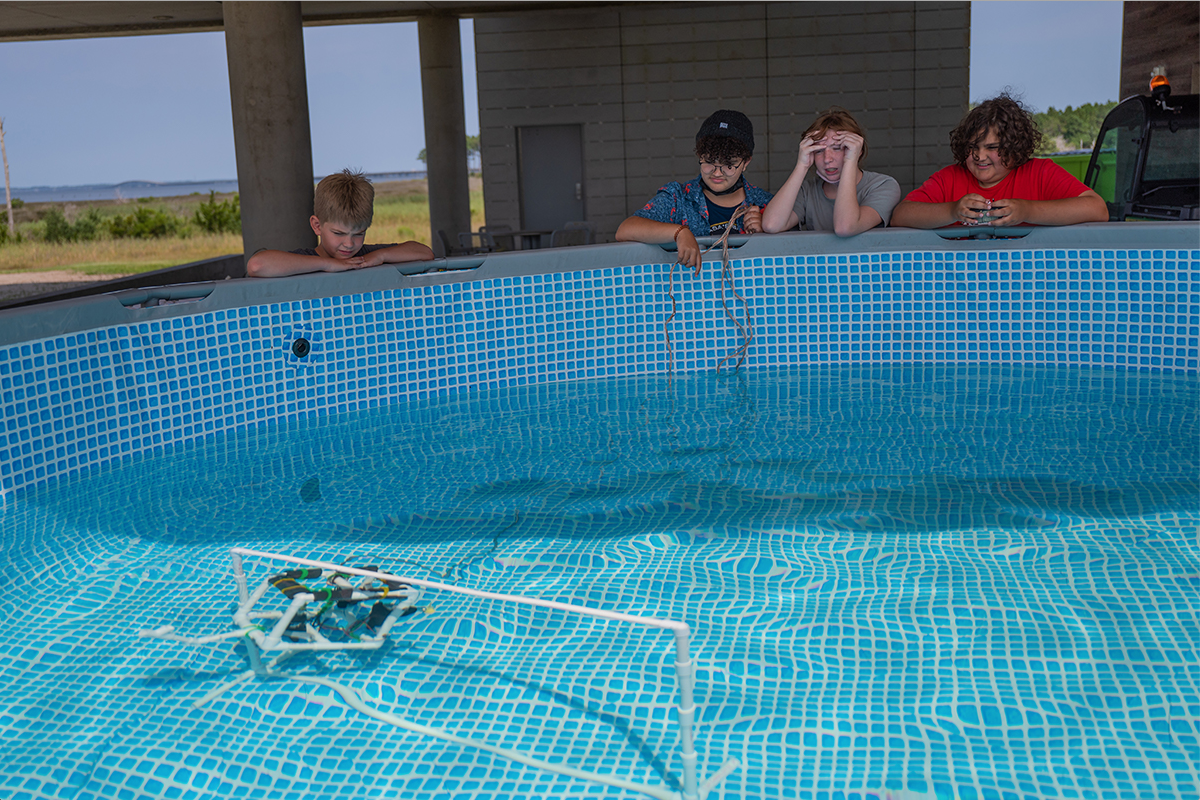 Anya Moysey, Amelia Humphrey, and Zenon Moysey (all children of ECU faculty members) put their ROV to the test while Jasper Drake (far left) watched. Each team was sent on a mission to pass through a "cave", pick up a "sensor", and return with it to the surface.
After such a fun week, 14-year-old Greenville resident Anya Moysey said, "I would absolutely recommend this camp, as well as come back next summer!" 
Moysey was not the only one who felt this way. In fact, when polled at the end of camp, 96 % of the campers expressed they wanted to come back and/or would tell a friend to sign up. The members of the CSI Education and Outreach team, who run the camps, were well-pleased with those results.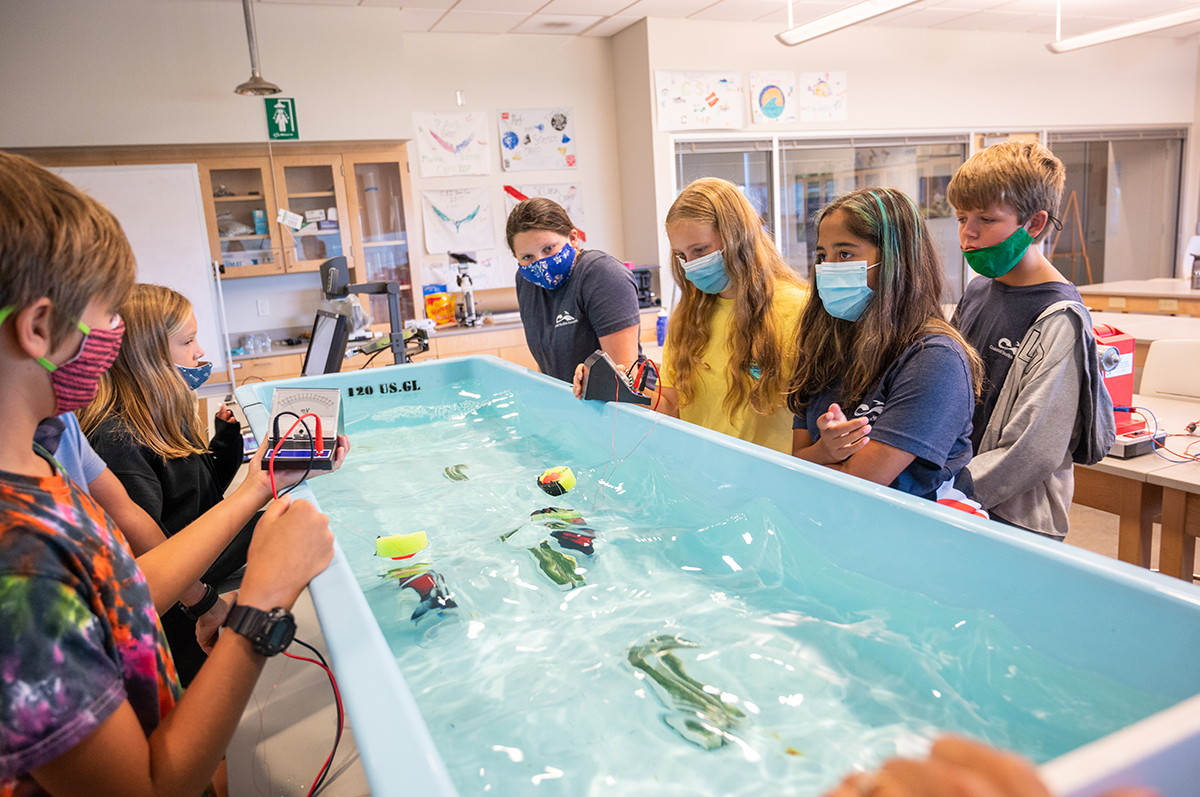 Campers gather around the wave tank to test their wave energy devices.
"It was so much fun to have students back on campus this summer. They had so many great questions, were always curious, and kept us laughing all week long," shared Parker Kellam. 
"The curveballs that came with the pandemic made it feel like this summer was a long time coming, but as soon as the campers walked through those doors and we were able to teach again, it was all worth the wait. We'll be prepping all winter to offer even more in 2022 so stay tuned for registration in early spring." 
More Photos
Scroll through the gallery below for more 2021 summer camp fun!