Can an observer on the coast hear a vessel approaching even when it cannot be seen? One might assume the answer is yes, especially as the vessel approaches, but an ongoing study, funded by the Office of Naval Research (ONR), conducted by Dr. Teresa Ryan and the Acoustics and Vibrations Lab, in conjunction with engineers at Catholic University, suggests that the simple answer may be "It depends."
While Ryan's research has been funded by ONR since the mid-2010s, this past summer she and fellow Engineering faculty Jeff Foeller led a summer session in which eight ECU undergraduates learned about acoustics and sound vibrations through the planning and implementation of field testing at the ECU Outer Banks Campus.
Using a system of tall masts, microphones, speakers, acoustic receivers, special computer programs, and meteorological tools, Ryan's students and colleagues tested how sound traveled and was received over varying distances and in different environmental conditions. So far, their research has shown that wind speed and direction, atmospheric conditions, sea state, temperature, and even shoreline characteristics can affect how sound is perceived by a listener.
So why does this matter? According to Ryan, the Navy is interested in something known as a "shadow zone" in the world of acoustics. Simply put, the shadow zone refers to an area within a soundscape where conditions align to allow a noise source not to be heard. Varying distances and environmental conditions may change where the shadow zone occurs, so the data collected by the Acoustics and Vibrations Lab helps Ryan's colleagues at Catholic University to improve their acoustic models which lay groundwork for further exploration and tool development by the Navy.
The basic research provided by the Acoustics and Vibrations Lab at ECU and those at Catholic University may someday allow the Navy to utilize these findings to predict conditions suitable for a successful, undetected shoreline approach. On the other hand, the Navy may use this research to further improve its own homeland security measures.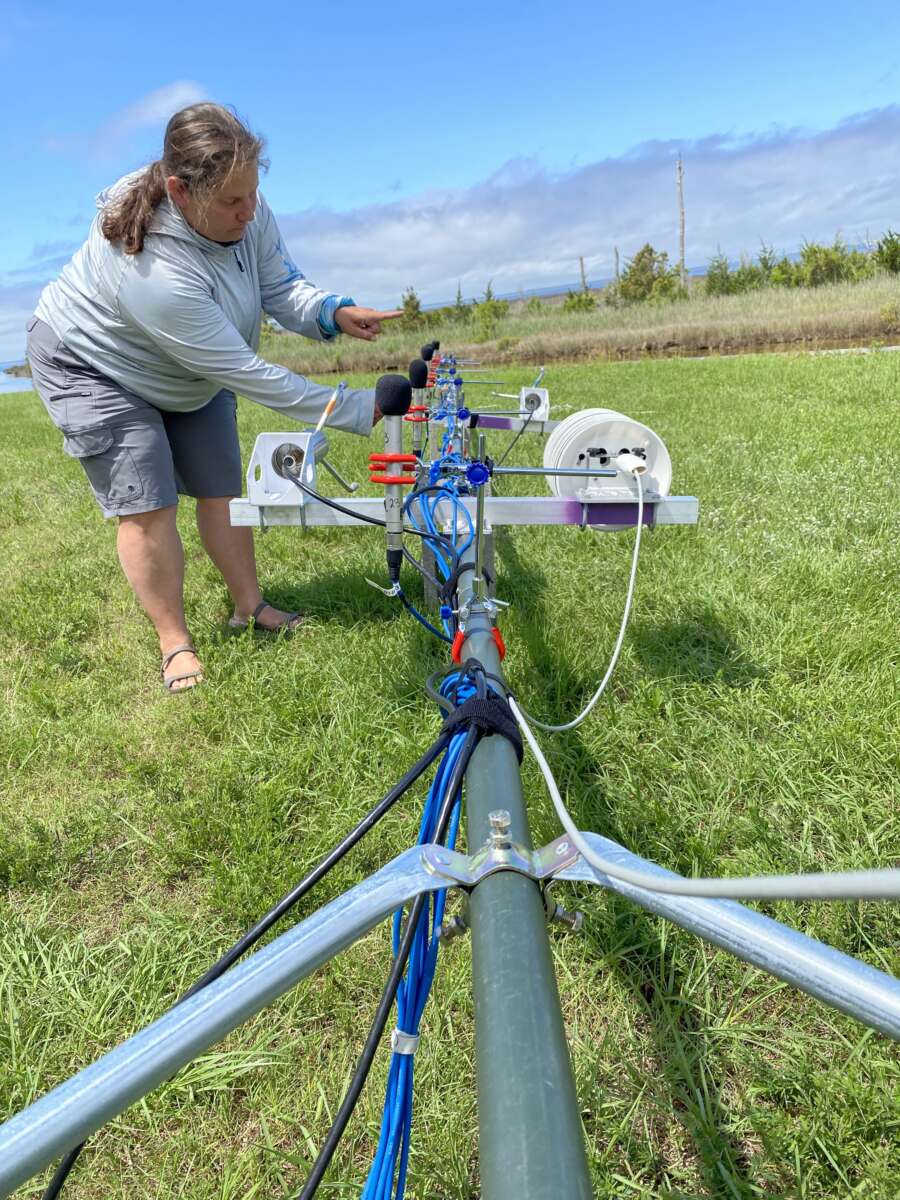 Summer 2022 marked a new phase in Ryan's research for ONR. It was the season in which she could begin environmental testing, and she also led her first summer session at the Coastal Studies Institute for six weeks. The enrolled students came from many different engineering backgrounds, and they learned how to set up the experiment, problem-solve on the spot, collect data, and even begin to process it.
In Ryan's opinion, this summer's course was a great success. In addition to gaining experience in the acoustics realm of engineering, the students also gained valuable communication skills and professional development.
Erica Stark, an environmental engineering student, echoed this sentiment. "I would pair sound research aspects more closely with mechanical engineering," said Stark, "but a lot of engineering work overlaps with different concentrations. Some of the most valuable lessons I took with me after this summer were critical planning aspects and the set-up and break-down processes. I had never experienced any of that hands-on field work before."
Learning how to "in-place engineer" and problem-solve on the spot were other valuable lessons Stark recalled.
Alex Ferro, an electrical engineering student in his junior year at ECU, signed up for the Acoustics and Vibrations Lab summer session looking to "broaden his horizons and try something new and different", and he was not disappointed. He noted that while on campus, he and his peers all took turns learning about and being responsible for different facets of the project.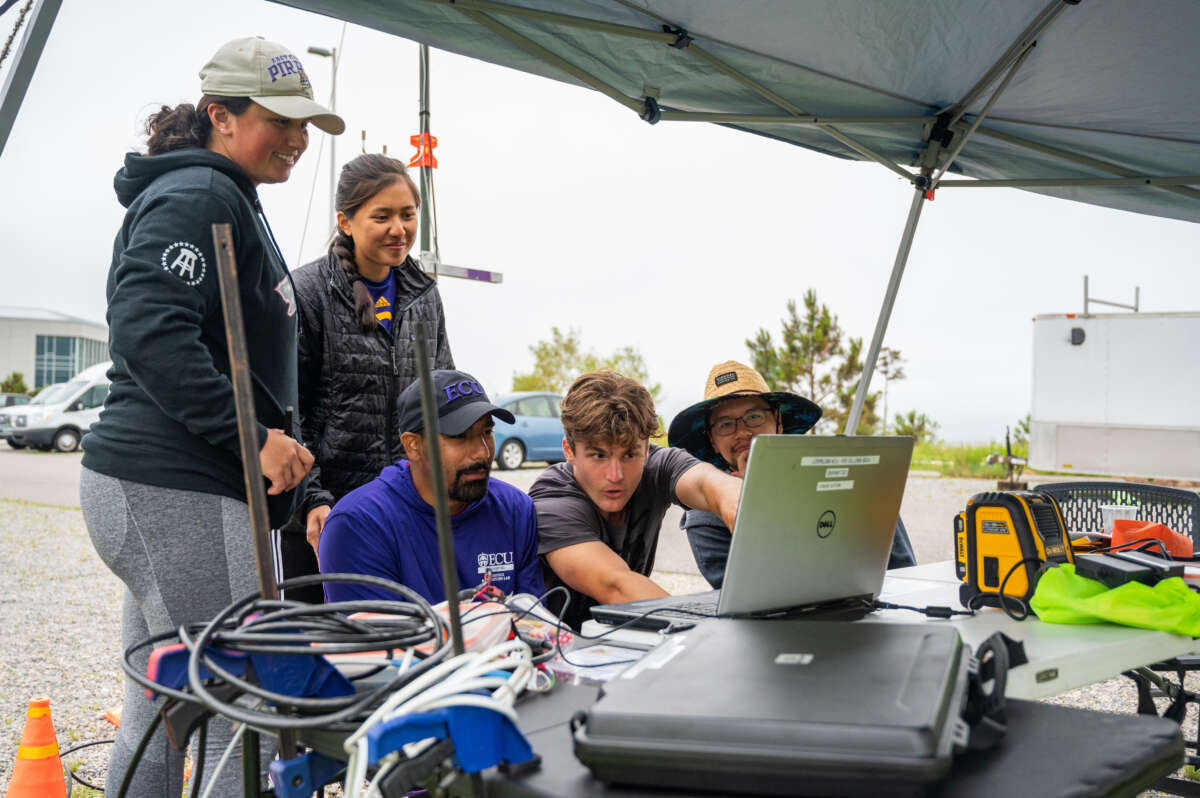 "All members of the class rotated between the sound source and the receiving end of things, which gave us a more holistic understanding of the project," elaborated Stark. She continued to explain that by collecting the data and starting to interpret and process it, the group of students was better able to understand the choices made for each test set-up including the tones of the sounds produced and the distances between sound producers and receivers.
Aside from their research, Ferro, Stark, and the other Acoustics and Vibrations Lab students were exposed to other areas and topics of research at CSI. Ferro was thrilled to "see people thriving in the work environment and working together for their research projects." During their on the Outer Banks, the students also crossed paths with others on campus for the summer, including those participating in the REU program at CSI.
Ryan is already looking ahead and hopes that her next cohort of students will be able to use the data collected over the summer and in the coming months for their own smaller research projects. Until then, she and her colleagues will continue to run field tests and fine-tune the models made at Catholic University for ONR.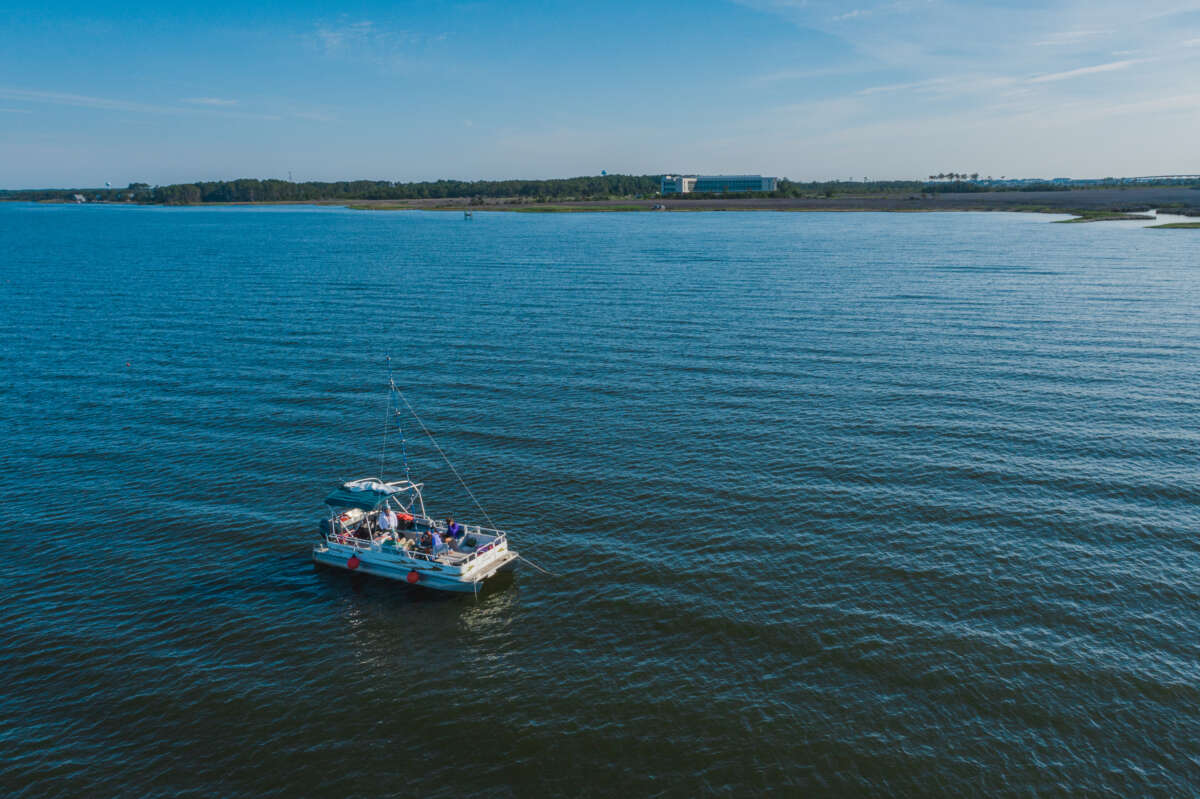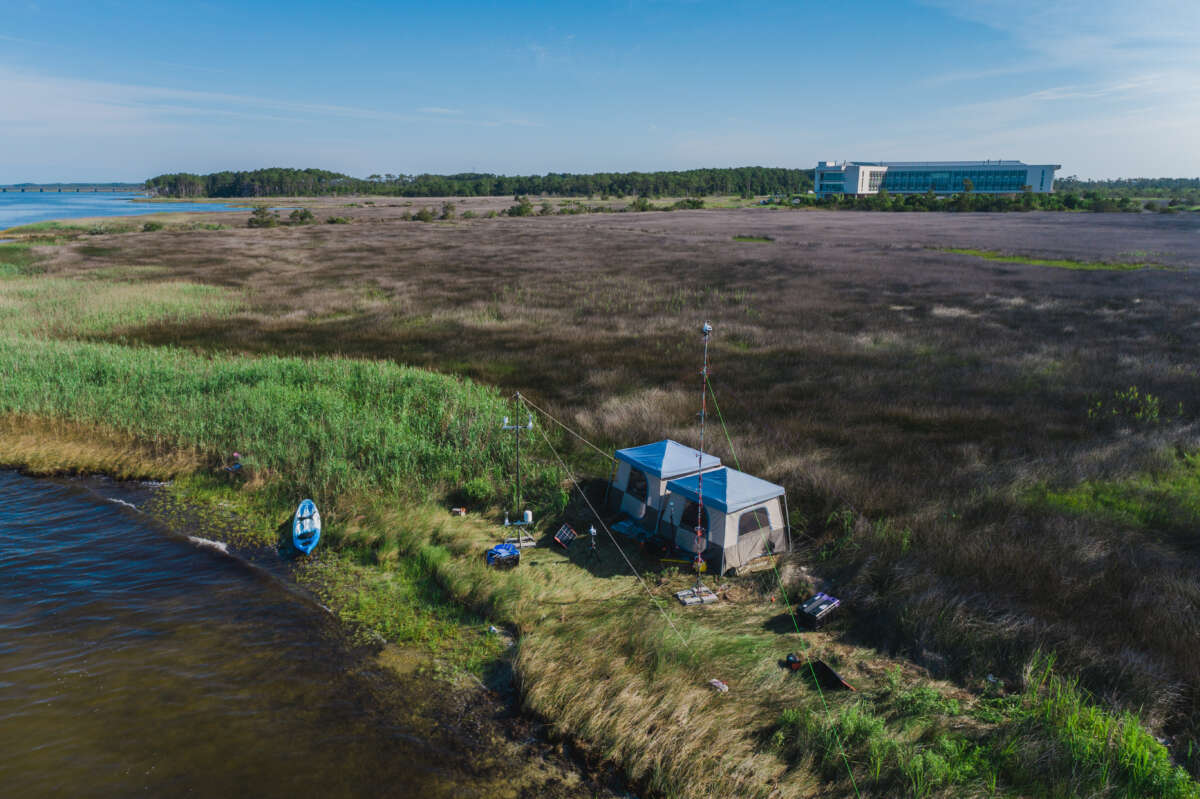 A bird's eye view. The two photographs above depict the two systems used during the final stages of the research conducted during the summer session. Sound was emitted from the system on the boat and received by the system on the shoreline.