What does a social scientist do? Depending on who one asks, the answers will vary. However, according to Dr. Eric Wade, an Assistant Scientist at CSI and ECU Department of Coastal Studies Assistant Professor, a social scientist might choose to study all sorts of topics related to society and social relationships. Generally speaking, though, the focus is usually on human thought processes, decision-making, and behaviors.
While Wade prefers to design his studies with conservation psychology at the forefront, it is not unusual for him to encounter anthropologists, sociologists, and even economists. As such, he describes himself as an "interdisciplinary social scientist", and his interests lie in fisheries management and people's use of marine and coastal spaces.
Wade's profession has him on different schedules throughout the year depending on the season. During the typical academic year, he teaches courses, analyzes data, prepares manuscripts and grant applications, and communicates with research partners both in NC and internationally. However, once summer arrives, he focuses mostly on fieldwork- opportunities that allow him to travel, converse with fishers around the world, and collect data.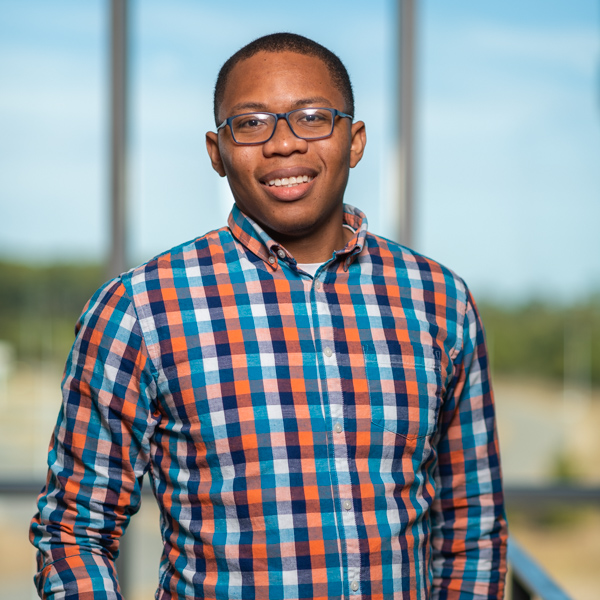 In his dream world with no limitations on money, time, resources, etc., Wade would ultimately live full-time in the places he works and would conduct a multi-country study to understand the drivers of illegal fishing. Facets of this dream, though, can be seen in his work. In one study, he assessed the readiness of countries in the Western Central Atlantic region to combat illegal, unreported, and unregulated fishing. In a current project, he is studying how non-monetary drivers of decision-making like information-sharing practices influence fishing strategy decisions of fishers in Jamaica. Finally, in Belize, Wade is working with partners from the Caribbean Regional Fisheries Mechanism and the Wildlife Conservation Society to highlight the role of women in fisheries.
"The role of women in the fisheries is often overlooked, and the multi-dimensionality of their contribution to the sustainability of the fisheries sector continues to not be fully integrated into fisheries policies," says Wade.
"My colleagues in Belize and I are hoping to better understand the role of women in Belize's fisheries sector, by exploring their social networks and management preferences."
While Wade has seemingly cast his own net internationally, he still has ties to North Carolina. He received his bachelor's degree in marine biology from UNC- Wilmington, and he is currently working on a few different projects on the Outer Banks and for the State.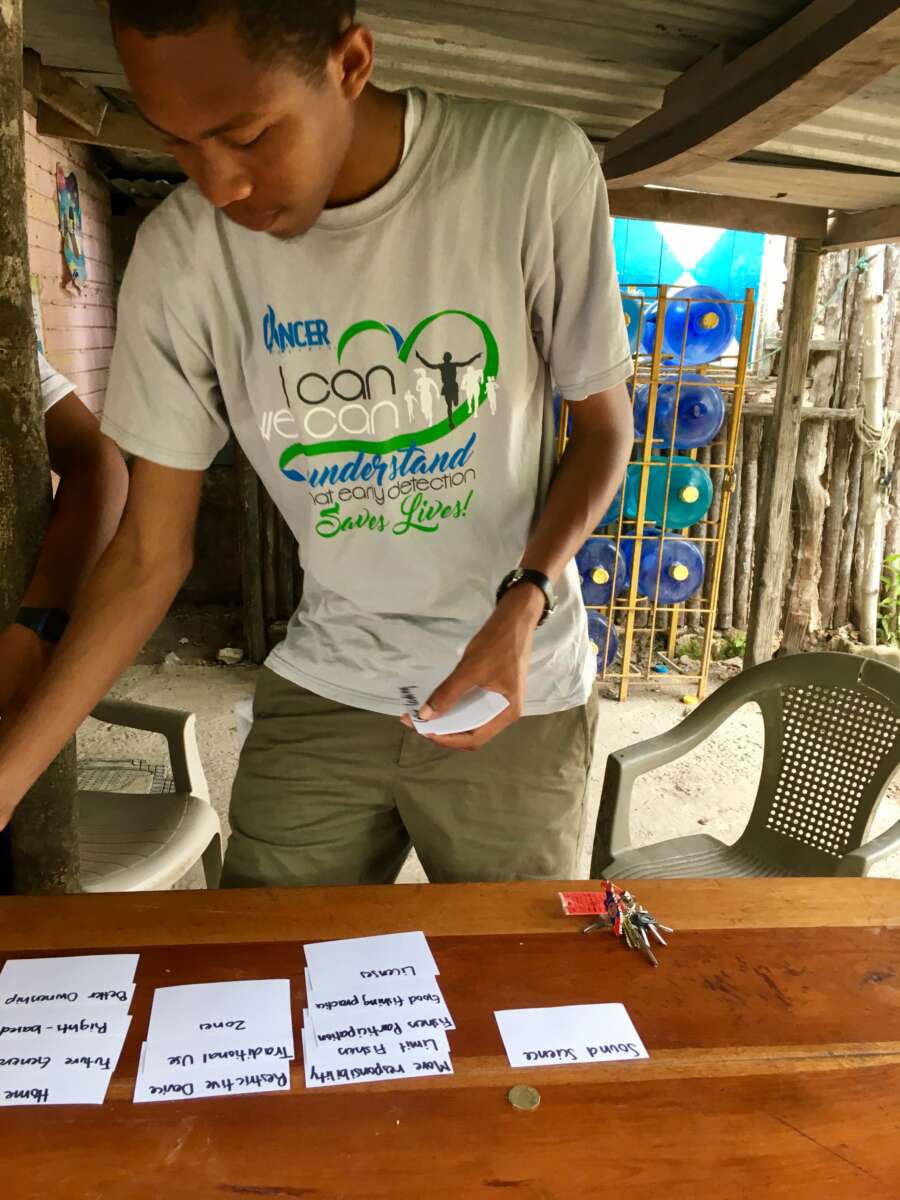 Wade sets up a research activity for fishers and study participants.
Close to campus, Wade is interested in safety at sea and has been interviewing fishers from Wanchese. For this research, he wants to understand how these fishers conceptualize safety and what that looks like in practice on their vessels. While this is an ongoing project, he suspects there may be a correlation between the ways fishers think about safety at sea compared to on land.
Wade is also the lead investigator for the social dimensions component of a study initiated by the NC General Assembly which has tasked UNC System researchers with reviewing the state's fisheries and critical habitat management practices. Wade and his colleagues are gathering information about stakeholders' thoughts on the current fisheries management approach in the state and how stakeholders themselves are engaged in the industry.
When he became a professor, Wade was encouraged to pursue research outside the realm of fisheries. Since joining ECU faculty on the Outer Banks Campus, Wade has had opportunities to expand his research in ways he never imagined. Recently, he began a joint study with Dr. Linda D'Anna, a research associate at the CSI, to investigate what and how people here and across the state think about marine renewable energy and the associated devices that may someday be deployed off our coast. Their work is funded by the NC Renewable Ocean Energy Program and will contribute to the program's greater mission of creating renewable energy in a sustainable and economical way. CSI is well-recognized for its work on marine renewable energy; thus Wade saw it as a good opportunity to contribute to this growing field by looking at the social dimensions of the sector.
"The marine renewable energy [field] is new to me, but pretty exciting as not much has been done on the social dimensions of the field in the US, on the East Coast, and in North Carolina. There is a lot that can be done, and it has been an interesting undertaking so far," he shares.
While each of his projects has different nuances, Wade credits, among other things, his background and training for the success of his projects and gathering data. His work allows people to share their stories and opinions openly. As Wade puts it, "Hearing their stories and learning from research participants is one of the most rewarding parts of my job." He enjoys the relationships and mutual trust he continues to form and foster with stakeholders he encounters.
Though social sciences are broad, they are important because "people do affect ecological systems, and management policies and regulations for the protection of ecosystems rely on people's adherence to them," Wade says. "If we don't understand how people think about and interact with these systems, we cannot promote sustainability."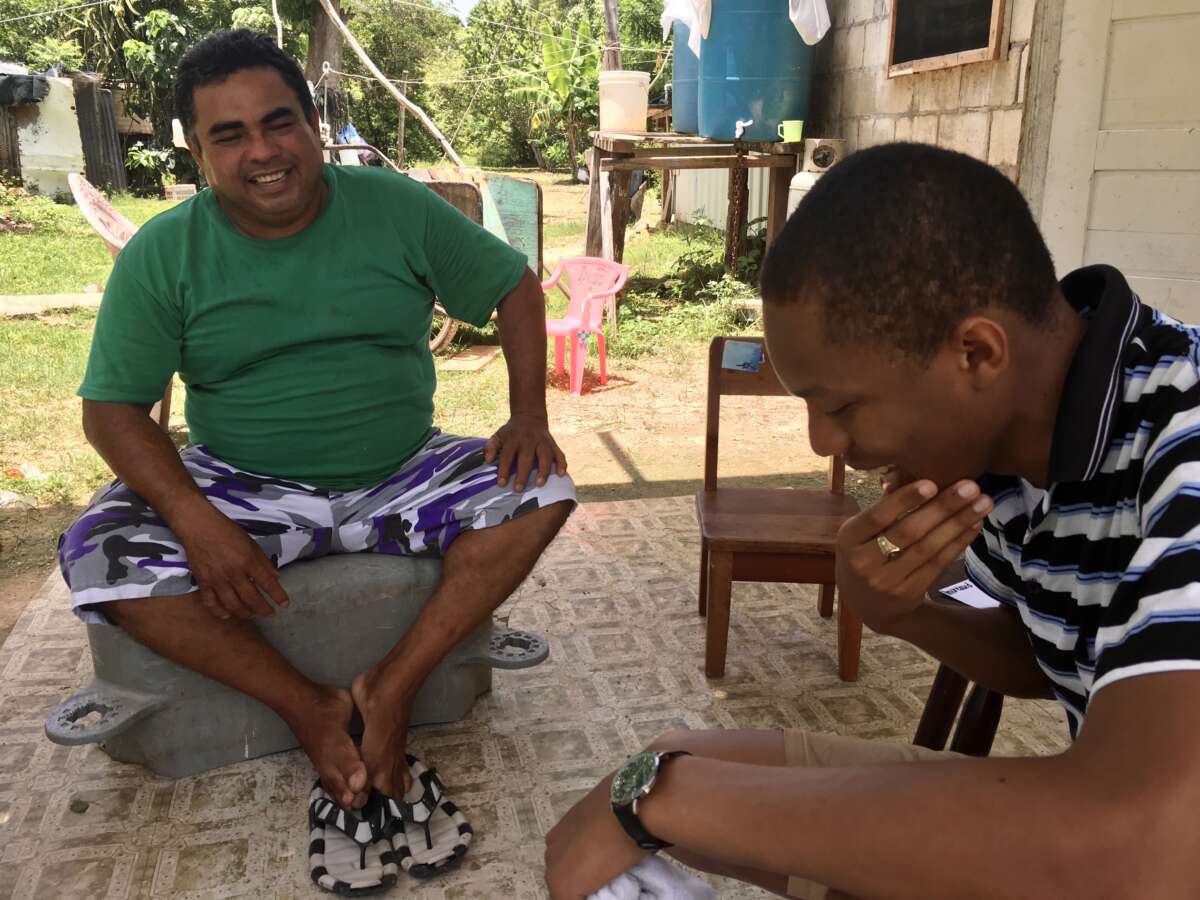 Wade, right, enjoys building relationships with people and seeks opportunities to help tell others' stories.
To highlight his perspective, Wade gives as an example the global initiative by the Convention on Biological Diversity to conserve 30% of the world's land and waters by 2030. While that conservation is great in theory, he explains that an understanding of how people factor into that equation is needed. That 30% likely includes areas that contain people's homes, where they make money, and where they find their identity. If there is no understanding of these crucial components and the ways that people are attached to these areas, a big part of the conservation equation is missing. Social science studies help researchers to highlight the stories of resource users and other stakeholders and give decision-makers proper insight into human-environment interactions.
The social dimensions of natural resources are still seen as a new and emerging field, and there is still plenty to be understood about the human dimensions of the world. To anyone interested in pursuing this type of research career, Wade offers the following advice: "Start by thinking about what aspect of the social world you are most interested in and what excites you the most. Take the time to build relationships and trust with people. Hear people's stories. As social scientists, we get to help tell others' stories to larger audiences."
As for the future of Wade's work and what it means for the Outer Banks, he wants to continue studying the roles of identity and place attachment for fishers and how these influence their decisions to remain in or leave the fisheries sector in North Carolina. These insights along with those from his ongoing studies can provide local and state policy-makers with ideas to motivate and ensure future participation in the industry.
For more information about Dr. Eric Wade and his research, watch the video below.
The preceding article first appeared in the Spring 2023 edition of Integrated Coastal Program's seasonal newsletter CoastLines.