While carbon is an essential element to life on Earth, carbon dioxide emissions into the atmosphere have significantly increased within the last two centuries due to anthropogenic activities such as deforestation and the use of fossil fuels or deforestation. This rise in emissions not only has a negative impact on coastal and marine organisms but has also expedited the rate at which the earth is currently experiencing climate change.
Interestingly, some environments known as wet carbon ecosystems have properties that allow them to sequester carbon, taking it from the atmosphere and storing it instead. While these systems' characteristics help to mitigate climate change impacts, there are still many knowledge gaps that need to be addressed, and two ECU researchers are on the case. Drs. David Lagomasino, who leads the CSI's Coasts & Oceans Observing Lab, and Sean Charles, a postdoctoral scholar at CSI, are co-authors on a recent publication in the journal Environmental Research Letters entitled, "A review of carbon monitoring in wet carbon systems using remote sensing".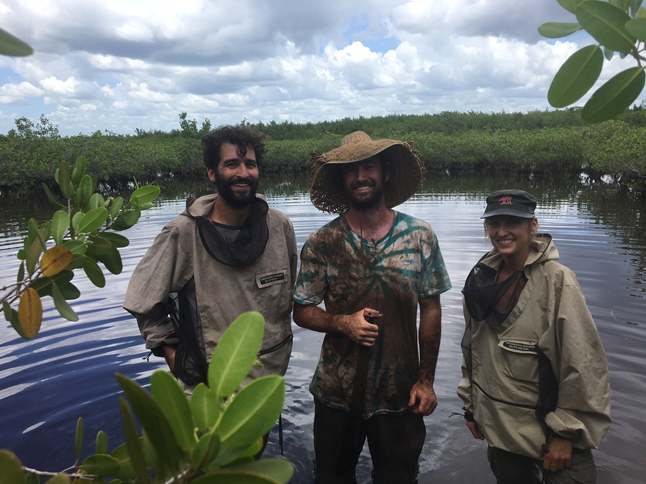 Dr. Sean Charles (center) standing in what used to be a mangrove forest. Now, all of the plants and soil are gone (much of it to carbon dioxide), and the water is a meter deep in the middle of the pond. Unfortunately, because of these factors, the mangroves are unlikely to come back.
So, what are wet carbon systems? Wet carbon systems include a broad grouping of water-associated environments that store high quantities of carbon. They include all fresh, brackish, saline, and wetland ecosystems. Wet carbon systems often have overlapping characteristics as they pertain to restoration, preservation, and research. Understanding these systems as they relate to measuring carbon dioxide and methane emissions has become an increasingly popular task of scientists and remote sensing specialists. Specifically, they seek to provide data on carbon monitoring across local, regional, and global scales. Carbon cycle monitoring is an important part of working to achieve emissions reductions and other sustainability-related goals related.
When asked about the motivation for investigating wet carbon systems, Charles shared, "our team sought to expand on 'blue carbon' environments- wetlands, marshes, mangroves, and seagrass- to include other wet ecosystems that also store large amounts of carbon."
As part of the newly published review for the NASA Carbon Monitoring System (CMS) program, Lagomasino and Charles reviewed nine separate wet carbon systems in order to analyze methods for measurement, reporting, and verification (MRV) of the entire carbon cycle. To do this, their colleagues and they separated the nine wet carbon systems into three categories: coastal wetlands, inland wetlands, and ocean and shelves. A review of the literature on this topic revealed that the monitoring of wetlands using remote sensing has increased significantly over the last decade. So, what does that mean for stakeholders who hope to implement the use of this type of carbon monitoring in the coming years?
Stakeholders that might be interested in carbon monitoring range from cities to non-governmental organizations, international organizations, and other governing bodies. However, the inclusion of wet carbon systems in this assessment varies. The authors argue that while field-based methods of monitoring are sometimes difficult for wet carbon systems, remote sensing provides a promising prospect for MRV in these often inaccessible areas. In other words, although there is a need for an increase in wet carbon monitoring research, the authors believe that remote sensing research can help bridge gaps and has the potential to reduce uncertainty around these carbon estimates.
"[Wet carbon] ecosystems remove carbon dioxide from the atmosphere and store it, but quantifying and identifying changes in storage is essential for dealing with climate change," shares Charles. "Remote sensing allows us to pinpoint changes across huge areas, even the entire world, over time."
As Lagomasino put it, "Similar to how one monitors the money in their bank account, we are monitoring the amount of money, or carbon, going in and out of the system. This helps us identify where we might be losing, or gaining, that we which we may not know about."
Following a model that has been implemented in oceanic carbon modeling, the researchers believe carbon mapping can be achieved across wet carbon systems as well. Lagomasino and Charles hope that the suggestions and recommendations the paper presents will help accelerate wet carbon monitoring and the role is it playing in major stakeholder decision-making.
"Combining remote sensing and field research can help scientists identify important carbon sinks to protect and promote their carbon sequestration, and identify vulnerable ecosystems to avoid the release of vast amounts of carbon dioxide back into the atmosphere," says Charles. "We hope our work can help mitigate climate change and protect and restore valuable ecosystems and the communities that rely on them."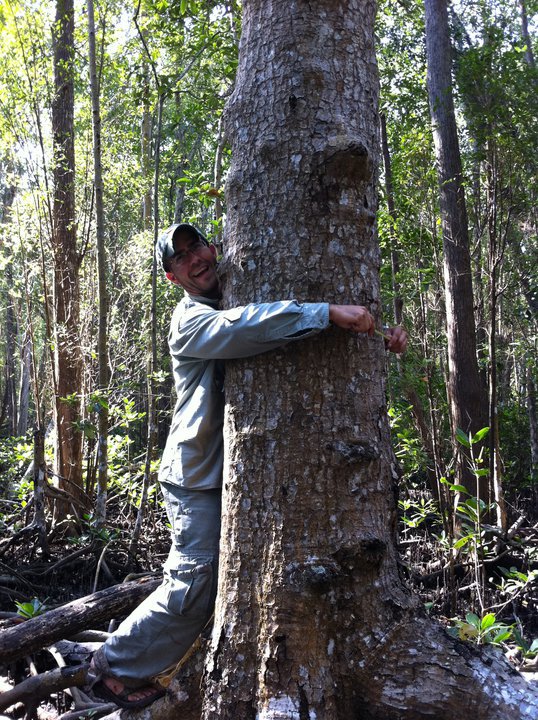 Dr. David Lagomasino "hugging" a mangrove in the Everglades.