I gaze out at the expanse of water before me, the white-capped waves deceptively calm from a distance. The sun shining in between the clouds makes the waves glisten brightly. I could never get used to seeing such a brilliant view. Honestly, I have always felt more drawn to the woods than the water. I always imagined myself as a mountain-lover over a beach-goer. Yet, studying in the Outer Banks has truly reminded me of my passion for nature and my reason for becoming an Environmental Science, B.S. major. As I gaze upon the water from the Coastal Studies Institute, the sheer strength and constancy of the waves strikes me with newfound relevancy.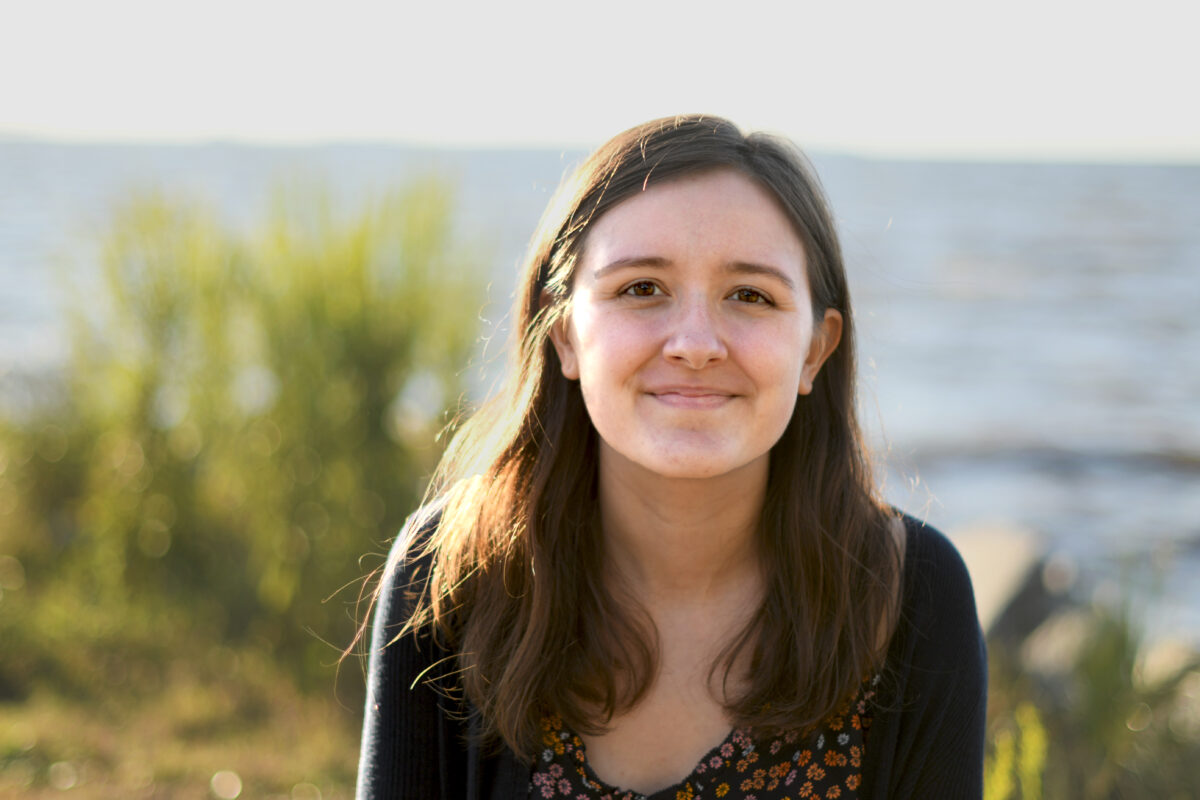 Meagan Gates is a UNC-Chapel Hill junior studying at the OBXFS this fall. She is currently interning with the North Carolina Renewable Energy Program. [Photo: Heidi Hannoush]
My name is Meagan Gates and I am a junior studying Environmental Science and Economics at UNC-Chapel Hill. This semester, I am studying at the Outer Banks Field Site (OBXFS) located at CSI on the ECU Outer Banks Campus. I was hoping for a semester chock-full of experiences to help me figure out what my passion is within environmental science. However, the opposite has happened thus far.
A significant part of the program is my internship with Mr. George Bonner, Director of the North Carolina Renewable Ocean Energy Program (NCROEP). The focus of my internship is assessing the marine hydrokinetic (MHK) opportunities available to NC. My research this semester will culminate in a Report on Powering NC's Blue Economy. The blue economy refers to the sustainable use of natural resources and ecosystem services provided by the ocean for a multitude of ocean-connected sectors including tourism, fisheries, and ocean transportation. While this seems relatively straightforward, it is the complete opposite. Throughout my research, I have delved deeper into the topic and found numerous branching topics that fascinate me, so my passion has been anything but narrowed.
I will admit this report has been intimidating because I have so many ideas, but there is such promise and value in compiling as much of this information in one place as I can. There are endless possibilities, and I am glad that my internship has such flexibility. From my time at CSI one of the most valuable things I have learned is that you do not need to narrow yourself to one aspect of an overarching idea. My mentor and my professors all work on comprehensive projects because in a place as dynamic as the Outer Banks, you need to be versatile.
From this report, I have discovered that marine hydrokinetics is what I hope to focus on in the future. Moreover, I truly enjoy analyzing stakeholder perspectives. My favorite part of this report has been analyzing the industries that currently exist along the Outer Banks and how MHK could benefit them. Additionally, MHK could provide improved resiliency, and thus contribute to the peace of mind for coastal communities in the face of storms and flooding. Bonner emphasized the importance of including stakeholders in my report, and it is my favorite part because stakeholders always need to be considered when looking at changes like where energy comes from and its uses.
The process of researching for the report has been fascinating and taught me a great deal about NC's blue economy, but the best part of my internship has been my weekly meetings with Bonner. He always mentions updates in renewable energy and electrification, which are valuable to my research and, in general, to my major because there are numerous advances constantly taking place. Furthermore, it is exciting to talk to someone who shares my passion for renewable energy, and especially someone who can provide guidance and share their experiences in the field with me.
I leave each meeting with a new assignment that adds to my fascination for MHK and provides a basis for even more research. For example, I recently watched a congressional hearing on offshore energy, specifically offshore wind and marine energy opportunities in the US. From this hearing I learned about ferries being electrified in Washington, which is something I was planning to research for NC. I had not realized that this technology was so close to being realized, and it gives me hope that NC can deploy electrified ferries, specifically passenger ferries, in the near future. So far, my report seems wide-ranging, but that flexibility is exactly what I need as an environmental science major who wants to explore everything I can.
I look forward to continuing my work with Bonner and finishing my report in the coming weeks. For an update on my internship later in the semester, check out the OBXFS blog!