Written by Lauren Colonair.
In January of 2020, Dr. Jim Morley, an Assistant Professor in the Department of Biology at East Carolina University, joined CSI as an Assistant Scientist. Morley brings unique and exciting perspectives to the team, as he is currently the only full-time biologist on the faculty. 
Morley's research is focused on two sectors of fisheries ecology; ecological modeling and field-based research. His ecological modeling work investigates the dynamics of marine fish and invertebrates in relation to climate variability and change, to inform sustainable management of coastal resources while attempting to predict how these dynamics will change in the future. His field-based work builds on these topics through studies on life history and habitat use patterns of various fish species.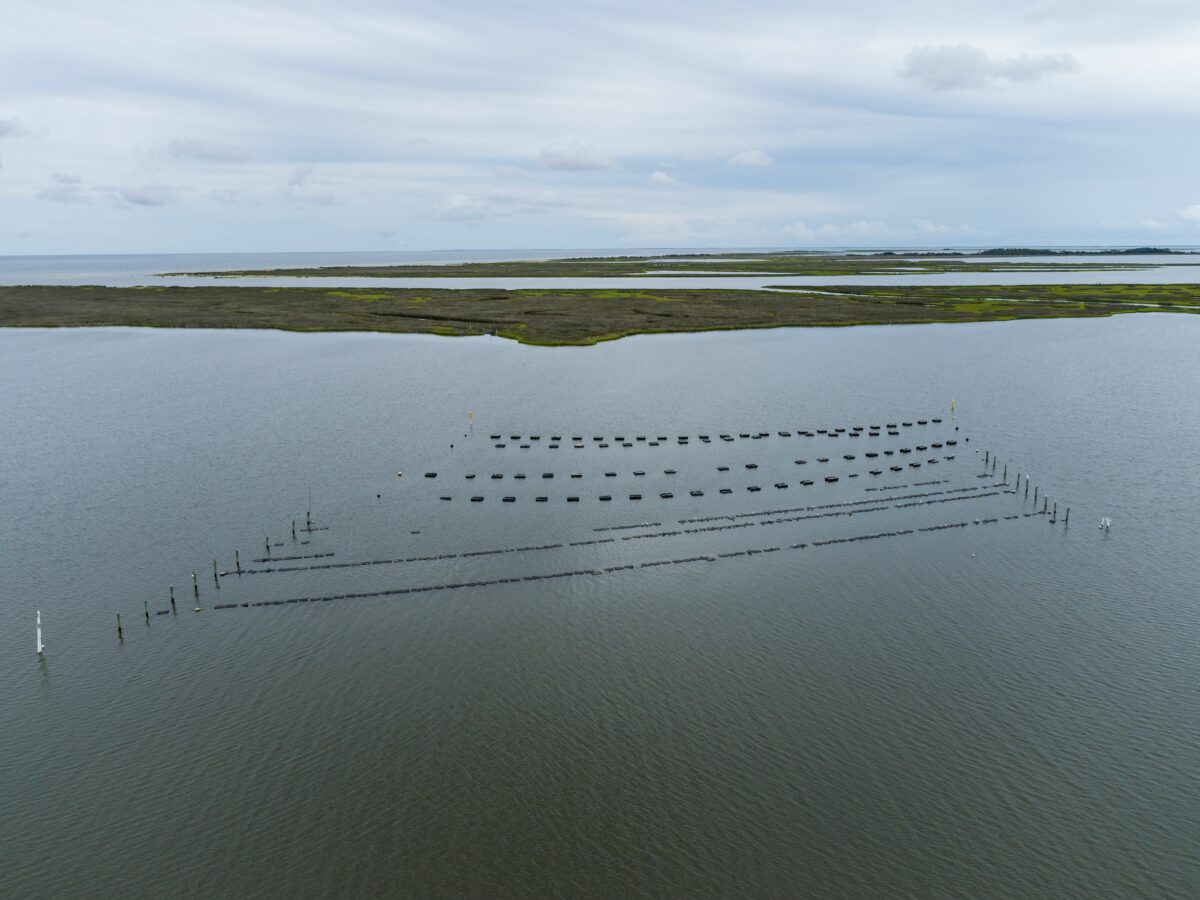 An aerial view of the oyster lease. An image like this one will be used to show the fish movement data at the end of the study.
Over the past five years, Morley has been researching oyster leases as a potential artificial aquatic habitat source. The investigation was inspired by conversations between Morley and oyster farmers, regarding the difficulties in finding space to start leases. At the time, NC would not permit a lease to be installed in an area containing any amount of seagrass. Morley explained that although seagrass is very important to estuarine systems, the rules did not account for any ecosystem benefits provided by oyster farms. Although the leases have the potential to disturb small amounts of seagrass, they are usually built on mudflats, an ecosystem that typically has lower densities of fish. With this problem in mind, Morley wanted to know if oyster leases provided benefits to the ecosystem that outweighed the potential negative impacts. He started his research with a project using sonar imaging technology to compare fish abundance on leases to that on unimpacted habitat. He found fish abundances to be much greater around leases. This pattern even held up in seagrass dominated landscapes.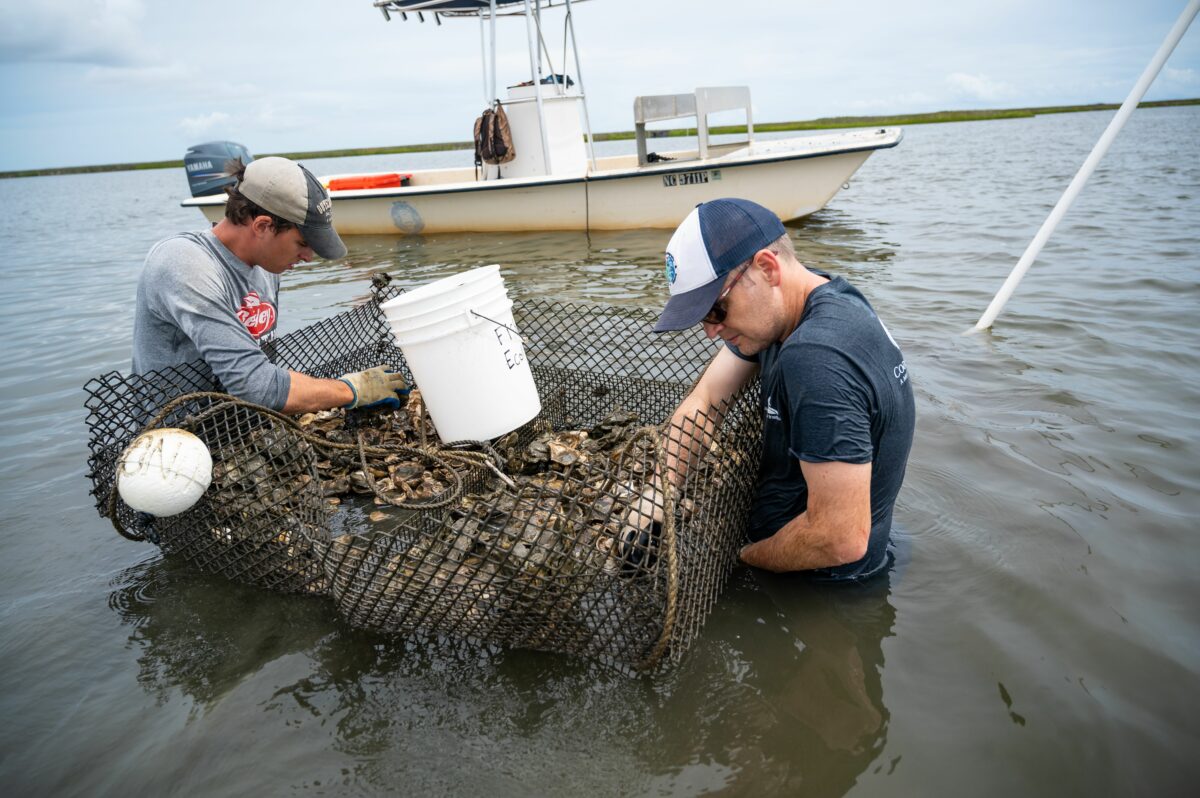 Dr. Morley and Andrew Pulling up one of the traps used to catch Sheepshead on the lease.
"This is not surprising, a lot of fish like structure," Morley said of his findings, "It was a good piece of evidence that oyster leases provide good habitat." 
However, there are many determining factors of a "good" habitat outside of abundance. Mortality rates, feeding opportunities, connectivity to other important habitats, and residency time must also be examined. Morley found himself particularly interested in residency time, which requires fish to be tagged and tracked over time.
"If they [fish] are really hanging out for a long time that suggests a quality habitat," Morley explained. 
Through Dr. Morley's Marine Fisheries Ecology Lab, an extension of his previous work was started. Andrew McMains, one of Morley's Ph.D. students, started collecting movement data from fish on a Cedar Island oyster lease to study residency time in hopes of further supporting the hypothesis that oyster farms provide beneficial habitats.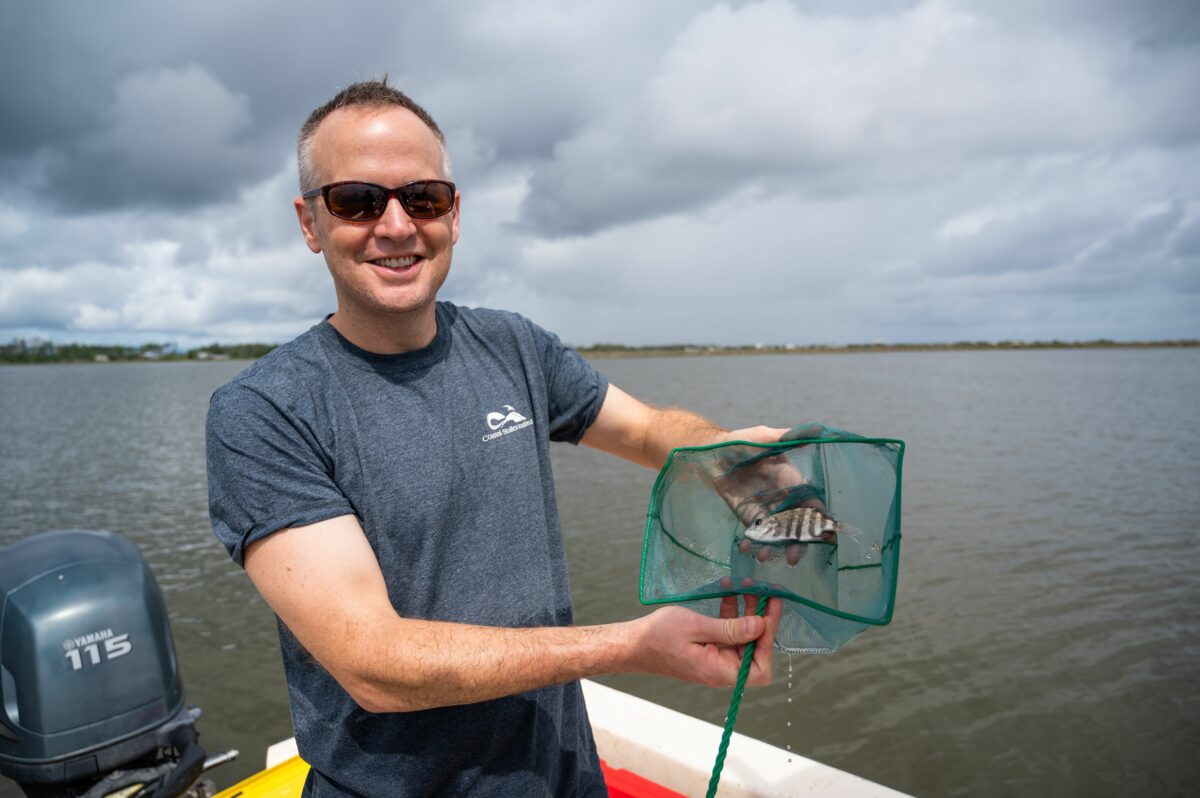 Dr. Morley showing off one of the Sheepshead that is about to be tagged.
Before the study could begin, Morley and McMains had to decide what species of fish they would track. They wanted a fish that had behavioral traits suggesting it would normally thrive in natural habitats similar to those the oyster leases provide. For a multitude of reasons, Sheepshead were chosen. 
"They are very interesting fish. They associate very tightly to structure," McMains said. Sheepshead feed on the organisms and vegetation that grow on the pilings and culture gear making up the oyster lease, and they are a very robust fish.
Management efforts concerning Sheepshead, an economically important species, has recently shifted from federal management to state-level management. As a result, the state of North Carolina is lacking much-needed knowledge on the species. By using Sheepshead, Morley and McMains are not only answering their research questions but also assisting North Carolina's fisheries management efforts.
As with most research, a good deal of behind the scenes work was needed. Most importantly, the two researchers had to find an oyster farmer who would be willing to let them use their lease. Eventually, they found a farmer, Jay Styron out of Cedar Island Bay, who operated a lease about an hour away from the marine lab from which McMains was working. In scientific endeavors, it is not always easy to find people who are so willing to lend their spaces to research. "We've been really lucky, especially with the amount of freedom we've been given to use this lease," McMains stated.
While using this lease, McMains has not only installed various pieces of scientific equipment, but also large wire mesh baskets filled with oyster shells, which he uses to catch the Sheepshead. Between general upkeep of his equipment and catching and tagging new fish, McMains has spent one to two days a week for the last few months working around the lease.
The researchers' next question revolved around tracking the Sheepshead. What was the most efficient way to follow each fish and collect the most data? Almost as a nod to Morley's original project, which used acoustic cameras, the pair decided to implement internal acoustic telemetry tags. 
This choice, however, required McMains to add a new skill to his repertoire; learning how to perform surgery on small fish while on a boat. Between methods used in previous studies, and outside help from veterinary professionals, he was able to create an efficient and safe way to surgically tag fish in just a few minutes.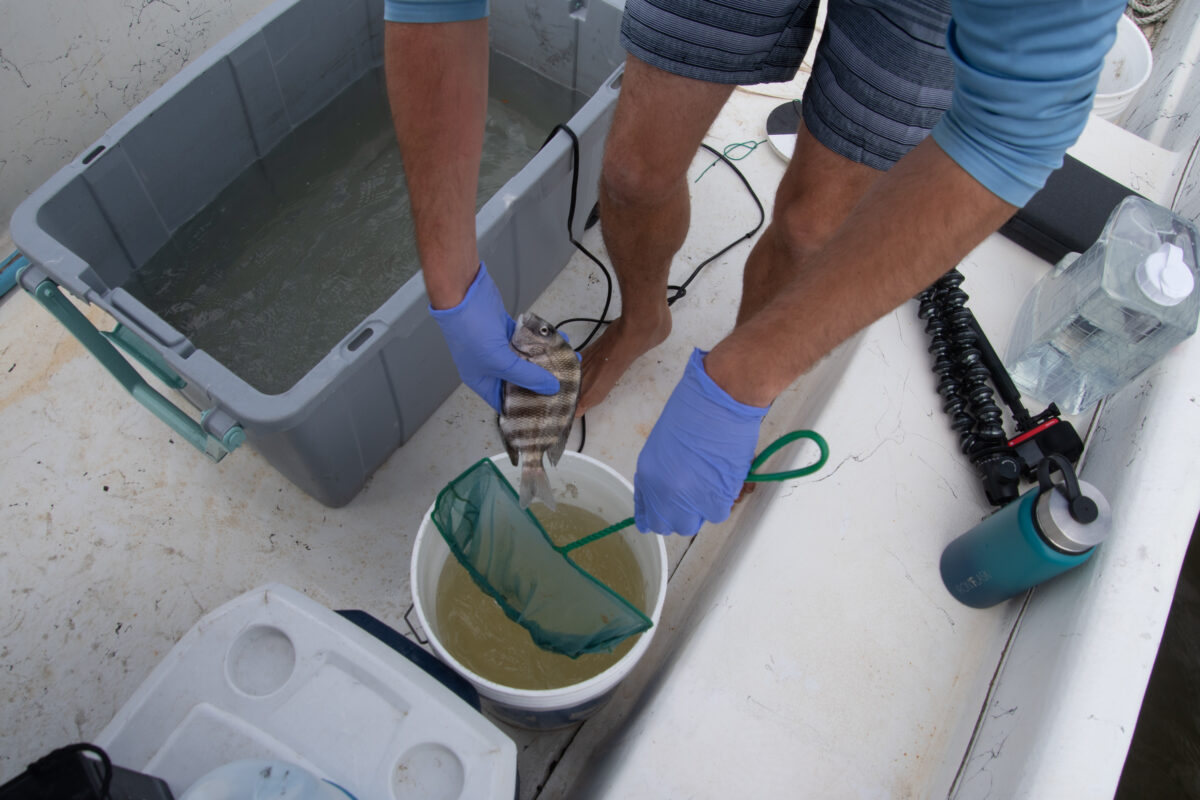 One of the Sheepshead after being placed in the anesthetic bucket, before surgery. [Photo: Heidi Hannoush]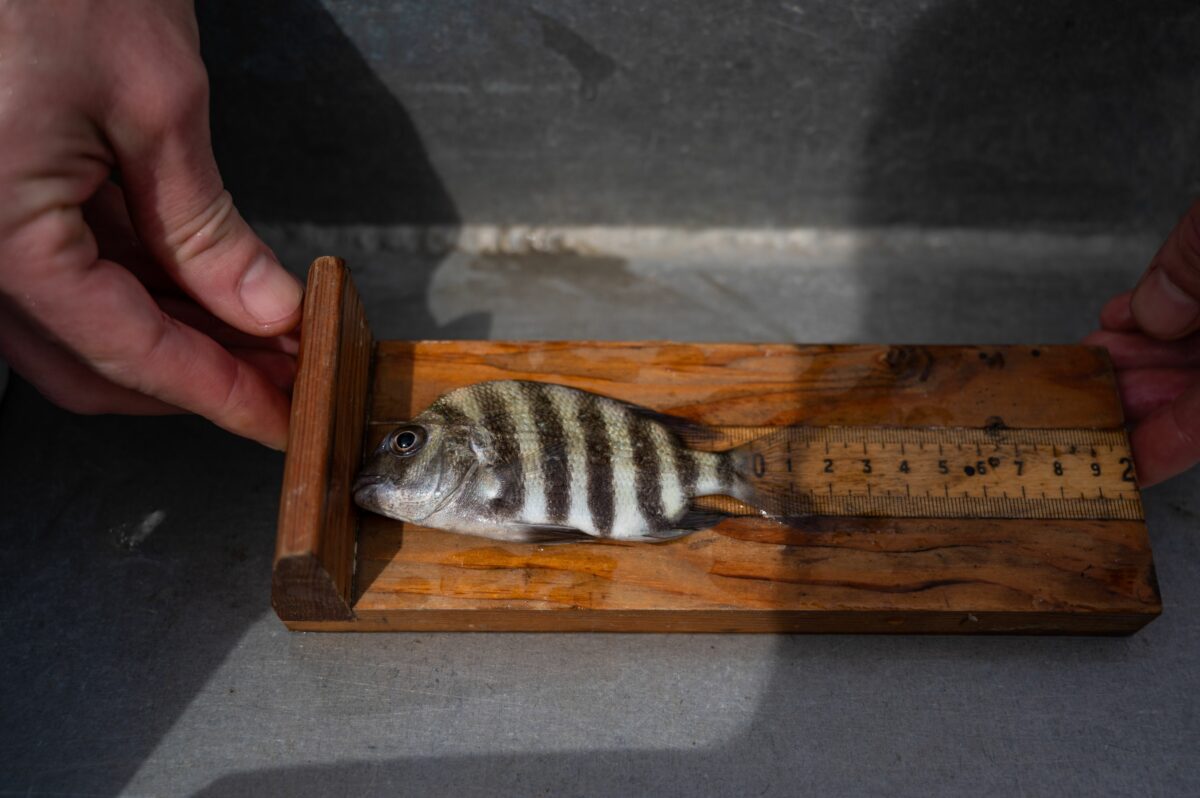 Before the surgery is performed, each fish is measured and weighed.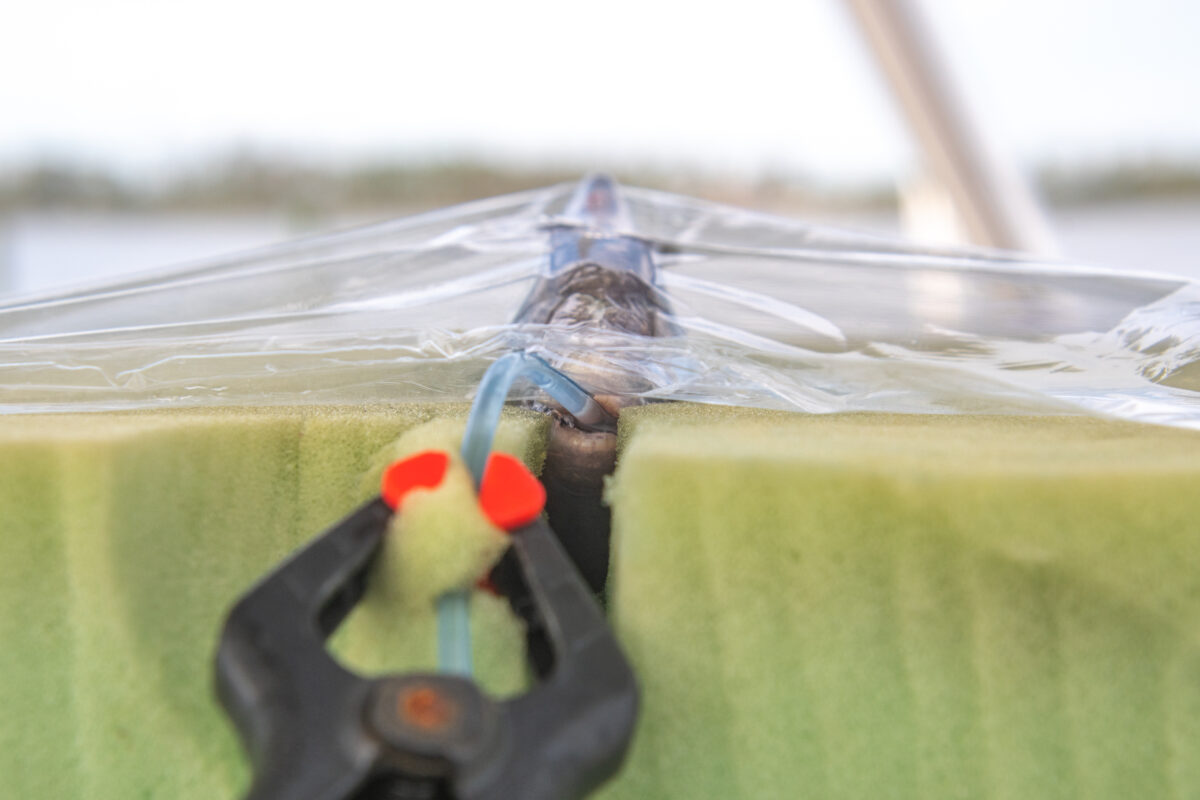 This clamp and blue hose keep a diluted solution of anesthetic running over the fishes' gills during surgery. [Photo: Heidi Hannoush]
McMains uses a precise mixture of water and MS-222, a sedative, to sedate the animals before the surgery begins. Using a net, he transfers the fish from a holding tub on the boat, to the sedation bucket. Slowly, the fish sinks to the bottom of the bucket as its fin movement decreases. This is not harmful to the fish, and unlike some species, Sheepshead do not need to continuously move to push water through their gills. Thus this sedated state is similar to a nap. 
"You know they are at the perfect level of sedation when their tail starts to move in a slow "S" shape," McMains said of the process. Once sedated, McMains weighs and measures the fish, then logs this information. He then secures the fish, upside down, using a foam block with a space cut out in the middle. He places a small hose in the fish's mouth, which runs a lower concentration of the sedative mixture over the gills of the Sheepshead. This water flow not only keeps the fish sedated but also provides them with oxygen. Once the hose is secured, a thin layer of plastic is wrapped over the Sheepshead and foam block. This is intended as an extra precaution, providing a surgical barrier between McMains and the fish.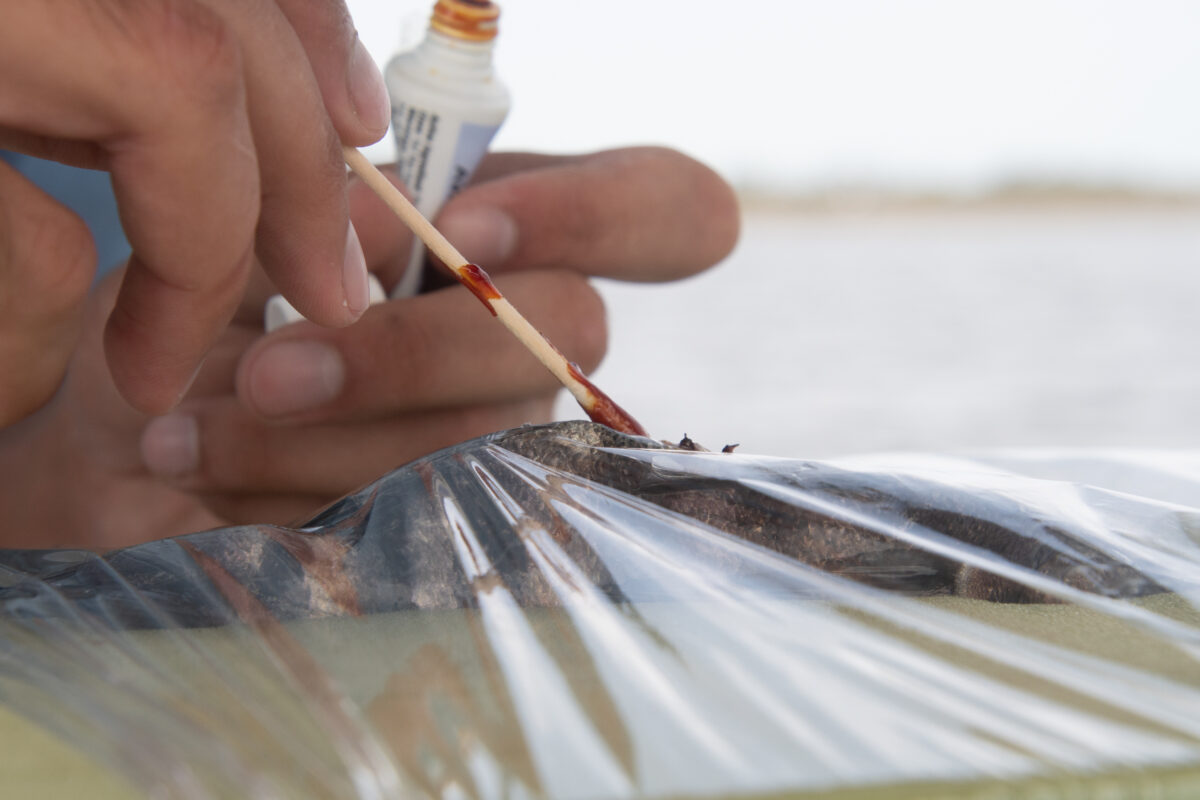 After the incision is close, Andrew uses an antiseptic to further prevent infection, as the fish heals. [Photo: Heidi Hannoush]
Before the surgery begins, the incision area is swabbed with a Chlorhexidine dilution to disinfect the area. A scalpel is used to remove a few scales along the underside of the fish, and then a small incision is made between the pelvic girdle and the vent. Next, forceps are used to widen the incision, which is considered safer and less damaging to the fish than cutting farther with the scalpel. McMains records the serial number of each tag before placing the device in the abdominal cavity of the fish. The incision is then sutured closed and a generous amount of Povidone- an iodine-based antiseptic- is swabbed over the wound to prevent infection.
After a few minutes in a recovery bucket, the fish is ready to be released onto the lease. 
"They tend to start to swim upwards as they wake up," McMains commented on Sheepshead recovery process, "this isn't normal behavior for them, so I know they are disoriented. I wait until they swim towards the bottom of the bucket to release them."
After the animals are transported to the edge of the lease and released into the water, the date and time are recorded next to the previous information recorded about the fish. 
Residency Time to the Extreme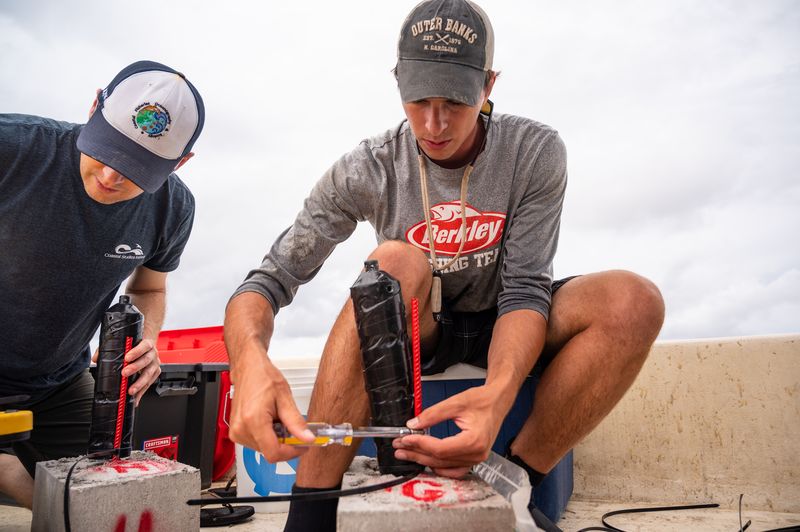 Dr. Morley and Andrew preparing the acoustic receivers to be placed on and around the lease.
Using internal acoustic tags is not the simplest way to track the fish, however, the benefits that the method provides are worth the complexities. The study is centered around a structure-based habitat, meaning, external tags would have a high chance of being knocked off while the fish moved around the lease. The main reason for using the acoustic tags, however, was the sheer amount of data the researchers could gather on individual fish.
For this project, McMains used a total of 17 acoustic receivers, which he spread around Cedar Island Bay. Nine of these receivers were spread in an array, centered around the baskets, ropes, and other structures that make up the main lease. McMains has 8 additional receivers spread out around the distant reaches of the bay.
"That is the really cool aspect of this," Morley stated, "roughly every forty-five seconds he [McMains] can see the fish's exact location. We sort of get residency time to the extreme."
By using multiple acoustic receivers and sync tags, correcting for the speed at which sound travels underwater, and implementing triangulation methods such as those used in GPS, the researchers can determine the exact location of a fish once every minute. By using the 8 receivers spread out farther around the lease, the team can also see when fish are leaving the area, what direction they are heading, and if they return. As these acoustic tags last for two months and McMains tagged twenty-seven fish, there will be plenty of data to analyze.
At this point, McMains has finished tagging most of the fish and final data collections will be wrapping up near December of this year. The last task on the lease will be removing all of the listening devices and traps. All of the data on each tagged fish will be processed and sent back to Morley and McMains to analyze. 
"Oyster leases are interesting and I think they are a good habitat, and we will hopefully be able to show that by the end of the study," McMains said, "You know there is a reason the fish are associating to the lease here, it provides useful structure for this species in particular. Potentially, you aren't degrading their habitat, rather you are enhancing it by installing an oyster lease."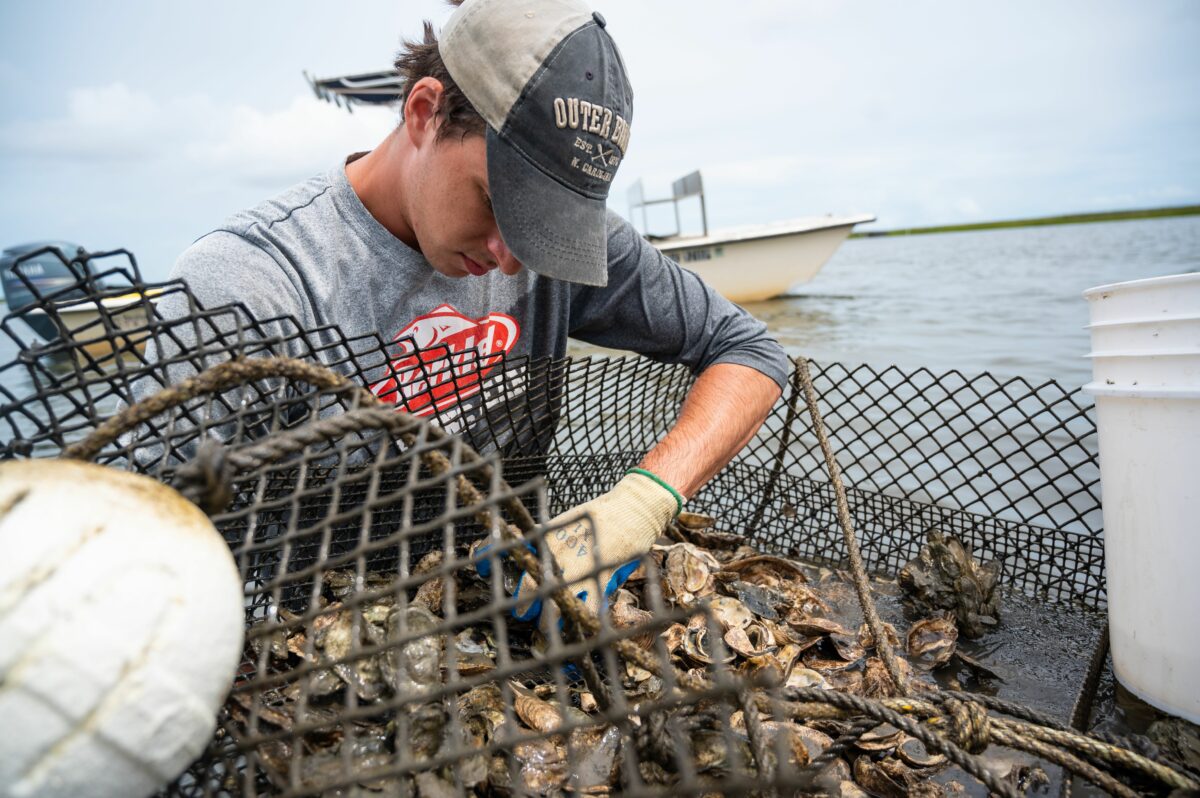 Andrew checking another trap which he placed on the lease earlier.
Morley and McMains' research promises to improve our understanding of the effects of oyster leases on natural habitat and increase sustainable management of resources, like Sheepshead, in North Carolina. 
For some time now, the practice of harvesting oysters from leases has been considered to be one of the most sustainable forms of aquaculture and seafood production. From what has been seen thus far, the negative impacts of oyster leases seem to be more of an aesthetic issue than anything else. It is already known that the presence of live oysters in a water body increases water quality and the potential of habitat creation using these leases is supported by science.
In the future, Morley would like to continue to work on providing information about the impacts of oyster leases on marine life.
" I would like to do a similar project with a predator, like a flounder, in an estuary where there are lots of oyster farms, to see how the predators use the broader ecosystem, in terms of leases and non-leased areas," Morley said.
The findings from this project, as well as future work, are certainly going to be influential to the continued growth of oyster leases in NC, and the continued effort to find and implement sustainable practices within fisheries, aquaculture, and the greater environment.