By Nijah Pope, OBXFS student and CSI photojournalism intern.
For many students, semester-long programs at the Coastal Studies Institute (CSI)  have given them opportunities to make the most of their academic pursuits by including internships in their areas of interest. For Abigail Montes de Oca, a sophomore biology major from the University of North Carolina at Chapel Hill (UNC), this is her chance to explore her scientific interests to find which one she may wish to pursue as a future career.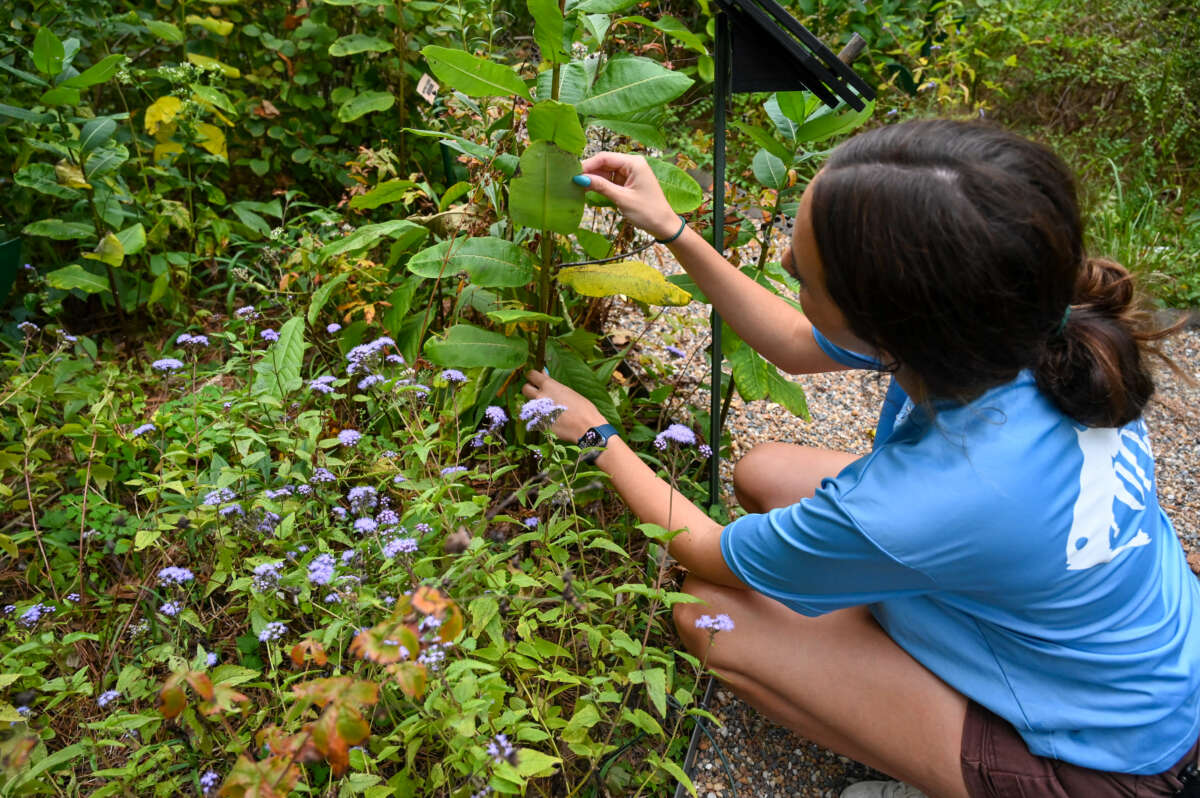 Montes de Oca has been paired with the North Carolina Aquarium on Roanoke Island (NCARI) where she interns with the Horticulture Department. The Horticulture Department is responsible for taking care of and maintaining the native plants on aquarium grounds. Montes de Oca is particularly focused on monarch butterflies and other pollinators that utilize the vegetated area. Her work includes pollinator surveys- where she looks in one specific area for any pollinators that may land on and pollinate a plant- or computer work- where she logs pollinator sightings to examine if any trends are present among the pollinated plants.
Some days, Montes de Oca is tasked with visiting all the milkweed plants in the aquarium's pollinator garden and tallying any monarch larvae that have been laid on the underside of the leaves. There are five stages of the monarch larval cycle, and through September, Montes de Oca and her colleagues have mainly seen the first two stages during their observation periods. 
In addition to her fieldwork and data logging, Montes de Oca has also had the opportunity to work closely with the local community by curating educational materials used to share information about monarch butterflies and other pollinators.
"It's really fun to interact with visitors or residents in the area, and also have the opportunity to educate the community on something that I have grown to be passionate about, " Montes de Oca says. "For my educational materials, I've made a life cycle [display] on monarchs. I'm also making a sorting game for kids because there are a few different types of butterflies that look similar to monarchs. This way, they are able to tell the difference between the monarchs and their look-alikes."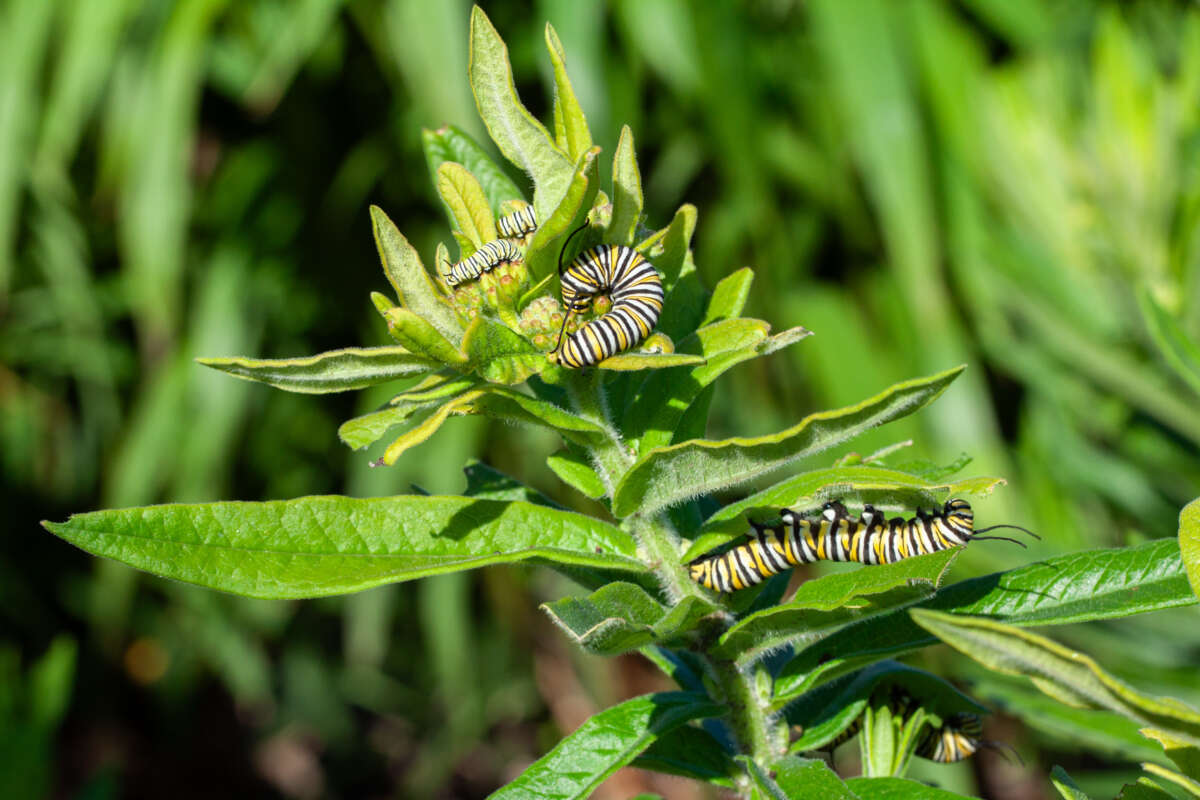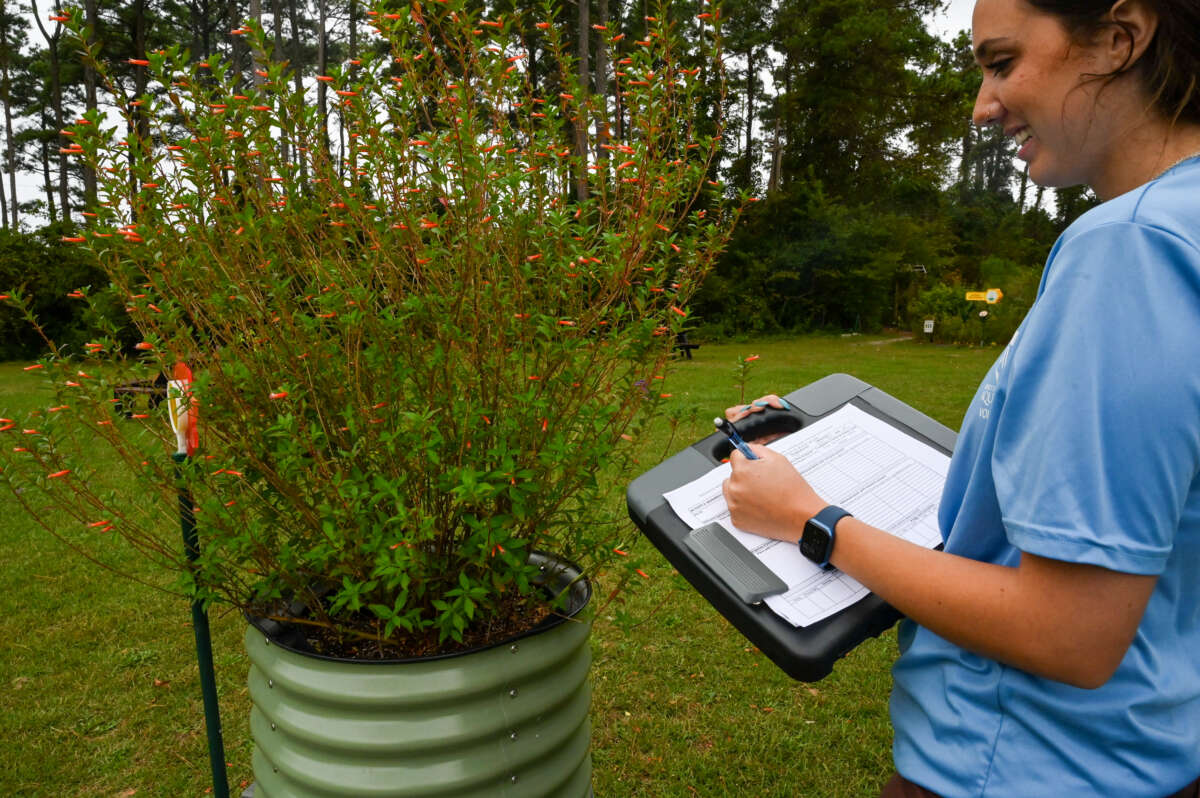 With the passion that Montes de Oca has discovered in learning about conservation ecology with NCARI, it is surprising this did not fit within her initial career goals. As a biology major, she was and, so far, is still planning to go the medical route, but working with the horticulture department has allowed her to explore another career path in which she also had an interest. 
"I really wanted to take this semester to learn more about conservation and biodiversity, another one of my interests, so that when I do decide on a career path, I am satisfied that I gave everything I wanted to a try. So far, this experience has left a positive impact and honestly might make my decision a little harder in the future because I really do enjoy this type of work."
Montes de Oca is grateful that she has been able to work alongside people who are experts or knowledgeable about horticulture and native plants and are willing to teach her new things and answer any questions she may have. Going forward, she hopes to learn more about the ecological significance of life on the scale of small pollinators like monarchs and bees. She believes that the skill of knowing different plants and insects, their roles in their respective ecosystems, and how they interact within it can be valuable in the future to maintain the planet in their favor. 
"I have found that it could be important to know how to care for different pollinators and the plants they pollinate so that, in the future, I can start my own pollinator garden …. It's just really cool to know how to foster a good habitat for them to live in so that they can continue to flourish."