By Nijah Pope, OBXFS student and CSI photojournalism intern.
Coastal management is an important factor in the development of coastal communities as it plays an essential role in their growth and resilience. Effective coastal management, especially in the face of increasing threats such as sea-level rise and coastal erosion, is necessary to enhance the safety of communities and preserve natural resources for future generations.,. This semester at the Outer Banks Field Site (OBXFS) , one student's internship has given them the opportunity to learn about the thoughtful planning and proactive measures that contribute to the long-term well-being and prosperity of coastal communities.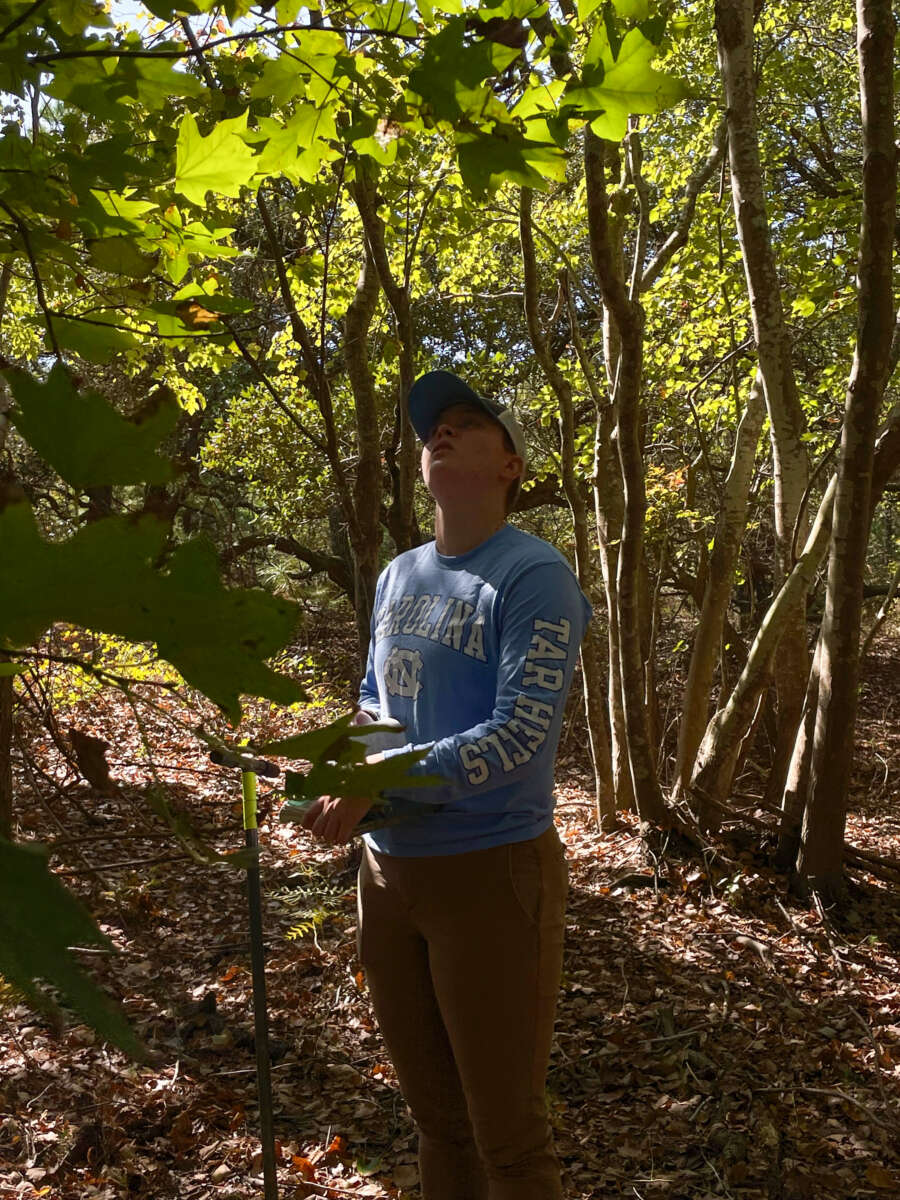 Laura Flynn, a senior at the University of North Carolina Chapel Hill (UNC-CH), is interning with Quible & Associates, P.C., a North Carolina-based environmental consulting firm, this semester while at the Outer Banks Field Site (OBXFS) Quible offers a myriad of environmental services for the Outer Banks community, such as civil engineering, environmental consulting, surveying, and planning. Flynn's internship in particular focuses on permitting and coastal management, which fall under Quible's environmental sciences services.
Some internship days, Flynn enjoys field work with her mentors and assists with environmental assessments for some of their projects. These environmental projects include working with her mentor to establish the first line of stable natural vegetation along the dunes of oceanfront homes for the purpose of CAMA, or Coastal Area Management Act, permitting purposes. Sometimes she helps review previously staked areas to ensure the line of vegetation is still valid for the permitting process. Laura has learned that double-checking markers is an imperative step for securing permits on behalf of property owners.
On other days, Flynn is responsible for working with geographical information systems (GIS), which is something she has gained familiarity with as an environmental studies major at UNC-CH. GIS is a computer program used to help analyze, create, store, and visualize geographic data related to a specific location on Earth. It connects geographic data to a map, processes it by combining it with descriptive information about the mapped location, and presents it in a way that can be more easily understood for detecting spatial patterns or geographic relationships. In Quible's case, their use of GIS involves looking through files containing geographic coordinates, finding their location on Google Maps, and using that location to integrate it with the geographic data and create a map of the area.
"They use Google Earth Engine a lot," says Flynn, "They use [it] to orient themselves to the location of the property and pull up county-specific GIS websites in order to find who the current owners of the land are and create maps based on ownership so they know where to send letters to."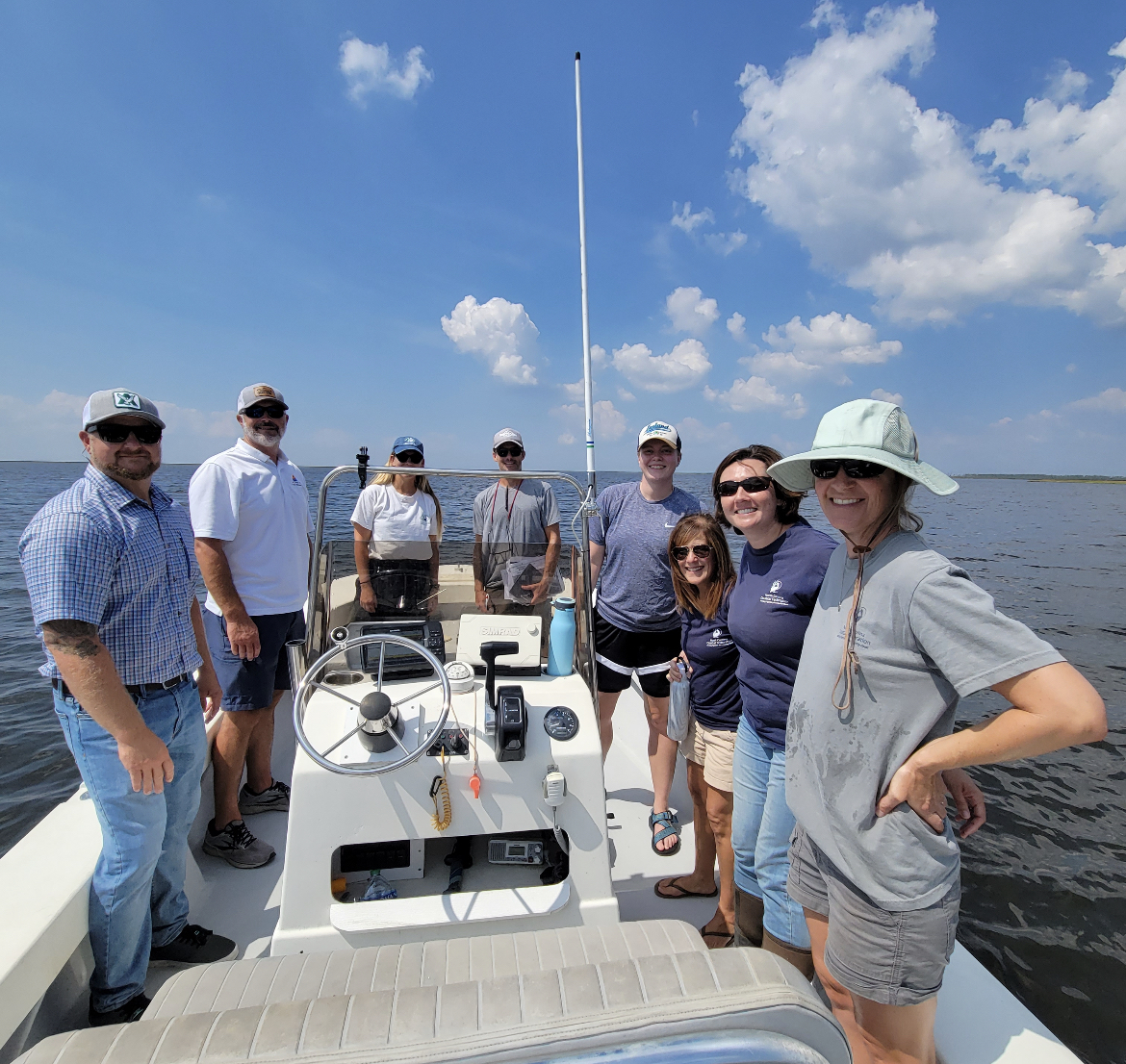 Flynn (fourth from right) has enjoyed days in the field which have even occasionally involved time on the water.
When work requiring a CAMA permit is to be conducted at a site, owners of adjacent riparian properties, or those that share immediate proximity to a water boundary, must be notified; and using GIS can help Flynn and her mentors to identify those owners. . Thus, creating land ownership maps is important for planning purposes. Part of Flynn's responsibilities with her GIS work involves searching through GIS websites with data for specific counties and finding who the owners of the property are. This aspect of her internship has helped bolster her confidence in her GIS skills, specifically which were quite surface-level prior to joining the UNC OBXFS. She can now more easily manipulate a map to show a specific location, which she says has made her feel more resourceful when performing data analysis.
Interning with Quible has given Flynn the opportunity to branch out into a field that she had not previously explored. As a senior, she finds herself thinking more frequently about her future career path and has so far found enjoyment in coastal management. 
"My internship with Quible has shown me a new type of work," says Flynn, "I never really thought about permitting and fieldwork as a career option but I have grown to appreciate the work that is put into it. Going out into the field and getting your hands dirty is something that is fun and rewarding when we come back and put our pictures and data into the folders for each site. I have really enjoyed my time at Quible and can see myself working in coastal management and exploring my options."