2021 North Carolina Renewable Ocean Energy PROGRAM Symposium

Virtually Via Zoom from the COastal Studies Institute
May 24 and 25, 2021.
The North Carolina Renewable Ocean Energy Program (NCROEP) will be hosting their annual research symposium virtually through a Zoom webinar on May 24 and 25, 2021.  The NCROEP Symposium Webinar on May 25 will include a student poster contest and small group break-out discussions, and keynote presentations. The NCROEP Director, George Bonner, will provide updates on the NCROEP and the proposal process and timeline for the 2021-2022 fiscal year. 
Agenda
Monday and Tuesday, May 24-25, 2021
Access to pre-recorded research summaries and student posters by registrants (password sent via email).
Monday, May 24, 2021
8:00 am-12:00 pm – Private Research Reviews
Individual research project TAC reviews 

Access to

Symposium research videos Vimeo

and

student posters – Embedded below
Tuesday, May 25, 2021
8:00 am-12:30 pm – Private Research Reviews 
Individual research project TAC reviews 

Access to

Symposium research videos Vimeo

 and

student posters (links to come)

1:00-4:00 pm – Symposium
1:00 pm

Welcome expectations for the NCROEP Symposium 

1:10 pm

Break-out rooms 

 

1:30 pm 

Keynote – "Commercialization and the Roosevelt Island Tidal Energy (RITE) Project" – Jonathan Colby, Director of Technology Performance, Verdant Power

2:10 pm 

Student Poster session Q&A


2:50 pm 

Keynote –

"

EMEC and the Potential of Marine Energy in the US" – Richard Ainsworth, US Project Engineer, The European Marine Energy Centre LTD 


3:30 pm

Break-out rooms 

3:50 pm

Summary

4:00 pm 

Adjourn
Poster Session Breakout Rooms
| | | |
| --- | --- | --- |
| Poster Title | Presenting student | Rm # |
| Harvesting MHK Energy Through Grid-Connected Offshore Microgrid Cluster and Multi-Terminal HVDC Link | Faria Kamal | 1 |
| Estimation of Power Generation Profile of Offshore MHK Microgrid Cluster | Rodney Itiki | 1 |
| Wave Energy Harvesting Using A Variable-Area Liquid Metal-Hydrogel Capacitor | Omar Awartani | 1 |
| Experimentally Guided Dynamic Modeling and Cross-Current Flight Projections of a Marine Hydrokinetic (MHK) Energy-Harvesting Kite | Zak Leonard | 1 |
| Control-Aware Design of The Combined Geometric and Structural Properties Of An Underwater Kite | Kartik Naik | 1 |
| Tethered Coaxial Marine Turbine Torque Cancellation Analysis | Mikayala Nichols | 1 |
| Integration of Marine Renewable Energy into Electric Power Grids and Value Proposition Development Of Economics And Resilience | Naveen Pani | 2 |
| A Marine Microgrid System with Multiport Power Converter, Wave Energy Resource Interface and Coordinated Protection | Md Rifat Rachi | 2 |
| Dynamic Characterization, Flow Modeling, And Optimal Control of An Energy-Harvesting Underwater Kite in Realistic Ocean Conditions | James Reed | 2 |
| Analyzing Investments in Nc Offshore Renewable Energy Under Uncertainty About Resource Availability and Hurricane Damage | Victor Faria | 2 |
| Natural Frequency of Offshore Monopile Supported Wind Turbines and Hybrid Energy Systems | Long Vo | 2 |
| Controlled Environment Testing of Scaled Hydrokinetic Devices | Dillon Herbert | 3 |
| Experimental Validation. Of Tether Model Used for Simulating Tethered Ocean Energy Harvesting System | Neelav Ankit | 3 |
| Inviscid Flow Investigation of A Streamlined OWC Device | Frimpong Opoku | 3 |
| Development of Novel Oscillating Water Column | Mohammad Nasim Uddin | 3 |
| Inviscid Flow Investigation of A Streamlined OWC Device | Frimpong Opoku | 3 |
| Simultaneous Optimization of Geometric And Structural Wing Properties Of An Underwater Energy Harvesting Kite | Sumehd Sudhir Beknalkar | 3 |
Poster: Harvesting MHK Energy through Grid-Connected Offshore Microgrid Cluster and Multi-Terminal HVDC Link – Faria Kamal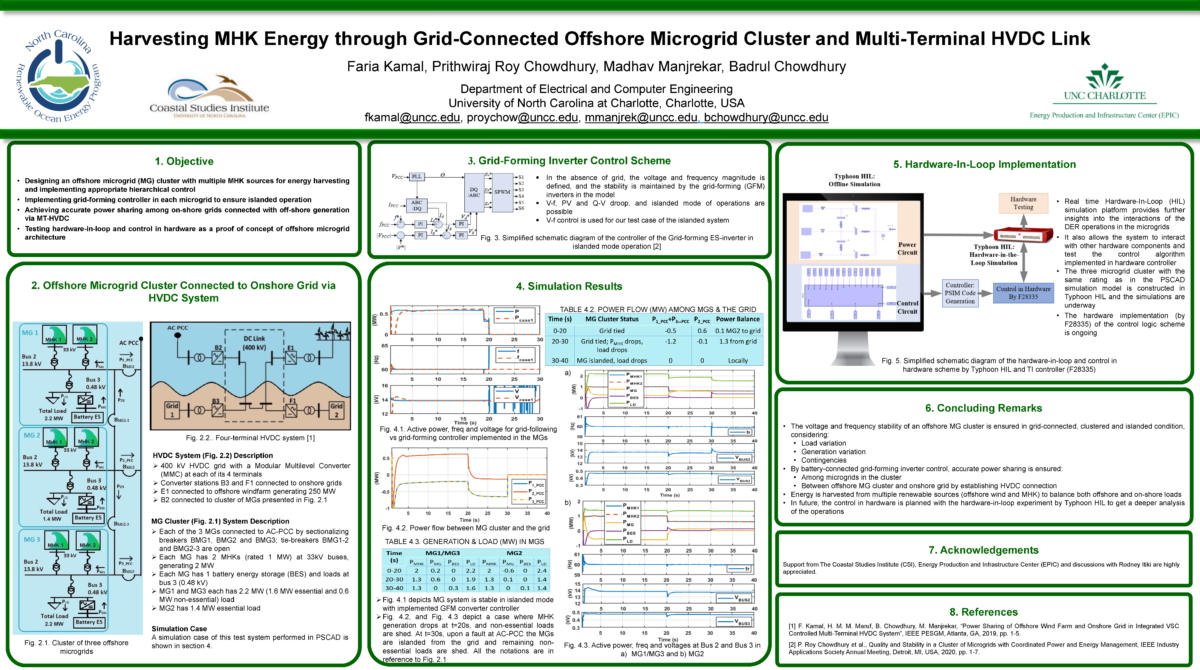 Poster: Estimation of Power Generation Profile of Offshore MHK Microgrid Cluster – Rodney Itiki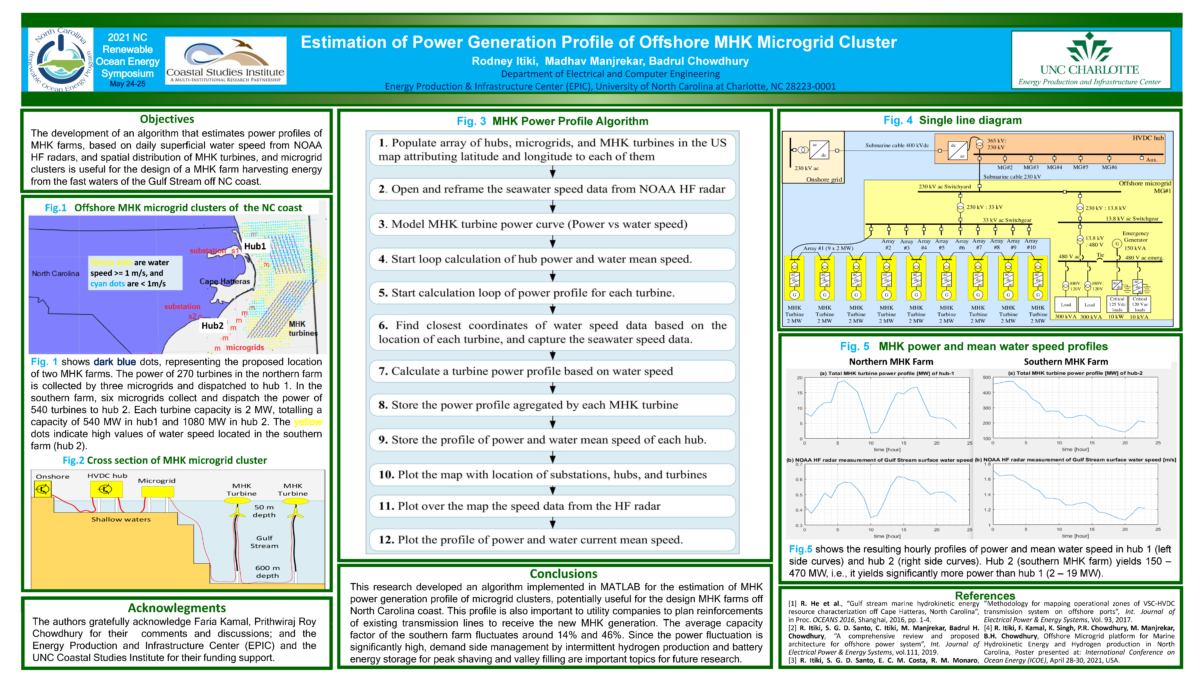 Poster: Wave Energy Harvesting Using a Variable-Area Liquid Metal-Hydrogel Capacitor – Omar Awartani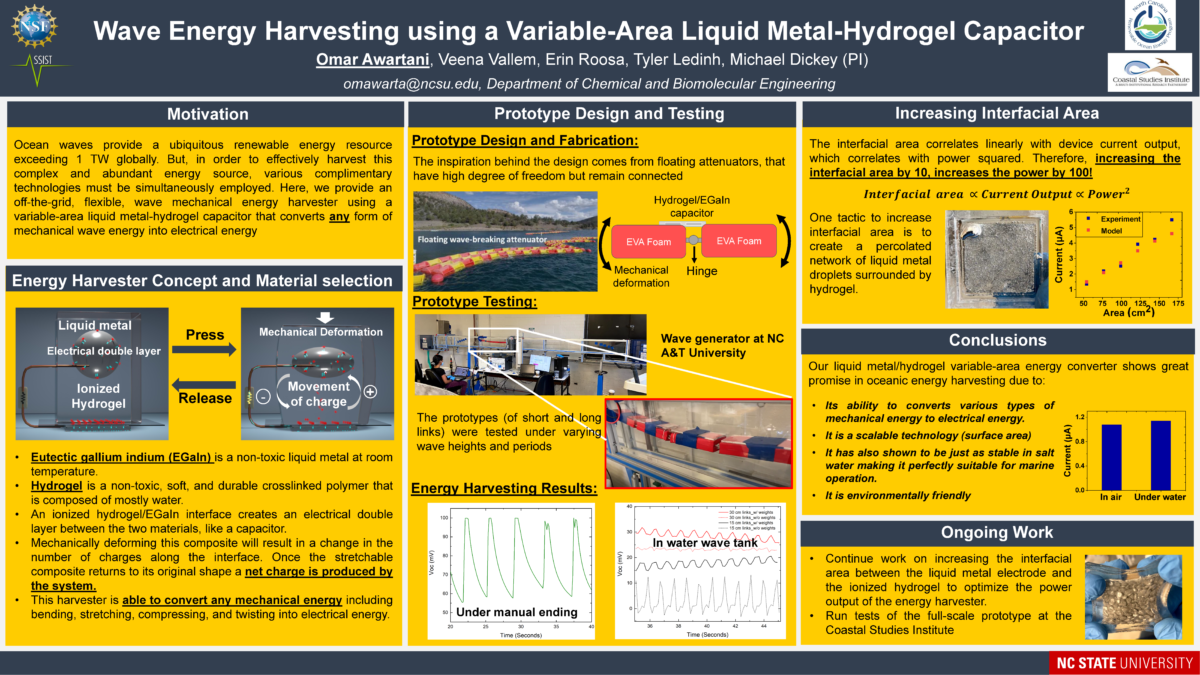 Poster: Experimentally guided dynamic modeling and cross-current flight projections of a marine hydrokinetic (MHK) energy-harvesting kite – Zak Leonard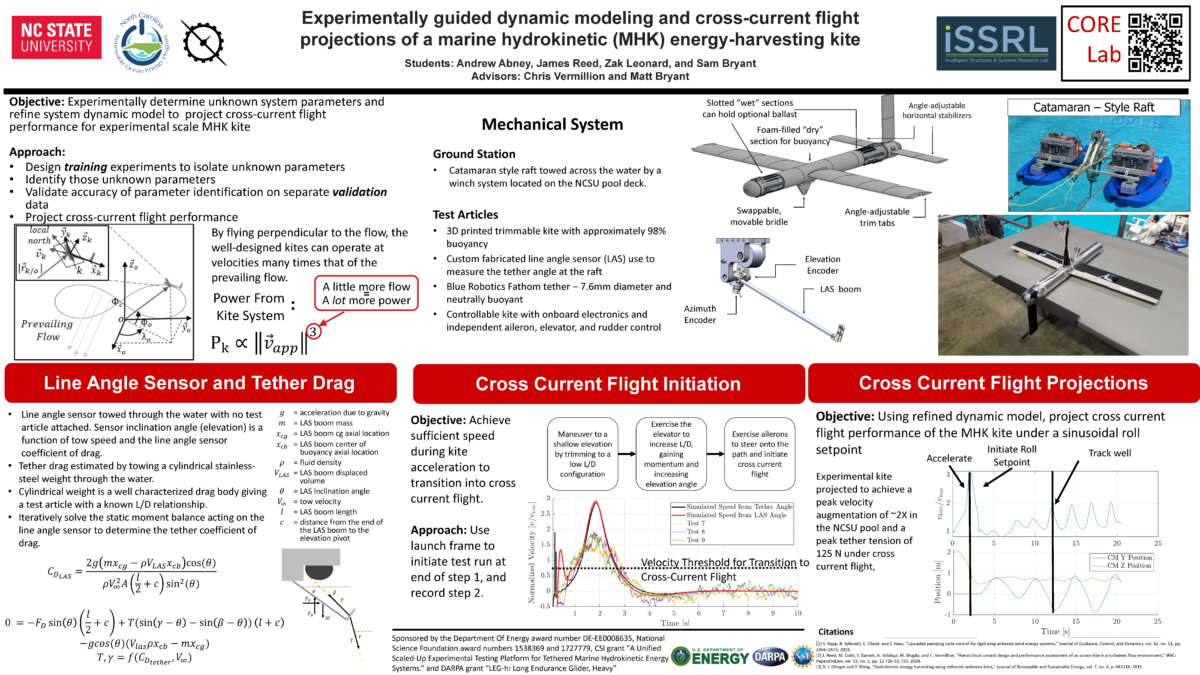 Poster: Control-aware Design of the Combined Geometric and Structural Properties of an Underwater Kite – Kartik Naik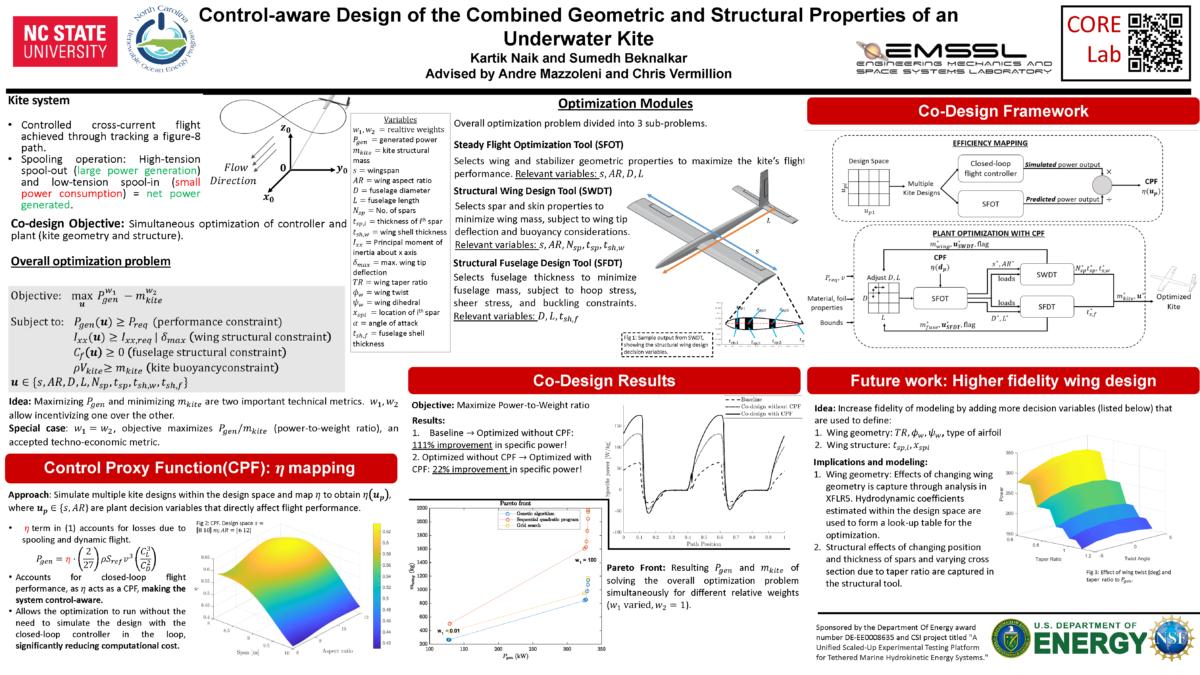 Poster: Tethered Coaxial Marine Turbine Torque Cancellation Analysis – Mikayala Nichols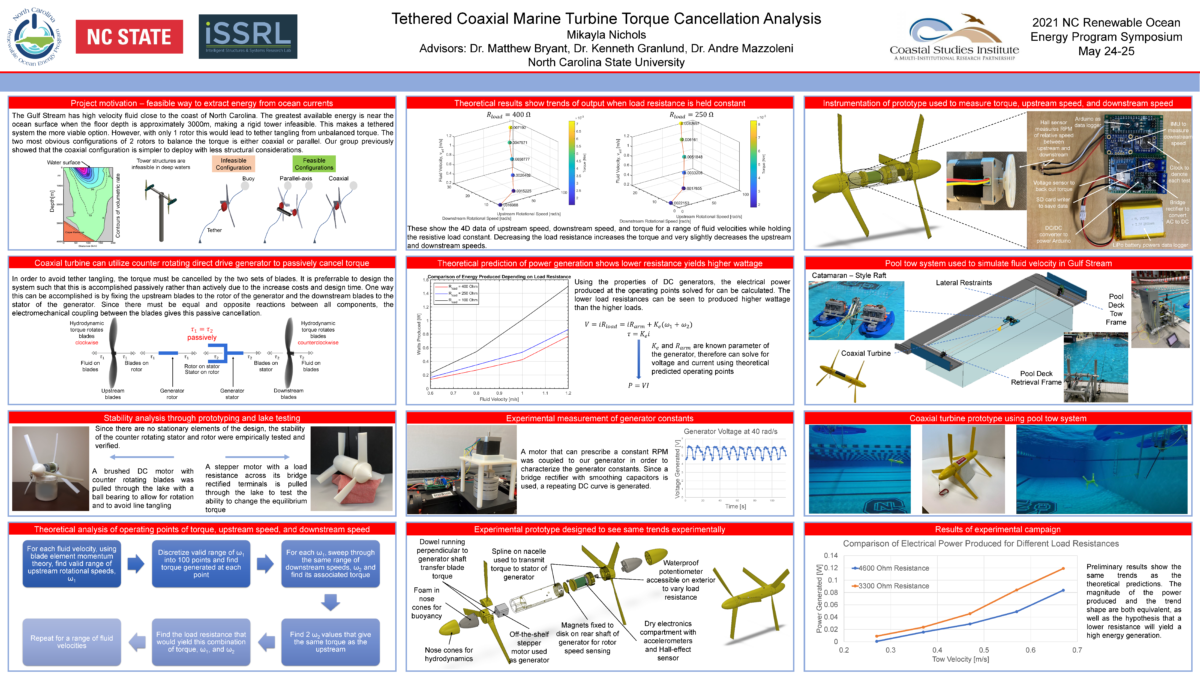 Poster: Integration of Marine Renewable Energy into Electric Power Grids and Value Proposition Development of Economics and Resilience – Naveen Pani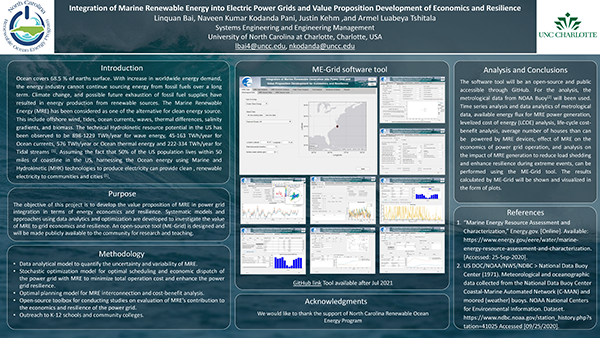 Poster: A Marine Microgrid System with Multiport Power Converter, Wave Energy Resource Interface and Coordinated Protection – Md Rifat Rachi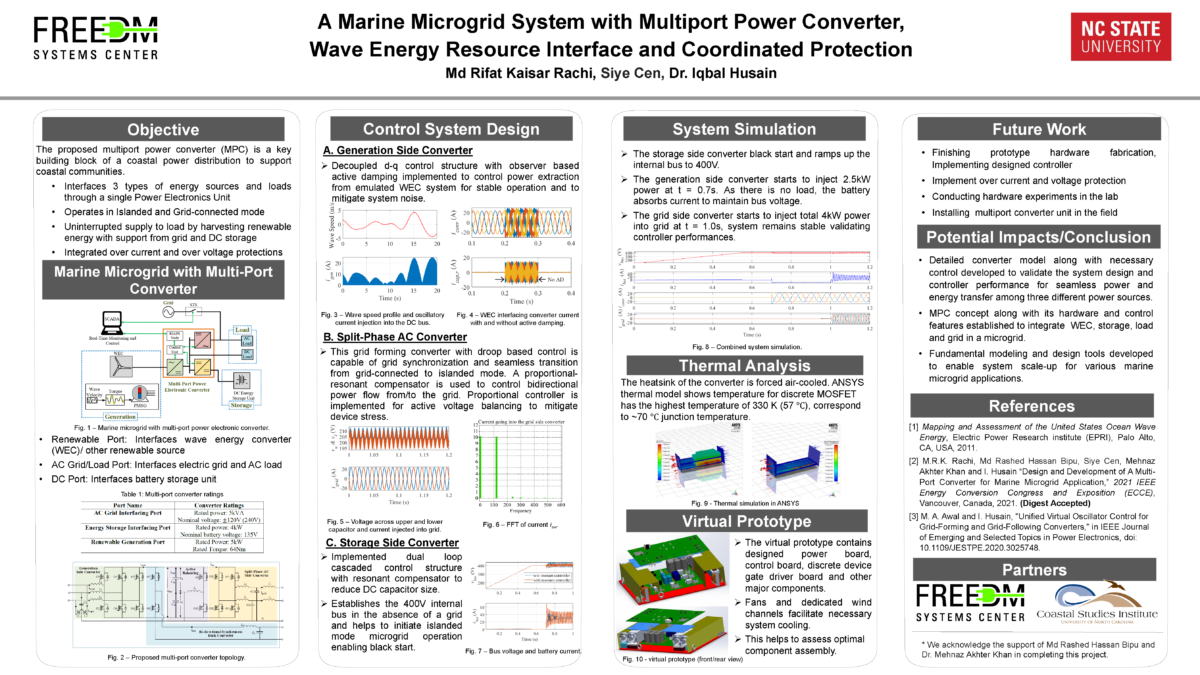 Poster: Dynamic Characterization, Flow Modeling, and Optimal Control of an Energy-Harvesting Underwater Kite in Realistic Ocean Conditions. – James Reed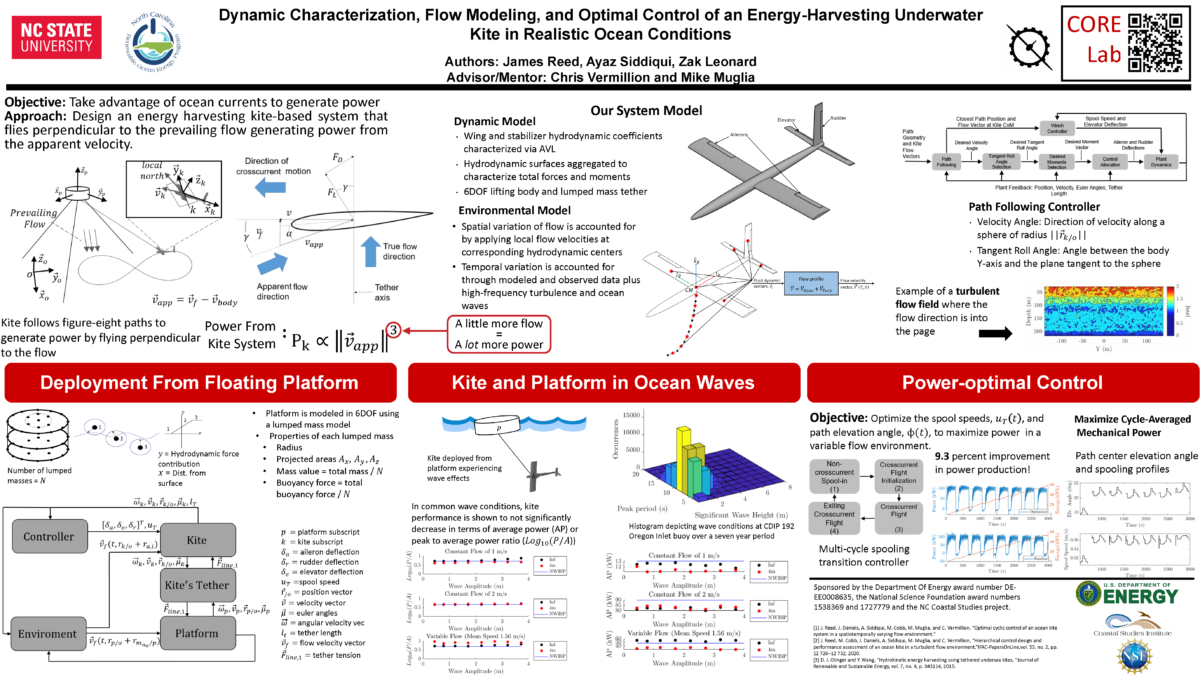 Poster: *Analyzing Investments in NC Offshore Renewable Energy Under Uncertainty About Resource Availability and Hurricane Damage – Victor Faria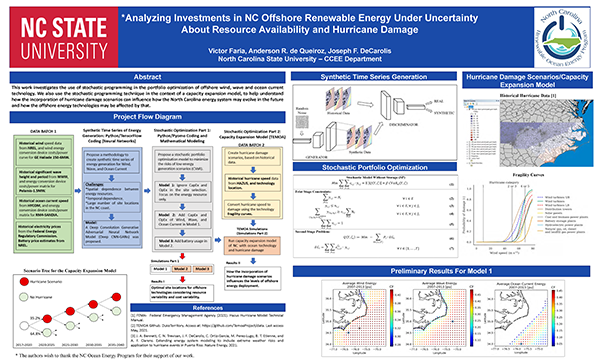 Poster: Natural Frequency of Offshore Monopile Supported Wind Turbines and Hybrid Energy Systems – Long Vo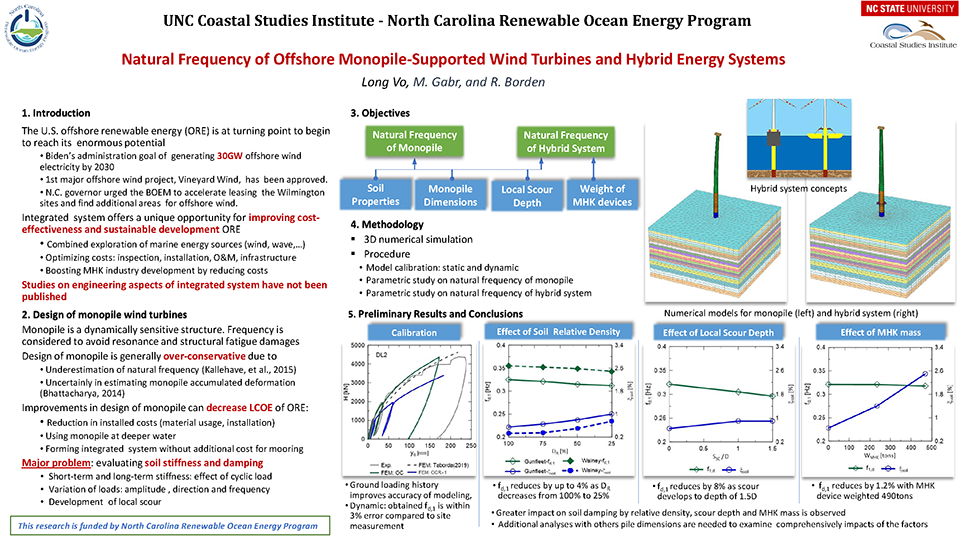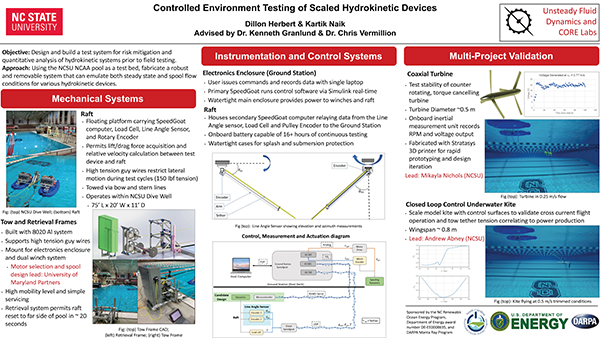 Poster: Controlled Environment Testing of Scaled Hydrokinetic Devices – Dillon Herbert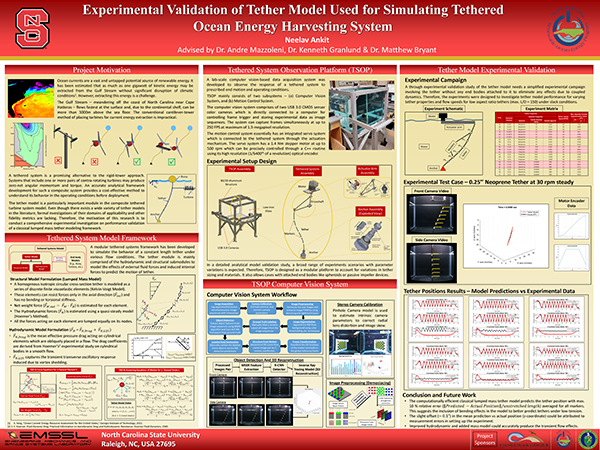 Poster: Experimental Validation. of Tether Model Used for Simulating Tethered Ocean Energy Harvesting System – Neelav Ankit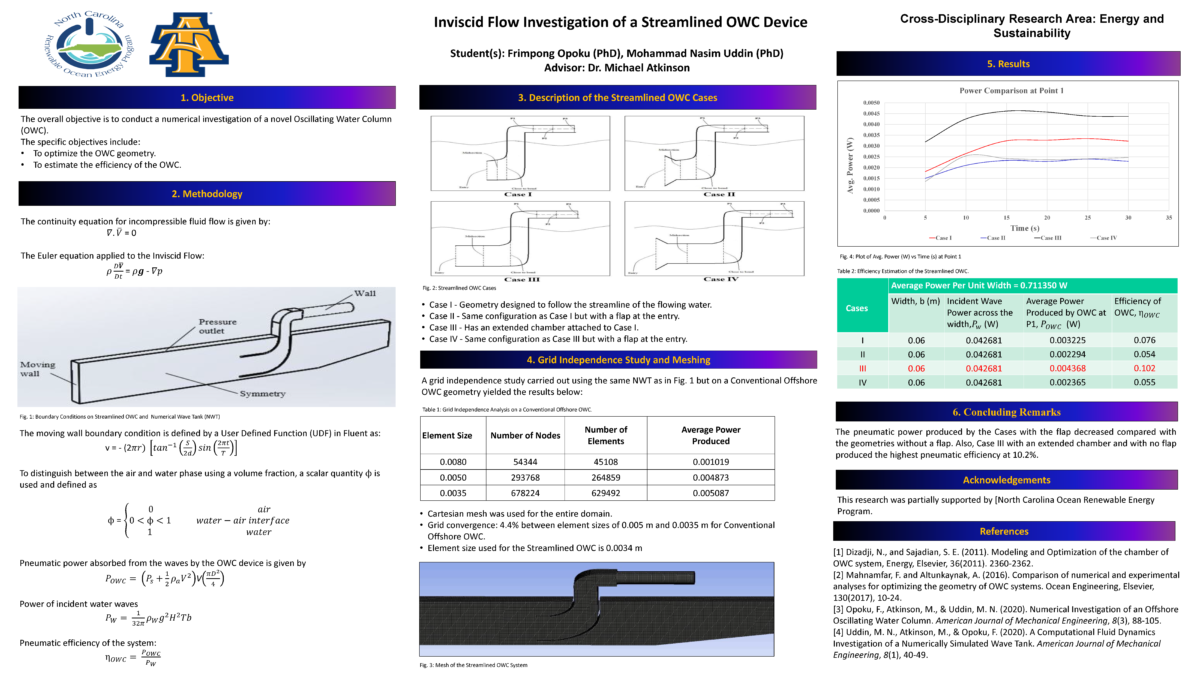 Poster: Inviscid Flow Investigation of a Streamlined OWC Device – Frimpong Opoku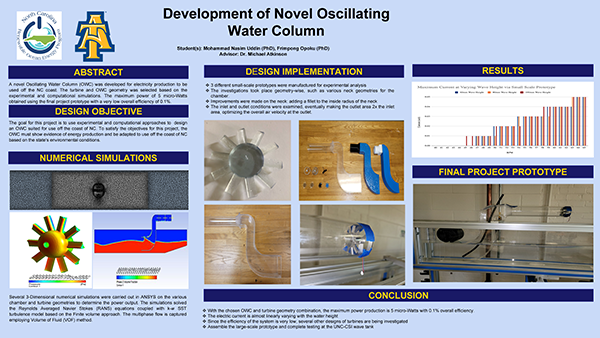 Poster: Development of Novel Oscillating Water Colum – Mohammad Nasim Uddin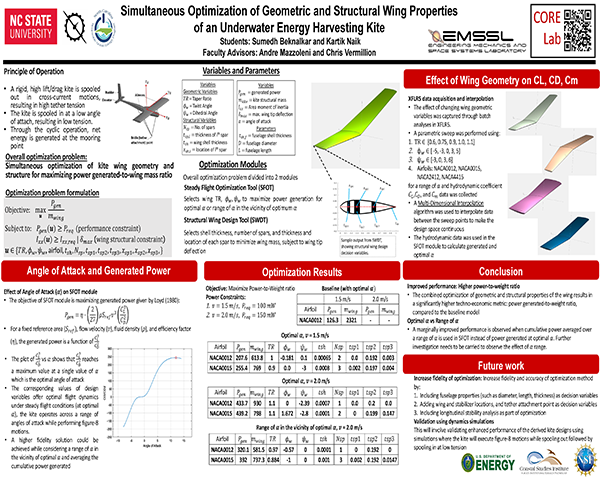 Poster: Simultaneous Optimization of Geometric ands Structural Wing Properties of an Underwater Energy Harvesting Kite  – Sumehd Sudhir Beknalkar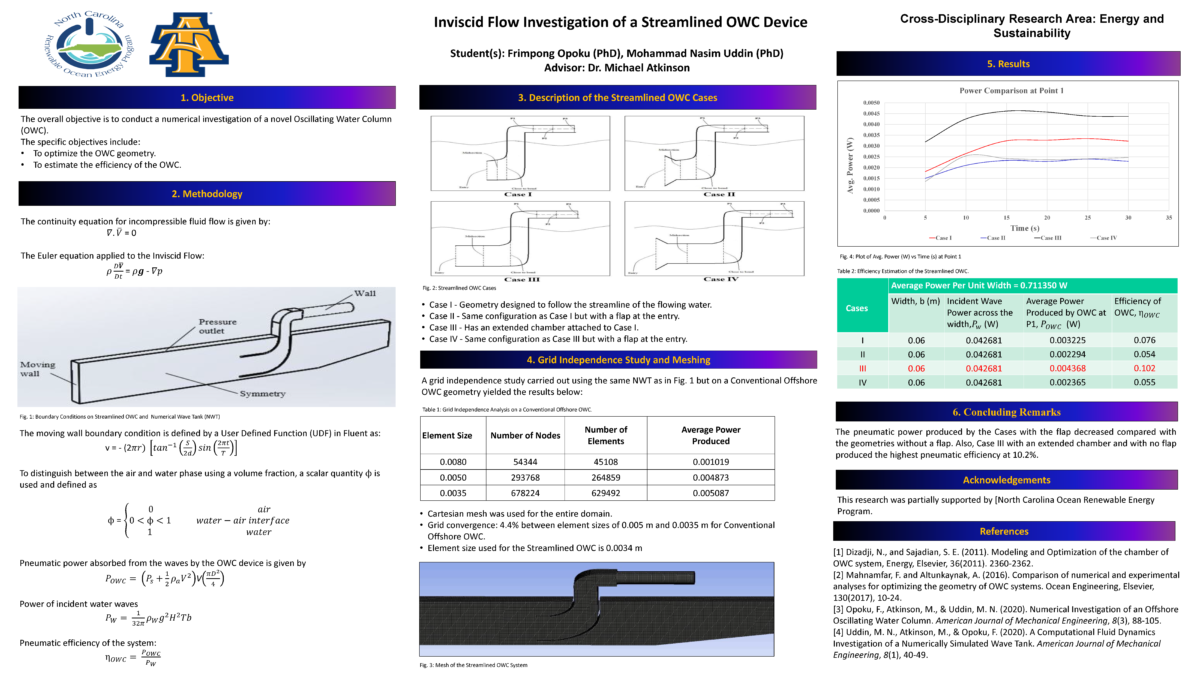 Poster: Inviscid Flow Investigation of a Streamlined OWC Device – Frimpong Opoku
Performance Testing of an Integrated Magnetic Power Take Off – Wesley Williams
A Unified Scaled-Up Experimental Testing Platform for Tethered Marine Hydrokinetic Energy Systems – Chris Vermillion
Internal Wave Generation from Ocean Current Turbine Operation – Praveen Ramaprabhu
Harvesting MHK Energy Through Offshore Microgrid Cluster and Power Transfer – Madhav Manjrekar
Bio-based Liquid Crystal Thermoset Composites for Marine Energy Harvesting –
A Marine Microgrid System Demonstration – Iqbal Husain
A Hybrid Numerical & Experimental Design Approach to Optimize Hydrokinetic Devices – Michael Atkinson
Comprehensive Gulf Stream Ocean Energy Resource Assessment -Ruoying He
Tethered Coaxial Turbines for Hydrokinetic Energy Harvesting – Kenneth Granlund
Mitigation of Wave Induced Liquefaction within Seabed Supporting the Foundations of Marine Renewable Energy Devices
Development of Shared Anchoring Concepts For MRE Devices
New Approaches for Oceanic Energy Harvesting – Michael Dickey
Analyzing Investments in NC Offshore Renewable Energy Under Uncertainty About Resource Availability and Hurricane Damage – Joe Decarolis
HD of MHK Energy off the Coast – Linda D'Anna
Integration of Marine Renewable Generation into Power Grid & Value Proposition Development for Economics & Resilience – Linquan Bai
Reliability Oriented Control for OCEC-Based Underwater Microgrid Using SCADA System
Bio-based Liquid Crystal Thermoset Composites for Marine Energy Harvesting