Join us for the September 2023 installment of the "Science on the Sound" Lecture Series at the Coastal Studies Institute on the ECU Outer Banks Campus.  This monthly, in-person lecture series brings perspectives from all over the state and highlights coastal topics in northeastern North Carolina. This month, Kathie Dello, State Climatologist and Director of the NC State Climate Office at NC State University will present "It's Hot Y'all: Data Driven Decision Support from North Carolina's State Climate Office" on September 21, 2023, at 6:00PM.
During the program, Dello will share the research, monitoring, and extension mission of her office.  The state Climate office provides data-driven support to decision-makers, planners, farmers, engineers, and elected officials across North Carolina's 100 counties.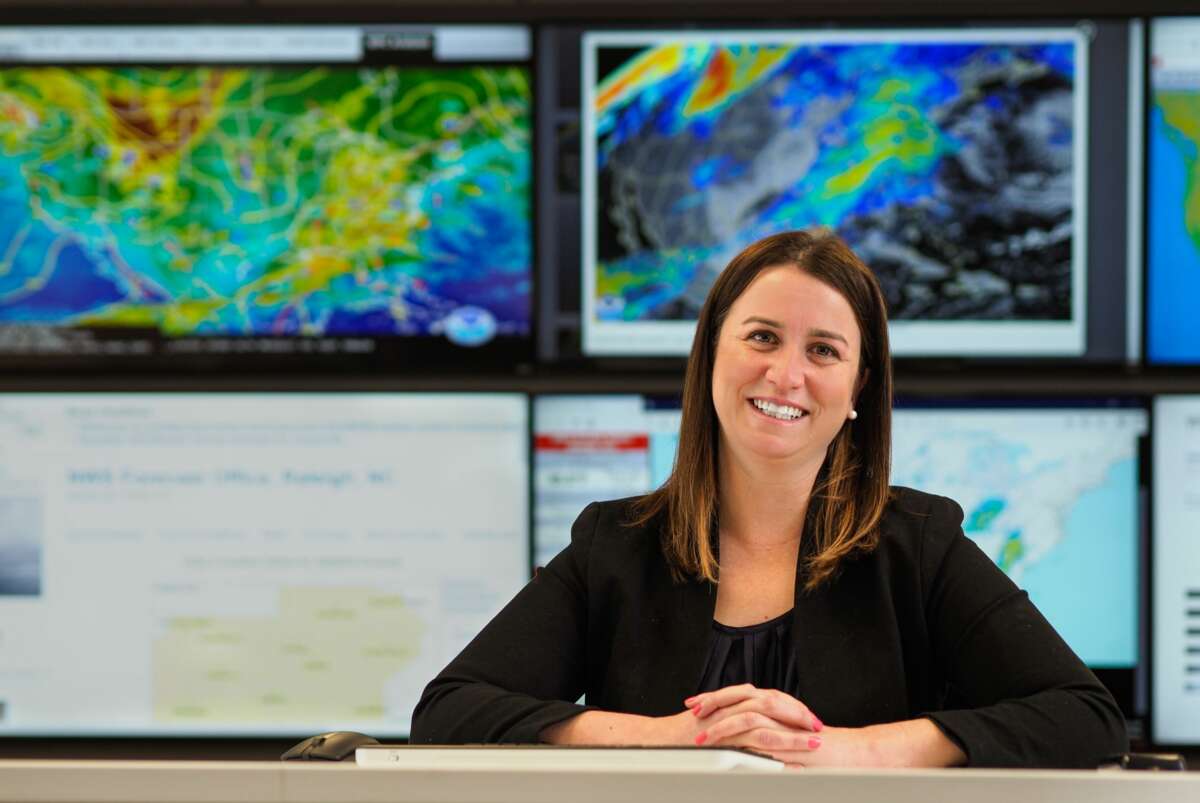 Kathie Dello (right or above) is the state climatologist of North Carolina and the director of the North Carolina State Climate Office. Dello is the first woman to hold this position at the NCSCO in the office's history. Kathie also serves as the co-director of the NOAA Regional Integrated Sciences and Assessment (RISA) for the Carolinas, the Carolinas Collaborative on Climate, Health, and Equity (C3HE).
Kathie received her Ph.D. in Environmental Sciences from Oregon State University, a Master's in Geography, and a Bachelor's in Atmospheric Science from the State University of New York at Albany.  Before her role at the NC State Climate Office, Kathie was the associate director of the Oregon Climate Change Research Institute and the deputy director of the Oregon Climate Service at Oregon State University.
Kathie is involved with climate resilience planning and impacts assessment. She is also a proficient science communicator and frequently collaborates with local and national media, NGOs, and other climate organizations. She works closely with North Carolina's state agencies to help them understand their climate risk. She led Oregon's first Climate Assessment in 2010, and she was a co-author in 2017 and 2019. Kathie was a lead author for the 2020 North Carolina Climate Science Report and a member of the Climate Advisory Panel. She has also participated in adaptation planning in New York and Oregon and was a technical advisor to North Carolina's 2020 Risk and Resilience Plan. Kathie is an author on the Southeast chapter of the 5th National Climate Assessment.
The program is free to attend and the public is encouraged to attend. The program will also be live-streamed, as well as archived for later viewing, on the CSI YouTube Channel.