By Nijah Pope, OBXFS student and CSI photojournalism intern.
The Coastal Studies Institute (CSI) has begun a new semester for its ongoing Outer Banks Field Site (OBXFS) program hosted in partnership with the UNC Institute for the Environment. Each fall, a small group of undergraduate students from the University of North Carolina at Chapel Hill take part in this semester-long program in which they have the opportunity to learn about the numerous coastal ecosystems of the Outer Banks as part of the environment and ecology-focused OBXFS curriculum.
Typically, the group of students that participate tend to major in environmental science, environmental studies, or something similar. Linda D'Anna, Associate Director of the OBXFS and Research Associate at CSI, says that in terms of the students who participate in the program, there are similarities between the groups year to year. However, every group also has their unique characteristics and their own essence. 
"I think what makes the group so interesting to work with," says, D'Anna, " is that their interests are varied, the things that they're studying are sort of different, but it all kind of comes together here, which is fun for me."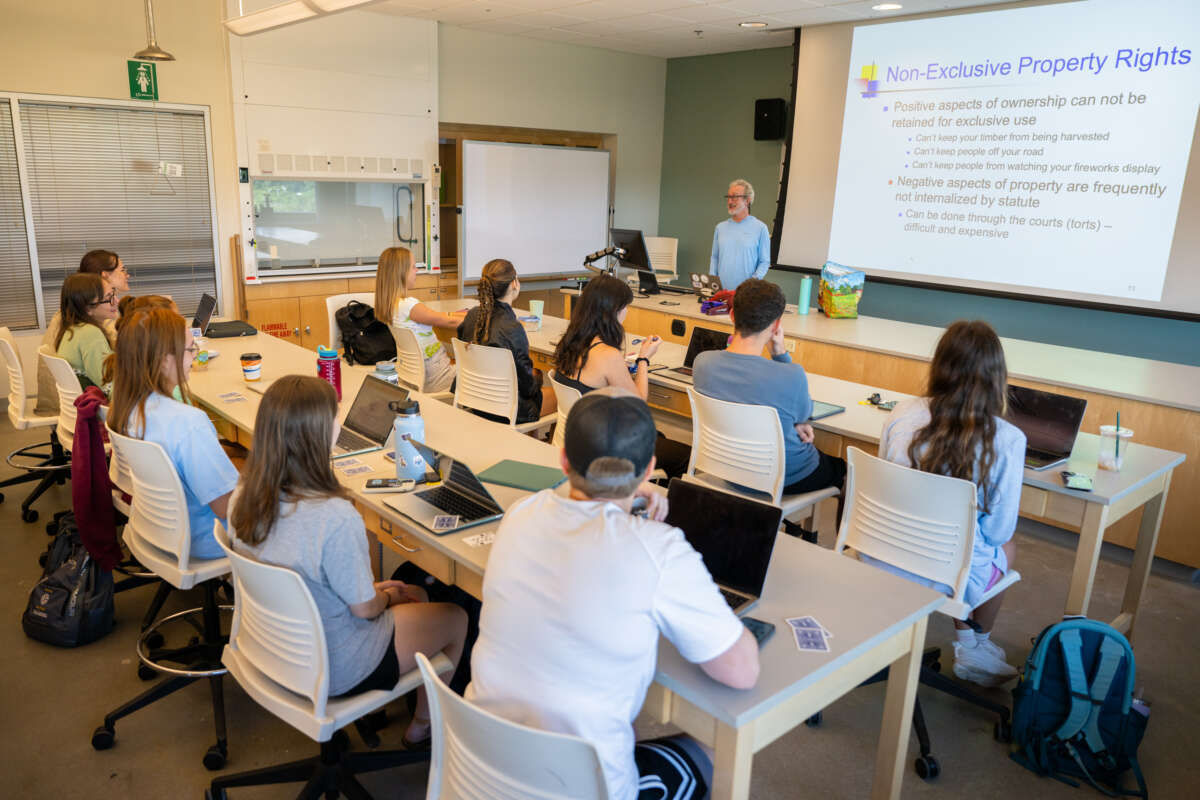 This year, twelve students have joined the program and will be taking classes together on ECU's Outer Banks Campus. Coursework for the program is split between classes, internships, laboratory exercises, fieldwork, and field trips. In their classes, students will study laws and policies concerning coastal issues, as well as ecological processes and sustainable coastal management. Furthermore, students will complete a group research project, or Capstone, in which they study and research a topic to present their findings on at the end of the semester.
The topic of this year's Capstone is focused on human perceptions of artificial light at night (ALAN), and its ecological consequences on the coast of the Outer Banks. The students will evaluate environmental factors; gather the opinions and attitudes of the Outer Banks community; and ultimately answer the questions of how ALAN has changed along coasts and in marine systems, its consequences for coastal systems, how people view ALAN and light pollution, and how it can be reduced if seen as a problem.
This year's cohort of students is looking forward to the experiences and opportunities that OBXFS has to offer. Abigail Montes de Oca, a sophomore biology major from UNC, says that being at the Coastal Studies Institute has given her a chance to step outside of her comfort zone and form connections with new people.
"It just honestly plays a big role in your character development to just go out and do something completely brand new," says Montes de Oca, "and as for my education, it's just teaching me more about a field that I'm interested in."
Montes de Oca also stated that she is looking forward to her internship which is with the North Carolina Aquarium in their horticulture department. Horticulture is something she has never learned about prior to her internship, and thus it is a completely new interest that she is excited to explore. 
Aside from the many academic experiences and opportunities offered to OBXFS students, there is plenty to look forward to outside of the classroom, too. As a part of their class field trips, the students have, so far, hiked several locations including the Nags Head Woods Preserve and Jockey's Ridge, and they also took surf lessons at Jennette's Pier. Many of them are ready to enjoy even more of the beauty  the Outer Banks has to offer, and thanks to the CSI's location on Roanoke Island, there is plenty to explore!