After almost a year of virtual events, it's almost become second nature to stream events online and to use video-conferencing platforms for various meetings throughout the day. But when it comes to organizing a large, virtual, trivia-style competition for high school students and each team member, coach, and volunteer is in a different location, things can get a little hairy. Yet, despite the organized chaos, last weekend, CSI and the ECU Integrated Coastal Programs were able to pull off another successful Blue Heron Bowl!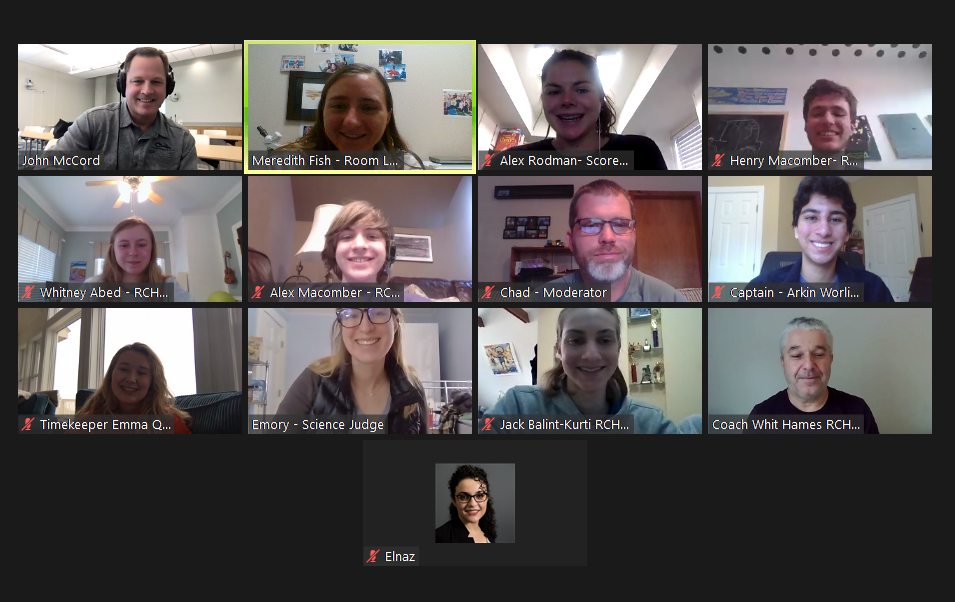 Raleigh Charter Team A and volunteers in Zoom Room 2 paused for a photo to commemorate our virtual event.
The 2021 Blue Heron Bowl (BHB), a regional event of the National Ocean Sciences Bowl, was held on virtually on February 27th. Throughout the day over 70 participants and volunteers gathered in various Zoom Rooms where the high school students put their knowledge to the test. Long answer, short answer, and multiple-choice questions covered ocean- and Great Lakes – themed biology, geology, history, archeology, chemistry, and more!
Eight teams from all over North Carolina competed in the Blue Heron Bowl. There were two teams each from Enloe High School and Raleigh Charter High School and one team each from NC School of Science and Math, Walter M. Williams High School, and West Forsyth High School. There was also one community-based team, the SCUBAnauts, hailing from Carteret County.
On the Friday night prior to the Bowl, each of the teams, their coaches, and the BHB volunteers gathered together on Zoom for a Keynote Address given by Dr. Lisa Clough, Ocean Science Head in the National Science Foundation's Division of Ocean Sciences. Following Clough's presentation, all were invited to participate in a practice round in preparation for the next day's event. Then it was time for a good night's sleep to energize for the game day ahead.
Parker Kellam, a Regional Coordinator for Blue Heron Bowl, shares, "This year's event ended up being a lot of fun for all involved! In the beginning, we were a little worried about handling all of the technical logistics, but between guidance from Headquarters and our own wonderful ECU IT guru, Blake Williams, it was mostly smooth sailing. The teams were excited to hear from Dr. Clough, and each did a fantastic job competing in the event. With grace and patience all day long, we made it through the Blue Heron Bowl Zoomathon relatively unscathed, and ready to take on whatever comes our way next year."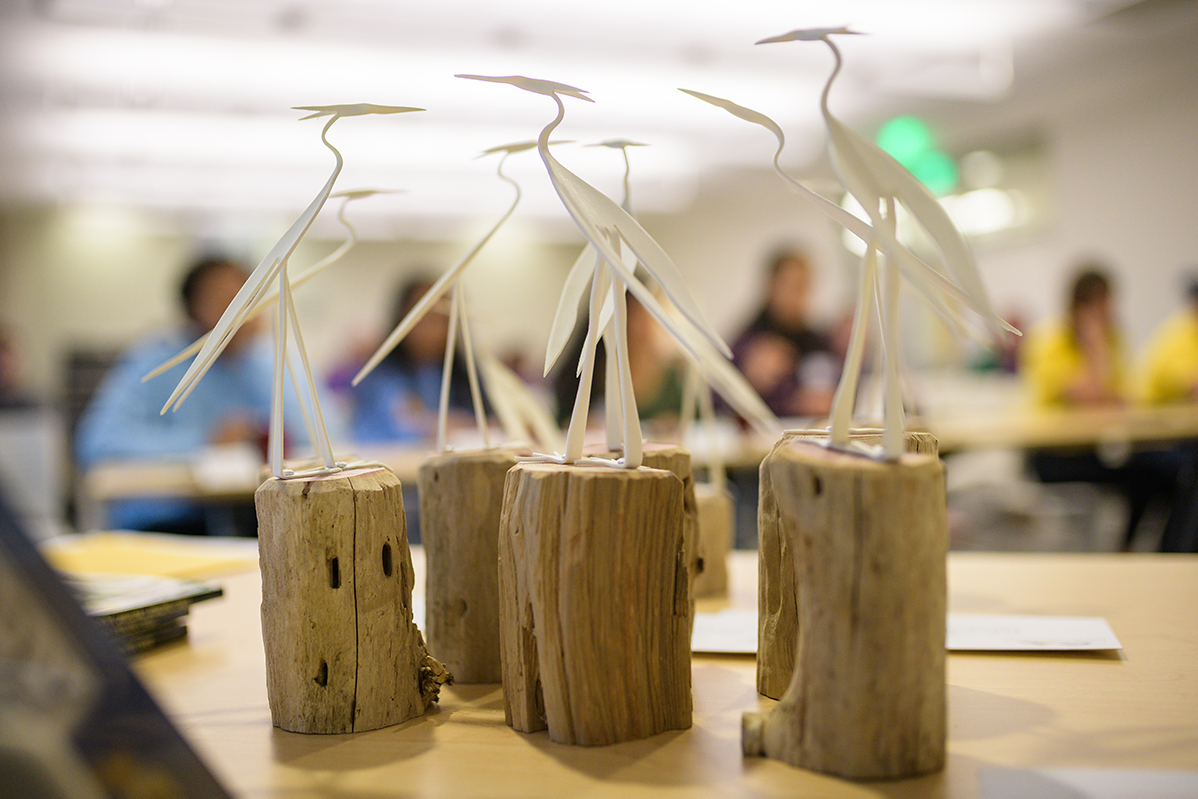 Each of the winning teams received a custom trophy like the ones above made by Robert Morris of R & T Nautical on the Eastern Shore of Virginia. Additionally, each team received prize money and a signed copy of the book "North Carolina's Amazing Coast". The winning team also received a 1-on-1 session with Dr. Lisa Clough.
By early evening on Saturday, the competition rounds had wrapped up and the winners were announced. Receiving the Sportsmanship Award was the team from Williams with their coordinated, themed Zoom backgrounds and enthusiastic participation all day long despite being eliminated early in the game. Raleigh Charter (Team A), the defending champs coached by Whit Hames, took home second place this year. The 2021 Blue Heron Bowl Champions were new-comer team Enloe High (Team A) coached by Samantha Chambers. Enloe is now set to compete at the National Ocean Sciences Bowl event happening in May.
Kellam, well-pleased with how the event turned out, expressed gratitude for all who made the competition possible, stating "We could not have held this event without the help of all our volunteers who put in countless hours of preparation over email, text, and Zoom. It was their diligence to their roles and the connections they made with the participants that made the day so successful. I am grateful for each of their talents and their willingness to volunteer for such an awesome program."
For more information on the 2021 Blue Heron Bowl, the public can view an adapted version of the event's interactive program and watch Clough's address to the bowl participants.
Credits: Blue Heron Bowl logo (feature photo) designed by Zach Sitter.