Have you ever wondered what it takes to be a scientist? Or are you curious about what research takes place on the ECU Outer Banks Campus? If you answered "YES!" to either of these questions, you should tune in to our monthly, live-streamed video series Meet the Scientist. In each episode, Dean Reide Corbett sits down with ECU and CSI scientists to discuss some of their latest work.
In the seventh installment of this series, Dean Corbett will interview students currently enrolled in the Summer Research Experiences for Undergraduates program at the Coastal Studies Institute.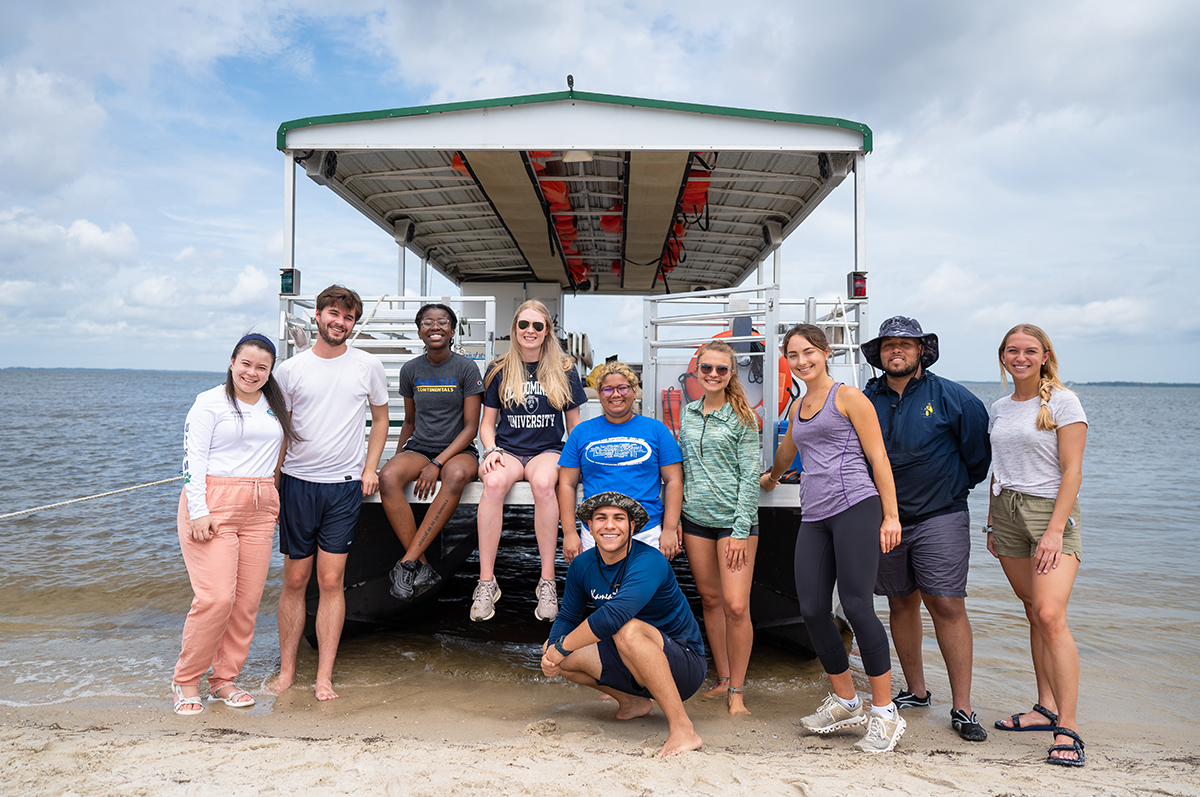 Funded by the National Science Foundation (NSF), the Research Experiences for Undergraduates (REU) program provides summer opportunities for students to take part in authentic research activities. Hosted at the Coastal Studies Institute, in partnership with Clemson University, the University of Puerto Rico, and ECU, the students of the C2-Virtual-C REU program are taking part in mentored research projects exploring resilience and adaptation to coastal change across coastal communities. The students will be sharing more about their research projects and summer here on the Outer Banks.
The program is appropriate for all ages and available to the public via our YouTube Channel. View the live-streamed event on Thursday, July 15, 2021, at 6 pm and ask questions through the chatbox. The program will also be recorded and available for later viewing on the YouTube Channel.
"We are thrilled to have this group of motivated undergraduate students from across the U.S. working on our campus for the summer as part of the NSF-funded REU program!", exclaims Corbett.
"C2-Virtual-C is a unique program that involves faculty mentors from ECU, Clemson University, and the University of Puerto Rico – Arecibo. Student researchers work across disciplinary boundaries to consider the resiliency of coastal systems, and the challenges across coastal systems won't be solved without working in interdisciplinary teams. This program provides students the opportunity to reach beyond their disciplinary major, think outside the box when developing research projects, and work with an interdisciplinary team to begin identifying and solving challenges along our coasts!"
Tune in Thursday, July 15th, to learn more about the REU program and the students' experiences this summer!
In addition to conducting research, the students had the opportunity to explore many Outer Banks ecosystems. Above they work together to bring in a seine net. This sampling method allows the students to get a "snap shot" of the many organisms that inhabit the sound waters.