As changing climates continue to increase coastal hazards such as sea level rise, large storm events, flooding, and erosion, it is ever more important for communities such as those found along the Outer Banks to heighten their resiliency. But what exactly does that entail?
According to NOAA, resilience is defined as the "ability to adapt to changing conditions and withstand- and rapidly recover from- disruption due to emergencies". In other words, it is a community's ability to bounce back after catastrophe strikes. Coastal resiliency is a feedback loop that includes planning and building, natural disaster response, and recovery, using lessons learned in the process to recuperate and prepare for the next event better than ever before. In theory, the more resilient a community becomes, the less time it will take them to recover after each coastal hazard event.
Those who live on the Outer Banks are familiar with having to rebuild after storms, and they are also slowly being introduced to measures that take the mitigation of coastal hazards into consideration. Examples of such measures for an area experiencing sea level rise, erosion, and/or flooding could include protection, accommodation, ecosystem-based adaptation, or retreat. Researchers from the Coastal Studies Institute are currently leading a research project in South Nags Head which will provide insights for coastal management and hazard responses.
A Nature-Based Approach to Resiliency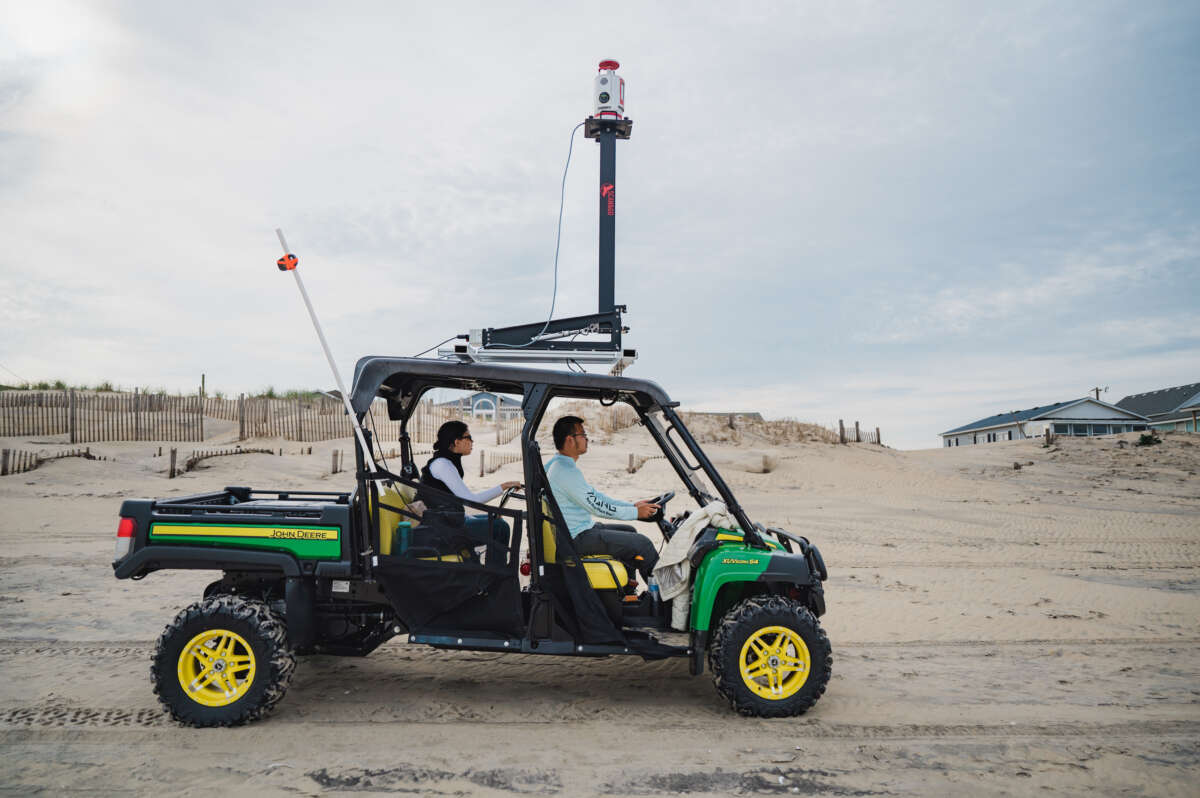 Dr. Lin Xiong (driver) and ICS Ph.D. student Shalimar Moreno (passenger) use the Coastal Laser Scanning System to collect survey data along the beaches of South Nags Head. The system is comprised of a UTV with a terrestrial laser scanner (TLS) attached to the roof.
While beach nourishment is one way to temporarily fix erosion issues, some coastal communities are also utilizing greener tactics. One example of such practices here in North Carolina can be seen employed by Better Beaches OBX (BBOBX), a community group that encourages discussion and consideration of "more natural means, and necessary maintenance programs… to keep [the] beaches beautiful and protective."
Among their top strategies for doing so is planting beach grasses and placing recycled Christmas trees along the dunes of the Outer Banks to create better stabilization and hopefully reduce impacts from sea-level rise, beach erosion, and flooding during storm events. It is an effort that not only paints the dunes with green color but may also be a more sustainable alternative for shoreline and infrastructure protection compared to other tactics.
While their work is performed in good faith and the local towns take great interest in BBOBX's contributions, up until now, no measures of effectiveness have been implemented. However, the Fall of 2022 brought a change, and Dr. Lin Xiong, a postdoctoral scholar at the Coastal Studies Institute, received a mini-grant from NC Sea Grant to implement a 12-month study to assess the impacts of dune restoration on coastal resilience in the area.
According to the grant proposal submitted by Xiong and his colleague Dr. David Lagomasino, the study will include the use of a device known as a terrestrial laser scanner (TLS) to "quantify sediment budgets, foredune dynamics, and assess how various dune restoration activities impact coastal resilience along the North Carolina coast." The TLS emits laser pulses and measures traveling time from returns to create a three-dimensional scan of the surrounding area.
To accomplish the goals set forth in their proposal, Xiong and his team, which includes Lagomasino, as well as ECU Integrated Coastal Sciences Ph.D. student Shalimar Moreno and a lab research specialist, will conduct repetitive hyper-resolution topographic surveys along the beaches in South Nags Head. A newly secured UTV with a TLS attached to the top, collectively named the Coastal Laser Scanning System, is a key tool for their work.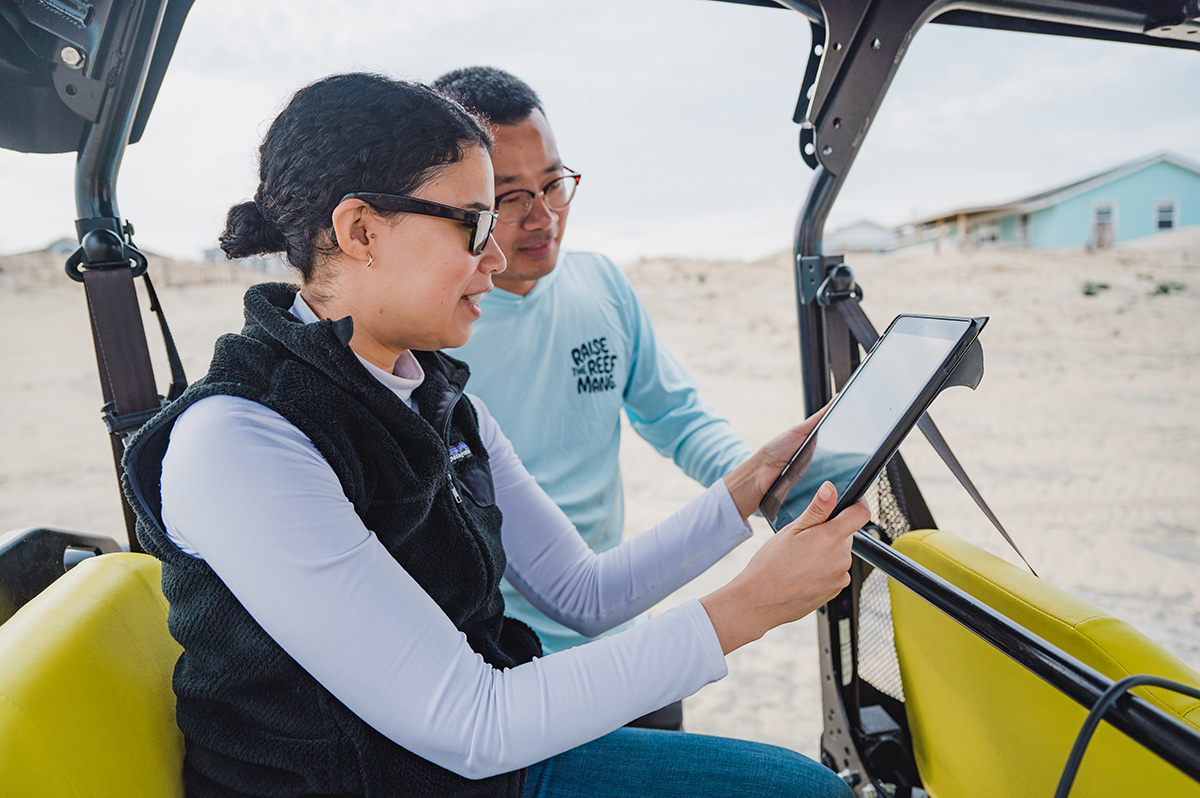 Moreno (foreground) and Xiong (background) pause along their survey route to review the data collected that day. The many light pulses emitted by the TLS help to generate a 3-D image of the site which can be used for later comparisons of the study area. 
During each survey, the researchers will cover approximately 9km of shoreline with the Coastal Laser Scanning System. The survey area includes both planted and non-planted beachfront dunes, and they will stop, on average, every 30m to collect a three-dimensional snapshot of that portion of shoreline and dunes.
"The TLS in our lab, VZ400i, can emit up to 500,000 pulses/sec and acquire millions of measurements of coastal dunes and beaches in a very short time. This is amazing! It is like a digital twin of the coastal system with point clouds," shares Xiong.
Their data, once fully processed, will provide preliminary, baseline measurements for the state of the shoreline and the effectiveness of dune stabilization. Additionally, Xiong hopes this work will "[lead to] future funding, provide training opportunities for students, and reinforce community partnerships between the ECU Outer Banks Campus, BBOBX, and the Town of Nags Head."
While this research project is still in its infancy and there is still much to be known about the effects of dune stabilization here on the Outer Banks, it is important to recognize how valuable nature-based adaptations such as those described above can be for the resiliency of both the environment and coastal communities. With this research project in South Nags Head, the municipalities of the Outer Banks are inching ever closer to understanding coastal dynamics and becoming more resilient communities in the face of change.
For more information about Dr. Xiong's work and the ongoing efforts of Better Beaches OBX, watch the video below.
The preceding article first appeared as two sections of "Monitoring our Shifting Shorelines to Improve Coastal Resiliency" in the Winter 2023 edition of Integrated Coastal Program's seasonal newsletter CoastLines. Special thanks to Dr. Lin Xiong for his written contributions to this story.