Featured photo: Al-Attabi and his colleagues used Doppler spectrum data from two HF radar systems located at the north coast of Cornwall, UK, as well as data from a directional wave buoy deployed off the north coast of Cornwall. The system has measured surface currents and wave spectra in covered areas of the "Wave Hub" test site for offshore renewable energy since 2011.  
Since World War II, High Frequency (HF) radars, land-based systems which emit and receive high frequency radio waves to collect information, have been used from the shorelines to gather spatial and temporal data about ocean surface currents and measure the sea state(s) of areas that cover tens to hundreds of kilometers of range. Because of their relative ease of deployment and maintenance, and their operational efficiency, they have also been used for search and rescue operations, ship tracking, iceberg monitoring, tsunami identification, and other scientific purposes. Yet, despite these many uses, at least one thing still needs improvement- wave measurement using HF radar.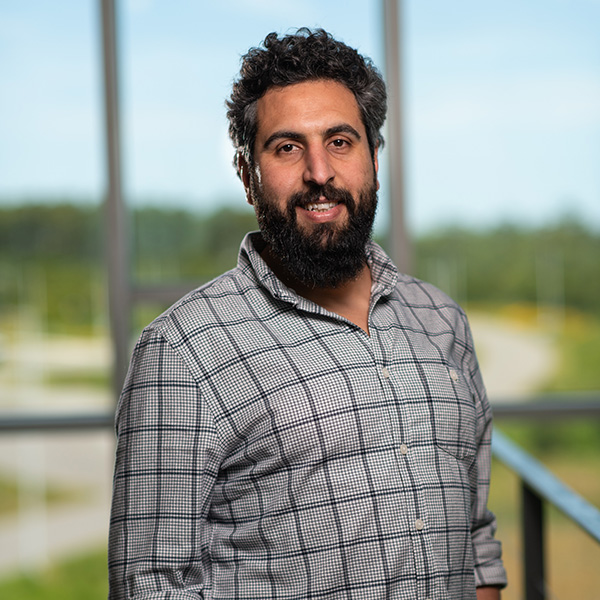 Zaid Al-Attabi, Postdoctoral Scholar.
Before Postdoctoral Scholar Dr. Zaid Al-Attabi moved to the US to pursue his Ph.D., he was a member of a scientific cruise team in Iraq that collected water current data in the northern Arabian Gulf, also referred to as the Persian Gulf. The area is well known for its large offshore oil, and as such, it is at risk for oil spills and the associated potential ecological impacts. Additionally, political tensions also run high in the area, and because of these circumstances, Al-Attabi identified the need for an advanced remote sensing technique that could monitor the surface water circulation on a larger scale and thus reduce the need to use costly and risky cruises to collect the needed data. Using HF radar stations potentially fit the bill, and thus Al-Attabi's Ph.D. idea was born. He went on to study ocean wave measurements using ground-based HF radar systems at the University of South Carolina
As a result of his Ph.D. work, Al-Attabi has just published a new paper with co-authors from Iraq, the US, and the UK. The paper titled, "Evaluation and Validation of HF Radar Swell and Wind-Wave Inversion Method", is published in the American Meteorological Society/ Journal of Atmospheric and Oceanic Technology. In it, Al-Attabi and his colleagues outline a newly developed method to separately treat swell and wind wave signatures in HF radar data which then eliminates the need for calibrating extra instruments. The new method enhances HF radar data applicability for both offshore and nearshore environments, and they allow scientists to accurately estimate ocean wave parameters and directional wave spectra by accounting for the presence of swell waves.
As for further application, Al-Attabi explains, "Accurate wave measurements estimated from HF radar would be used to enhance the accuracy of forecasting models instead of relying on single-point measurements, such as those from wave buoys. The analysis of the method we have outlined has practical implications, by providing an algorithm that can be included in radar software and used for routine, real-time ocean wave observations."
Upon finishing his Ph.D., Al-Attabi took his current position and now works in ECU's Department of Coastal Studies with Dr. Sid Narayan. Together they are conducting research on numerical modeling to simulate the interaction of waves, surges, and other oceanographic processes with vegetation and reefs in coastal environments.