Happy 1st Birthday, MTS!
While 2020 threw us many curveballs, it also gave the CSI Education and Outreach team the chance to evaluate its current programming and the opportunity to create new content. One such program that was born from those trying times was CSI's Meet the Scientist video series. Now at the end of 2021, this November CSI celebrates one year of Meet the Scientist and its great success.
"Meet the Scientist has really been a fun project to work on this last year. Its virtual format has allowed us to reach people all over the world, and its casual style has captivated citizens of all ages. Viewers have asked great questions through the online chatbox, and it has been extremely encouraging to see community members get excited about the interdisciplinary research being conducted here in North Carolina," shares CSI Outreach Specialist Parker Murphy.
The video series is produced in-house and highlights what it takes to be a scientist, what research occurs on the ECU Outer Banks Campus, and more. In each episode, viewers can expect witty banter and light-hearted discussion as Dean Reide Corbett sits down with ECU and CSI scientists to share some of their latest work. As each interview progresses, audience members are invited to submit their own questions via the chat box for discussion at the end. So far the series has included such topics as remote sensing, renewable ocean energy, fisheries, gulf stream ecology, acoustics, and engineering; but it also gets into the nitty-gritty of long field days, favorite researcher pastimes, and ever-elusive work-life balance. Surely there is something in the series for everyone.
A behind-the-scenes look: Each segment of "Meet the Scientist" is produced in-house. Prior to filming, the CSI Education and Outreach team builds a temporary TV studio in the Student Collaboratory on the ECU Outer Banks Campus.
Episode 9 Premieres November 18 at 6 PM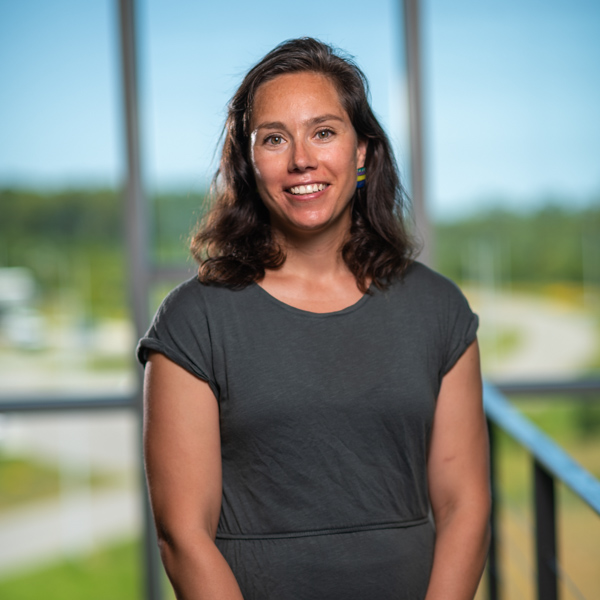 In the ninth installment of Meet the Scientist, Dean Corbett will interview postdoctoral fellow Dr. Lela Schlenker (pictured). An alumna of both William & Mary's Virginia Institute of Marine Sciences (VIMS) and the University of Miami's Rosenstiel School of Marine and Atmospheric Science (RSMAS), Schlenker is a fisheries eco-physiologist primarily interested in where, when, and why marine organisms move. She is committed to conducting applied research aimed at benefiting the management and conservation of commercially and recreationally important marine species. Many of her research projects have utilized tools such as electronic tags and quantitative modeling to provide important fisheries insights.
For the last year and a half, Schlenker has lived and worked on the Outer Banks where, as a member of the Marine Fisheries Ecology Lab, she is currently studying the impacts of climate and environmental variability on three species of commercially important shrimp species in Pamlico Sound. In addition to her work in the lab, she is passionate about science communication, as well as supporting under-represented people and advocating for student well-being in STEM-related fields.
The November 2021 Meet the Scientist program will cover both Schlenker's past and present research, as well as the implications her work conveys for fisheries management and conservation moving forward. The event is appropriate for all ages and available to the public via our YouTube Channel. Those interested are invited to view the live-streamed event on Thursday, November 18, 2021, at 6 pm and ask questions through the chatbox. The program will also be recorded and available for later viewing on the YouTube Channel.